Your cabinets weren't built
with you in mind.
Cabinets are designed with hard-to-reach spaces.
How often do you dread cooking because you know you will need to dig through your cabinets to find what you need?
What if you could get exactly what you need when you need it easily—everything in its place?
Upgrade every inch of your cabinets into functional space with our custom pull out shelf solutions.
Create convenience and order with
every cabinet in your Roseville home.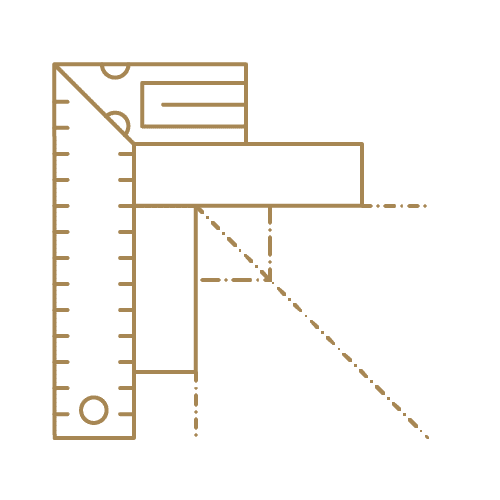 Schedule a
Design Session
We'll measure your cabinets
and provide a custom bid.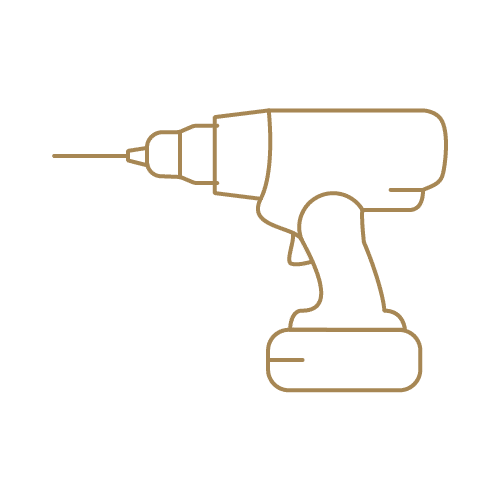 We'll Install Your
Roll Out Shelves.
Proudly show off the inside of your cabinets. It's all organized!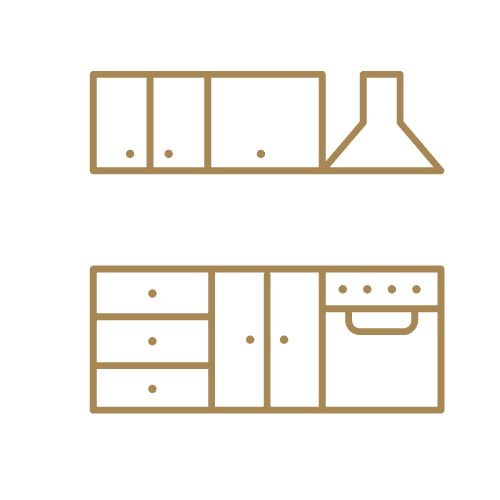 Enjoy convenience
in every cabinet.
No more bending, digging, snooping to find what you need!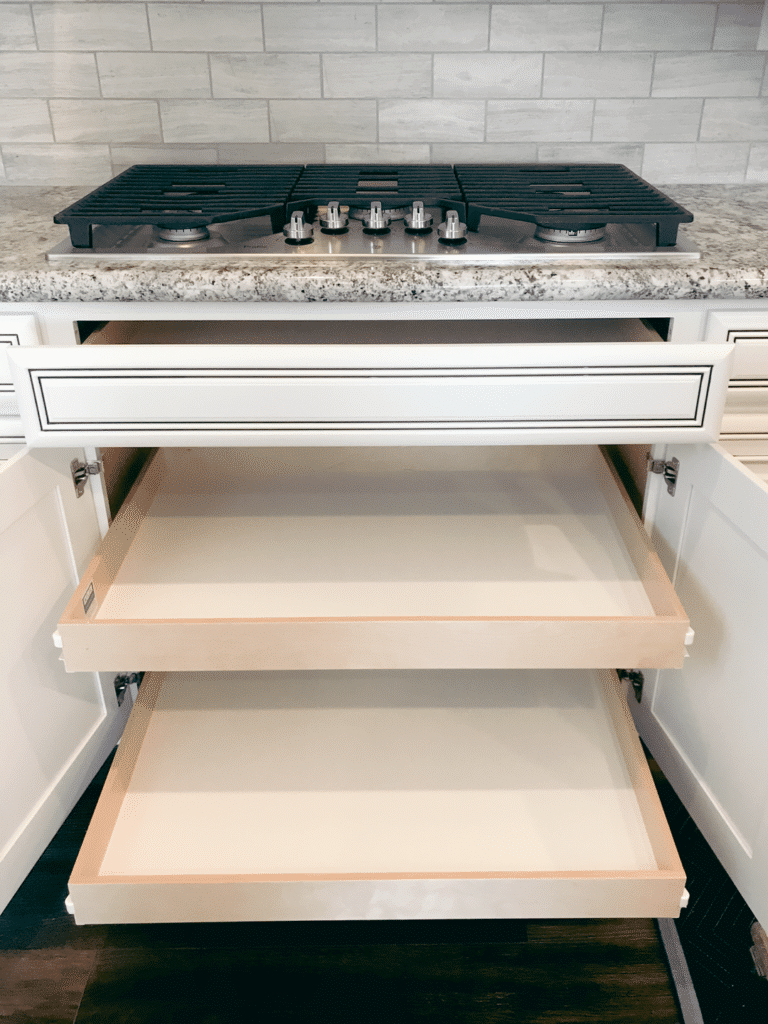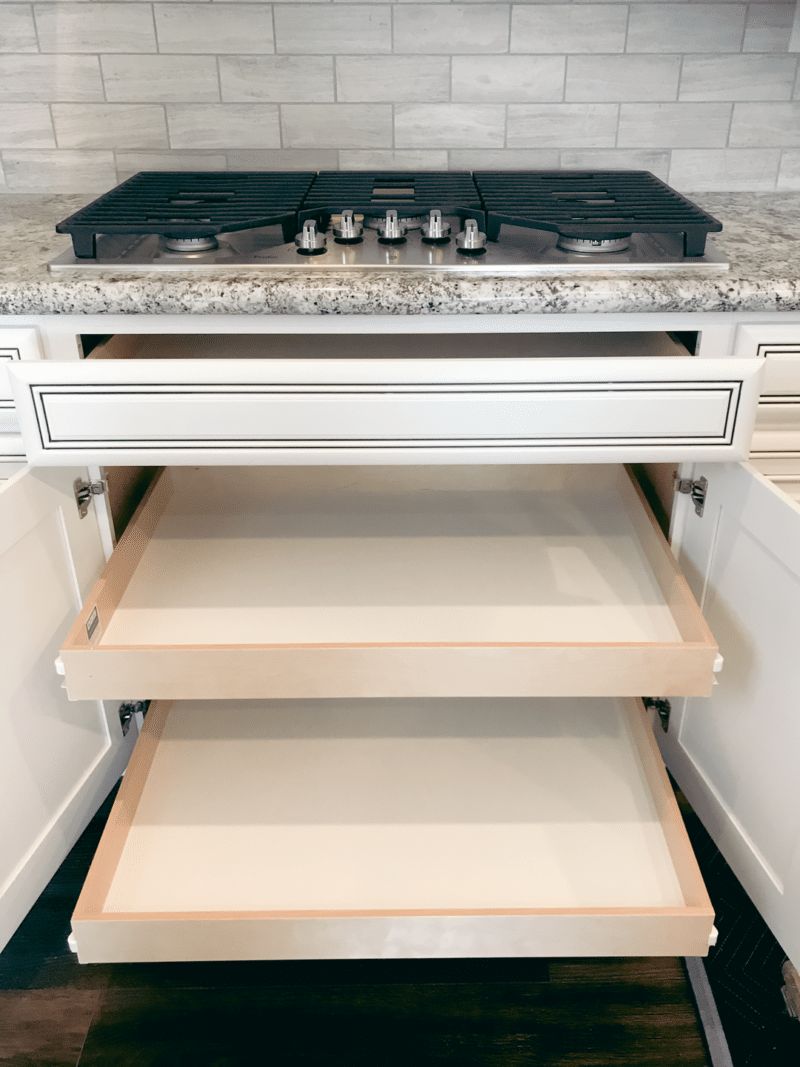 "Absolutely love our roll-out shelving. Why? The quality, professionalism of installer and estimator, and the precision of the installer – fantastic. They slide in and out with solid ease. The way they custom-designed each cabinet roll-out….we actually have more room for our food items and fine china. Thank you, All Organized. Please convey our thanks to your installer. A fine and talented young man.
"
Functionality gives you more time to do what you love.
When everything you need is at arm's reach, you'll never be far from what matters most. For over 25 years, we've helped homeowners in the Roseville area upgrade their cabinets with various slide out and pull out shelves.
We love adding functionality to homes because it means: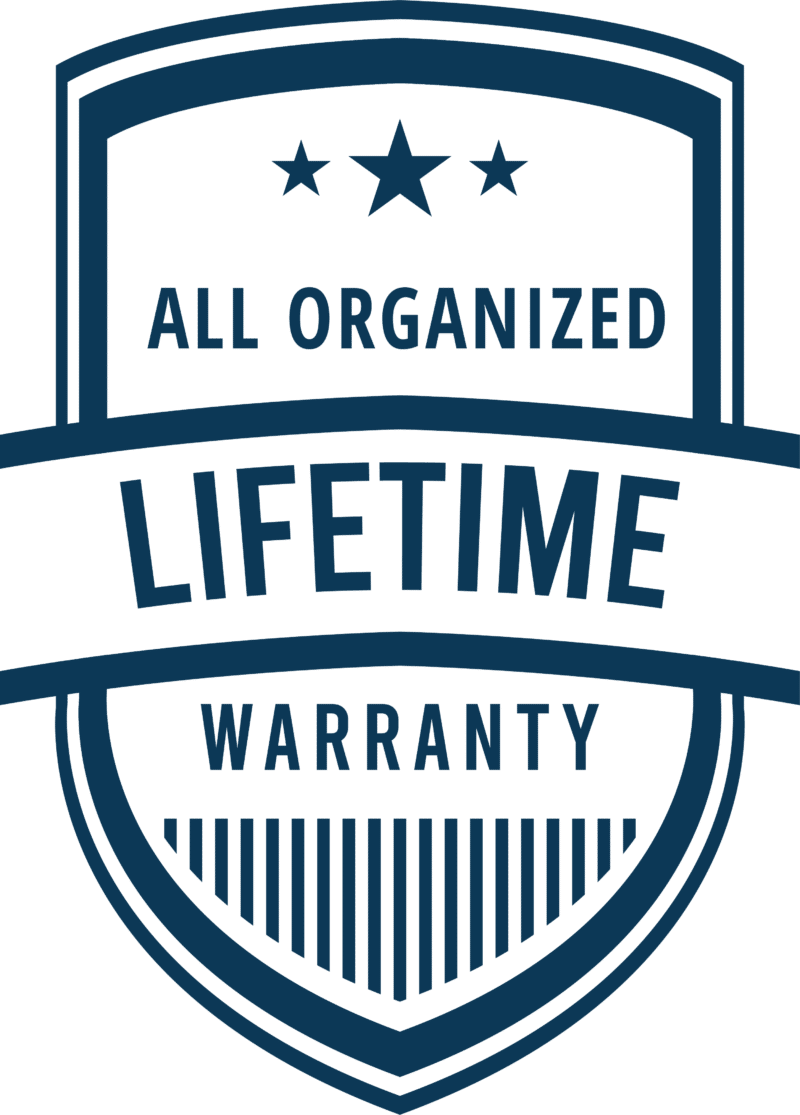 Custom Crafted Pull Out Shelves in Roseville
100% Satisfaction Guaranty and Lifetime Warranty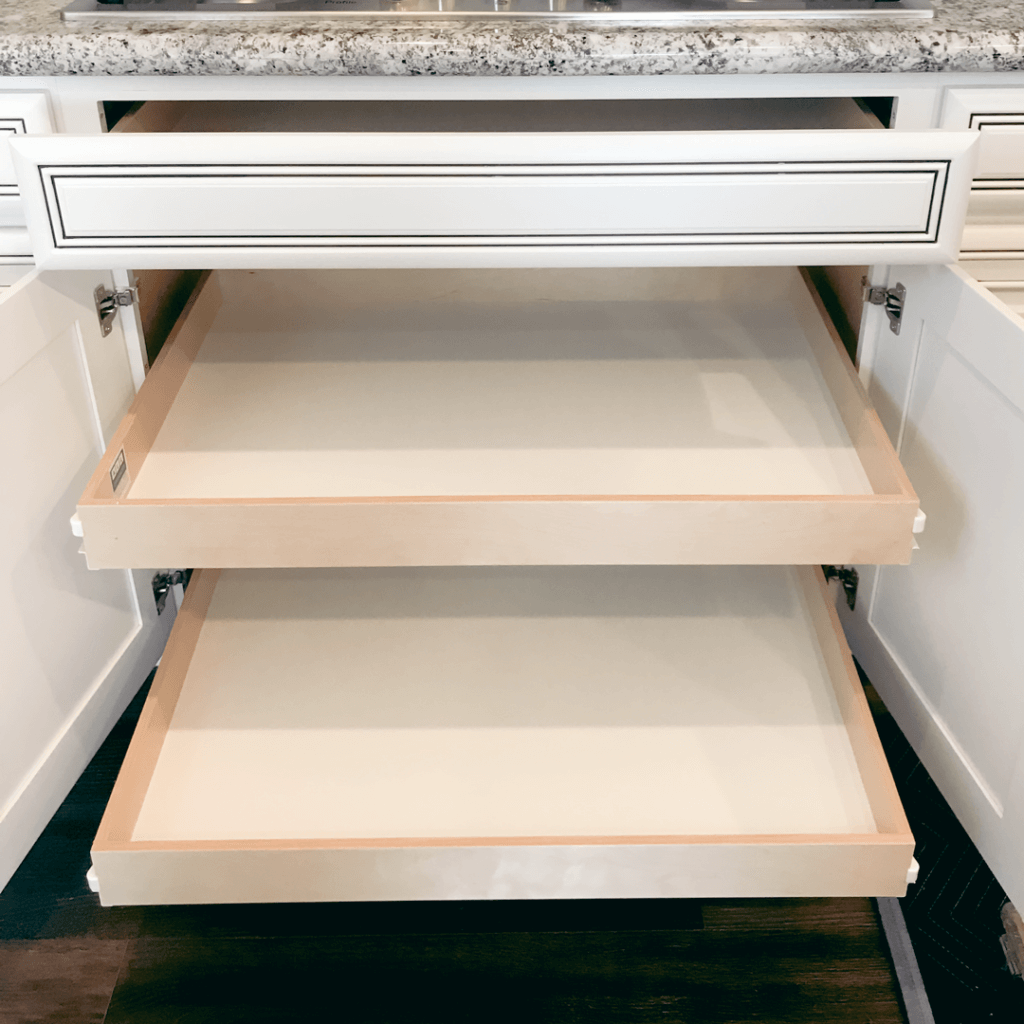 High Quality Materials
We choose the highest quality to design your custom Roll Out Shelves.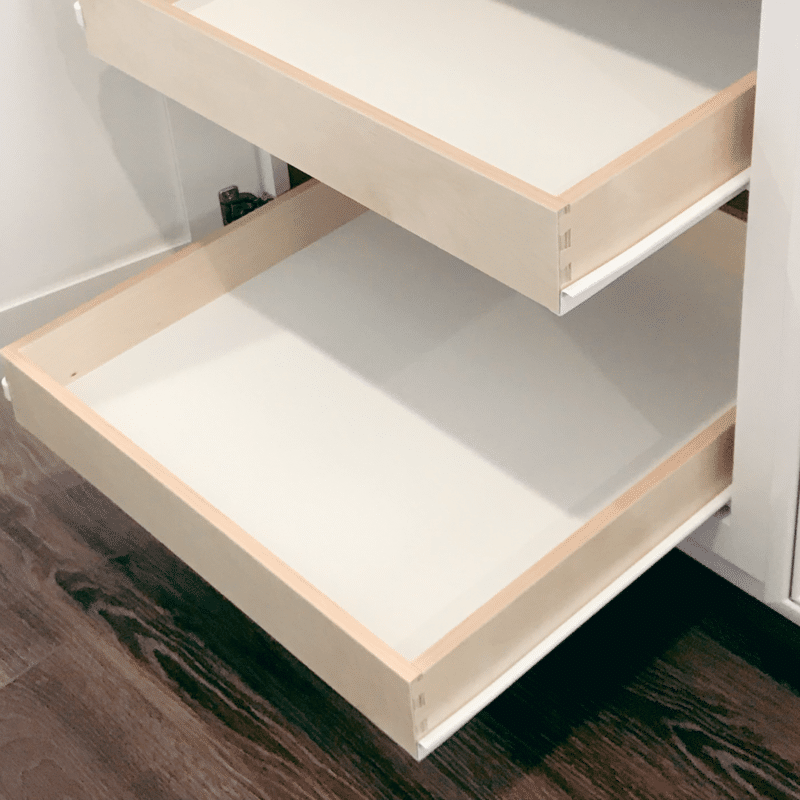 Dovetailed Joints
For the strongest joint, our craftsman dovetails every connection point.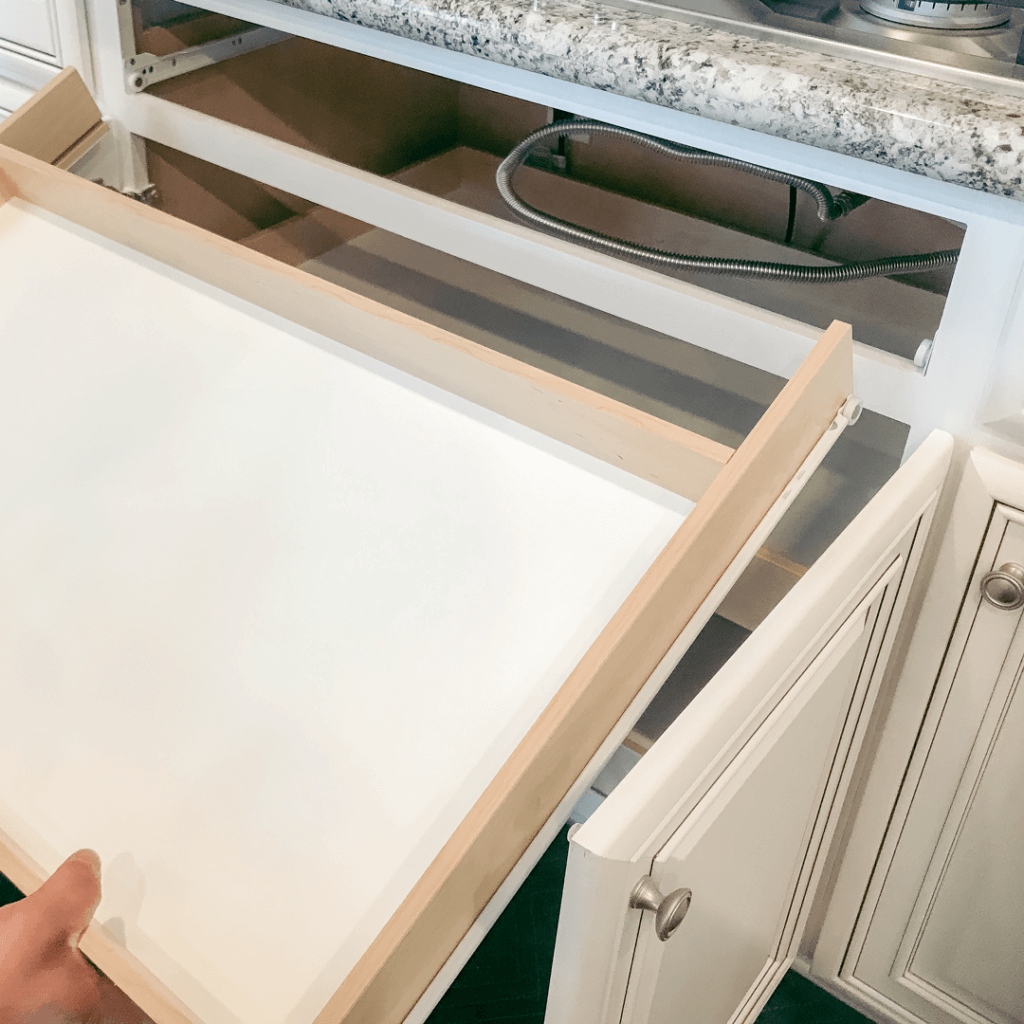 Durable Drawer Guides
Easily slide your Roll Out Shelves in and out with our durable hardware.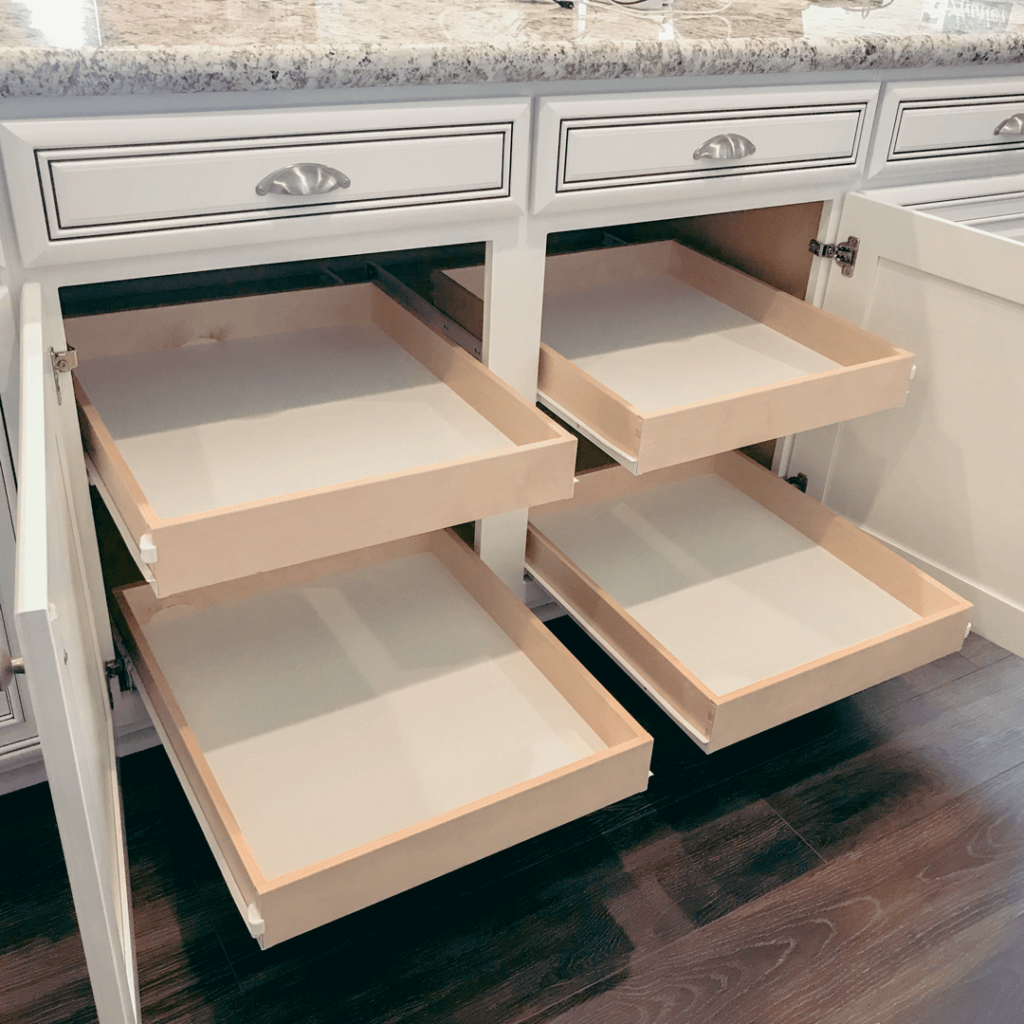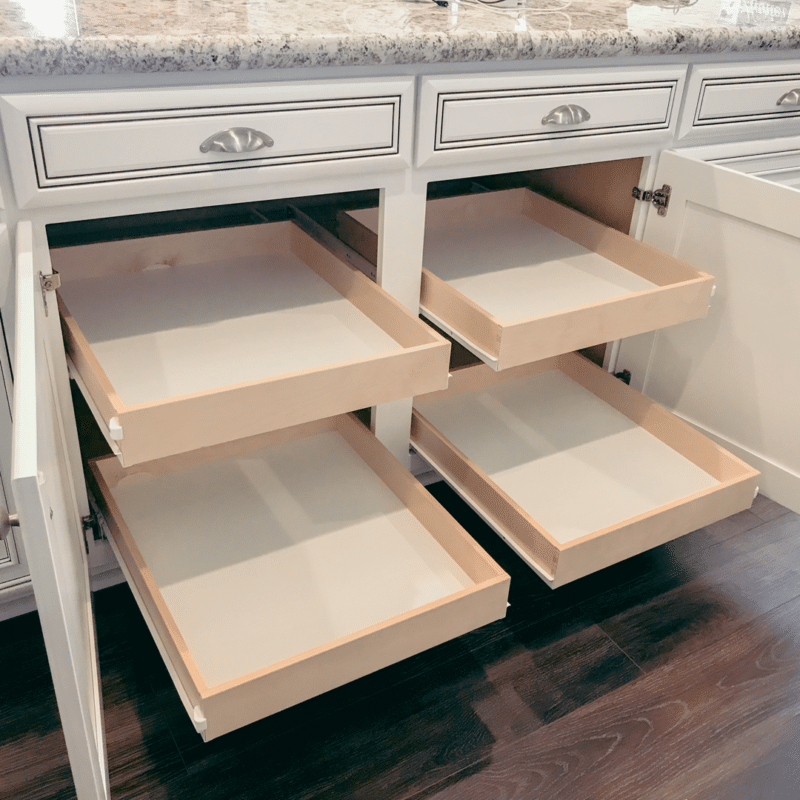 Subscribe to receive a bundle and save discount code to your inbox! You'll get:
• 6 Roll Out Shelves for $935 $795!
• 8 Roll Out Shelves for $1165 $995!
• 10 Roll Out Shelves for $1391 $1195!
• 12 Roll Out Shelves for $1619 $1395!
"*" indicates required fields
Questions About Our Cabinet Shelving Systems in Roseville?
We're always happy to answer questions for you!
Just like every other homeowner in Roseville and beyond, you deserve to be proud of your home and everything in it. Your cabinets should work for you instead of against you.
Unfortunately, most cabinets take a toll on your knees, nerves, and time by having hard to reach corners and shelves. This is true for your kitchen cabinets as well as your hall and bathroom cabinets as well.
At All Organized, we've been working to provide high quality pull-out shelves for more than 30 years.
We believe you deserve to love every corner of your home.
Located in Placer County and within the Sacramento metropolitan area, Roseville, California has a rich history closely connected with the early railroads starting in the 1860s.
With a population of 141,500 people, the city covers approximately 42.26 square miles and has a hot-summer Mediterranean climate and typically has cool, wet, and snowless winters.
Call us today at 916-331-4991 or click here for your free design session!
You don't have to take our word for it – read what CM had to say:
"First of all I want to say…I LOVE MY ROLL OUT SHELVES!
I appreciated that for both the estimate and the installation masks were worn at all times. Paul, the owner, did the estimate and Hugo did the installation. Both were friendly, efficient, patient with all questions and ready with answers and basically just the kind of folks I like to do work in my home. Timing on all appointments was prompt with a call ahead phone call to offer an ETA. In addition, Chris was friendly and helpful on the the phone when I set appointments up. Just all around happy with the staff.
I have only had my shelves for a few days but I love how they look, the quality of the construction and mostly how much easier they will make my time in the kitchen as I get older. Thank you All Organized."
Tammi S:
"They came for a bid and once it was complete and I said let's do it, within two weeks we're back to install.  Pricing was reasonable and the quality is superior.  I even had them build in a cabinet that holds two trash cans hide. Behind a cabinet for the same cost as if you bought a nice stainless single can.  The two best parts are  that is has soft close mechanism so my dog can't get I to it and nobody sees my trash anywhere because it looks like a cabinet.  I would highly recommend them to anyone in need."
Mary Beth:
"My custom rollouts were installed today and I could not be more pleased. They are beautiful and well made! Paul's measurements were exact!  Both Paul and Chris were great to work with.  Hugo did the installations in our kitchen, guest bathroom, laundry room, and storage areas at both ends of our hallway.  He was on time, called to say he was almost at our home. His work is excellent, he was COVID-19 compliant (masked), and cleaned up each area.  What a pleasure. I have everything stored already, and now we actually know what we have and can have easy access. No more getting down on hands and knees. The only regret is that we did not do this sooner!!  The wait is worth it to get an awesome product."
Barb S:
"This company does great work! I have a pantry that's tall, narrow and deep. I'd have to pull out half of the items on shelves in order to find something. Now with my roll out shelves, I can see everything I have. I also asked Paul if he could design a roll out in a bathroom cabinet and install it above the other roll out on the bottom of the cabinet. The issue was measuring around the P trap under the sink, but Paul is a genius. His measurements were exact and now I have two roll outs under my bathroom sink that provide so much more functionality. It's the little things in life, like good roll out shelves. Thank you Paul and staff!"
We provide our pull out and slide out cabinet shelving systems to the following zip codes in Roseville:
95661, 95677, 95678, 95746, 95747, and 95765.
We also serve all neighborhoods and areas of Sacramento, including:
South Land Park, Hollywood Park, Land Park, Curtis Park, Med Center, Oak Park, Tahoe Park, Upper Land Park, Southside Park, Richmond Grove, Newton Booth, East Sac, Midtown Sacramento, Downtown Sacramento, University of California Davis Medical Center, River Park, Marshall School, Boulevard Park, Alkali Flat, Mansion Flats, Arden Arcade, East Sacramento, Natomas, and more.
Not sure which roll out shelf is right for your home?
Download and read our FREE guide on our top 5 shelving options!