Your cabinets weren't built
with you in mind.
Cabinets are designed with hard-to-reach spaces.
How often do you dread cooking because you know you will need to dig through your cabinets to find what you need?
What if you could get exactly what you need when you need it easily—everything in its place?
Upgrade every inch of your cabinets into functional space with our custom pull out shelf solutions.
Create convenience and order with
every cabinet in your El Dorado Hills home.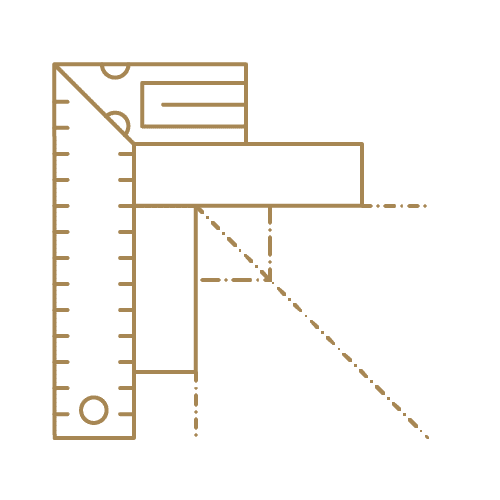 Schedule a
Design Session
We'll measure your cabinets
and provide a custom bid.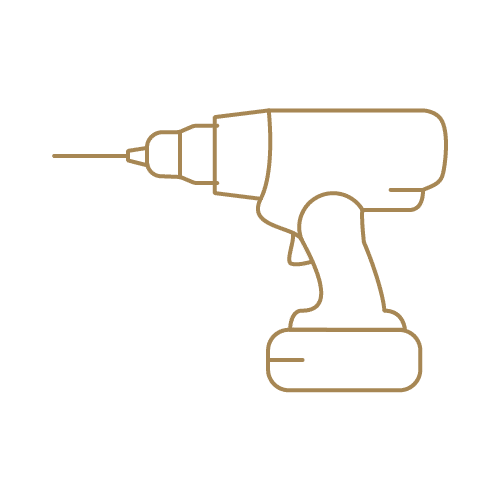 We'll Install Your
Roll Out Shelves.
Proudly show off the inside of your cabinets. It's all organized!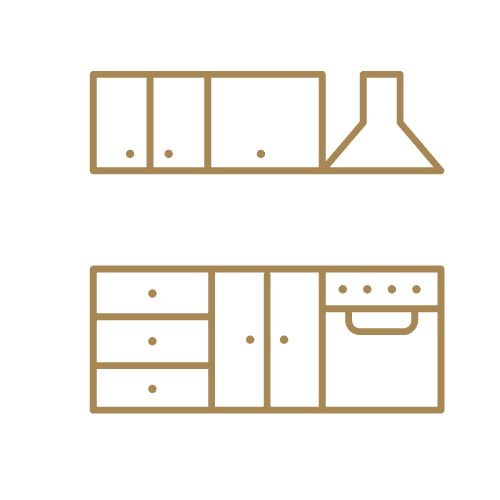 Enjoy convenience
in every cabinet.
No more bending, digging, snooping to find what you need!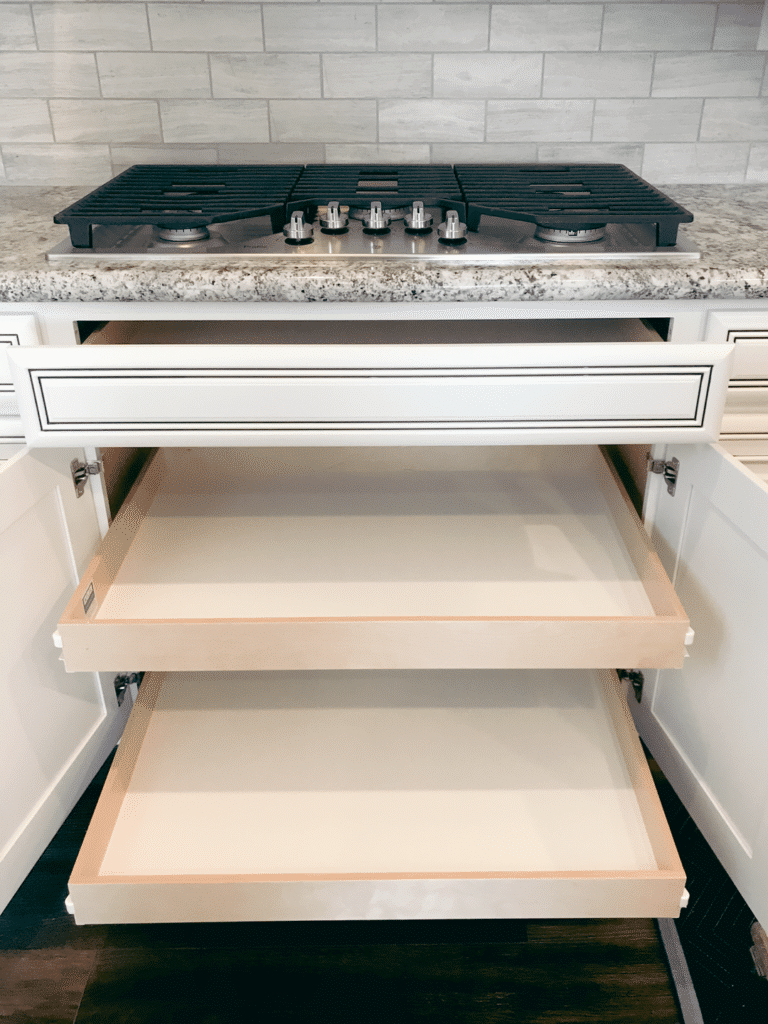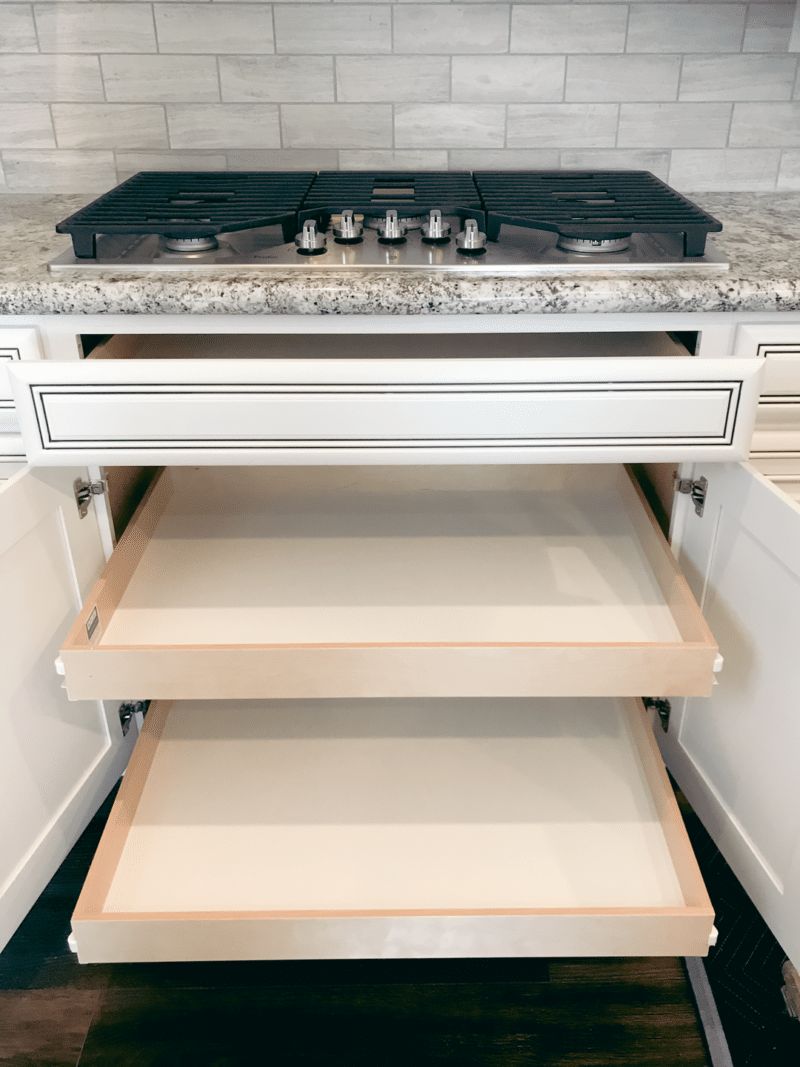 "Very pleased with the quality of work and service. Was given very good suggestions to maximize the space. So nice having a place for everything. The configuration has given me so much more storage. The gentleman that did the installation was very professional and was amazingly fast. Highly recommend this company!
"
Functionality gives you more time to do what you love.
When everything you need is at arm's reach, you'll never be far from what matters most. For over 25 years, we've helped homeowners in the El Dorado Hills area upgrade their cabinets with various slide out and pull out shelves.
We love adding functionality to homes because it means: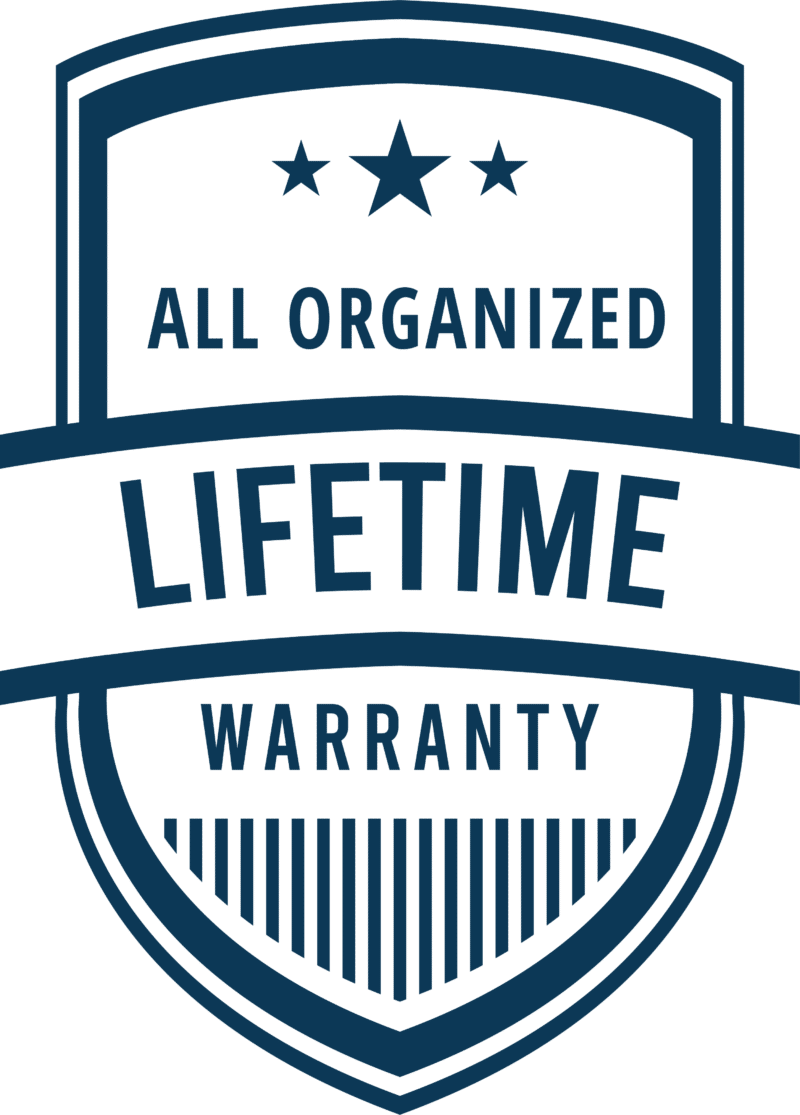 Custom Crafted Pull Out Shelves in El Dorado Hills
100% Satisfaction Guaranty and Lifetime Warranty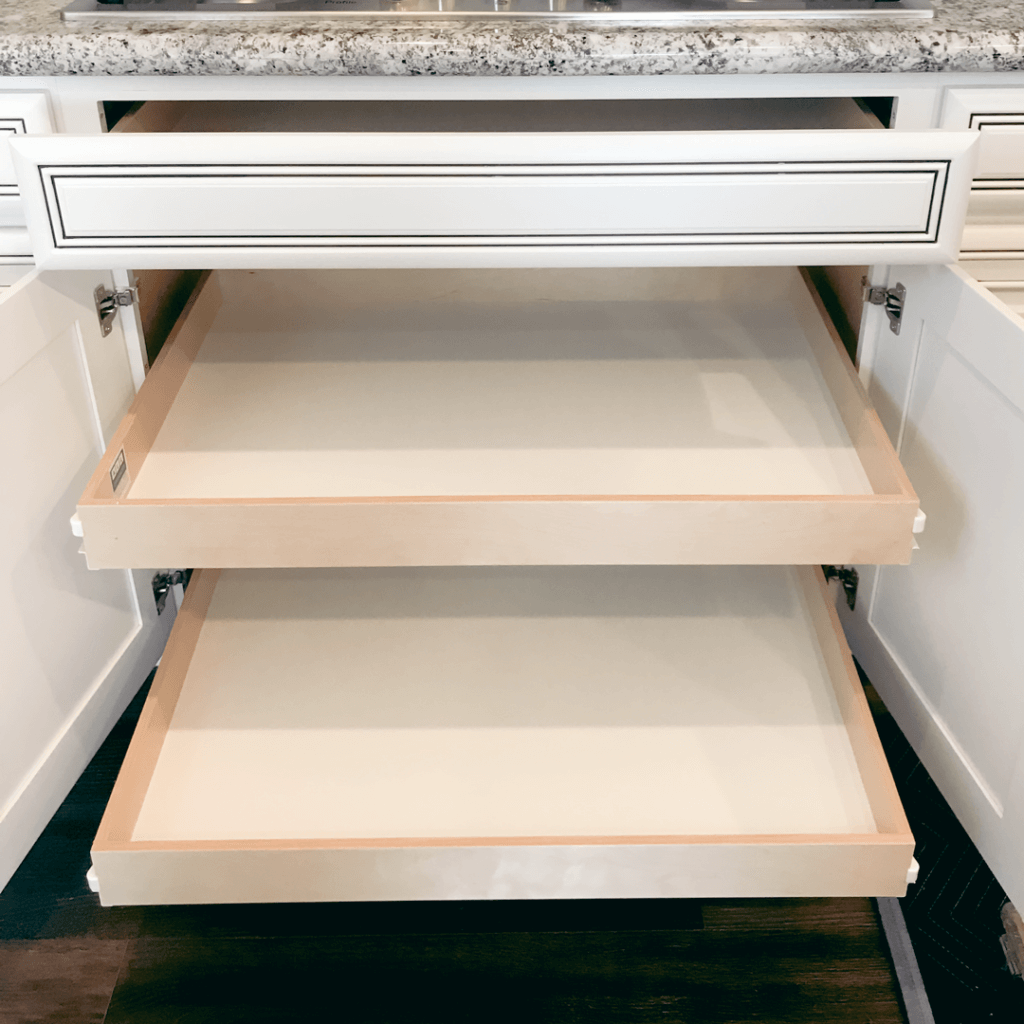 High Quality Materials
We choose the highest quality to design your custom Roll Out Shelves.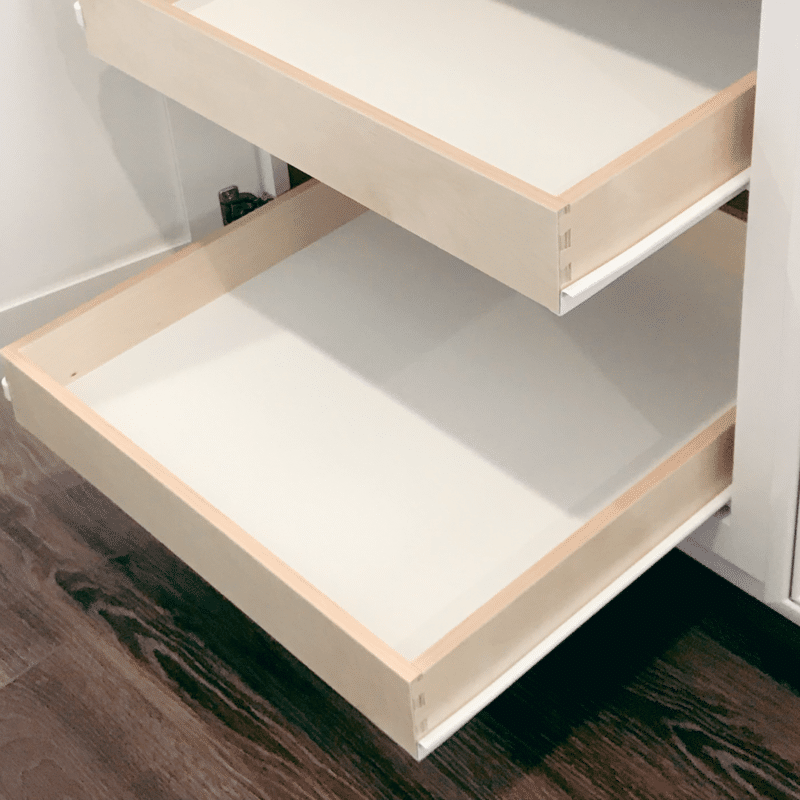 Dovetailed Joints
For the strongest joint, our craftsman dovetails every connection point.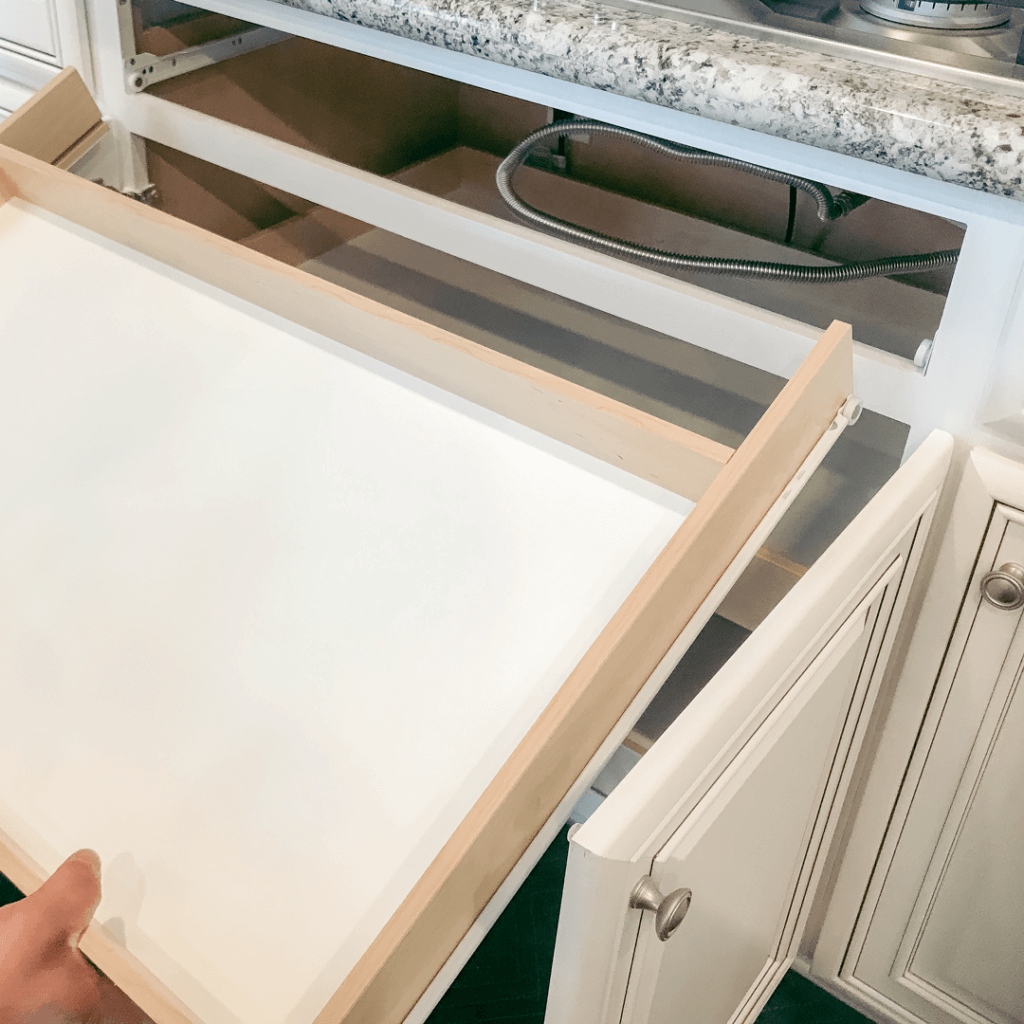 Durable Drawer Guides
Easily slide your Roll Out Shelves in and out with our durable hardware.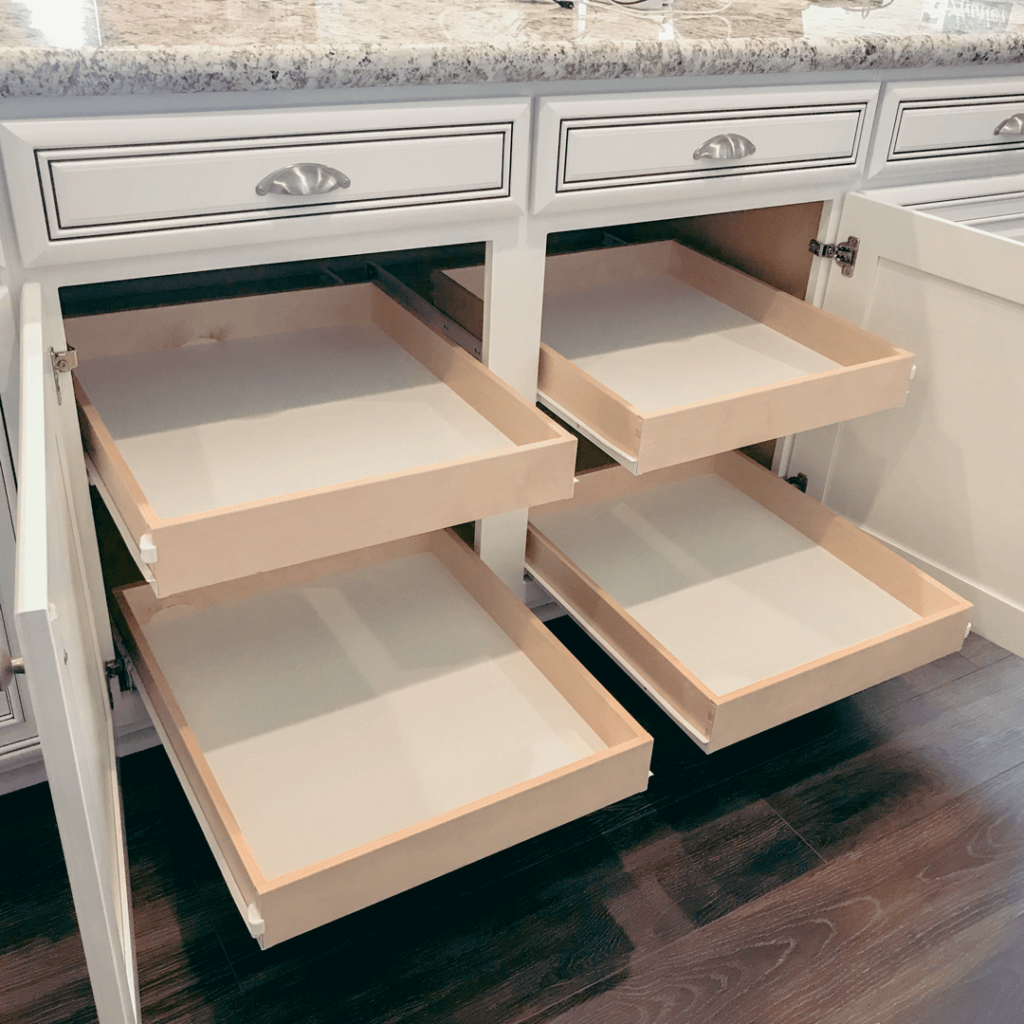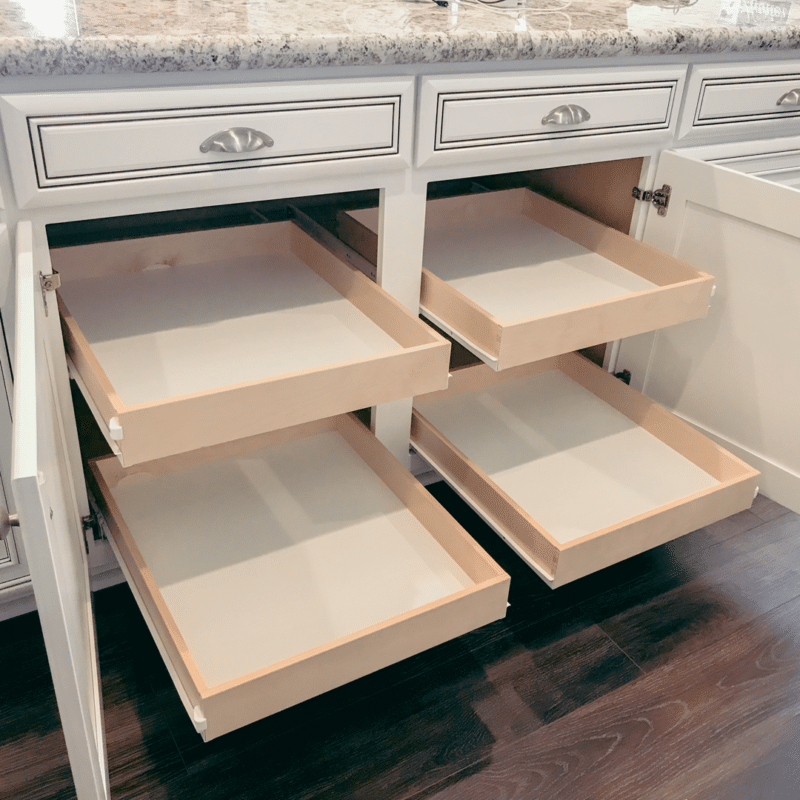 Subscribe to receive a bundle and save discount code to your inbox! You'll get:
• 6 Roll Out Shelves for $935 $795!
• 8 Roll Out Shelves for $1165 $995!
• 10 Roll Out Shelves for $1391 $1195!
• 12 Roll Out Shelves for $1619 $1395!
"*" indicates required fields
Questions About Our Cabinet Shelving Systems in El Dorado Hills?
We're always happy to answer questions for you!
Are you tired of trying to work in a messy, disorganized kitchen? 
Stooping over to get in the back corners of base cabinets, straining to reach objects in high cabinets, and that horrible mess underneath your kitchen sink…! 
I mean, can it get worse? Working in an inefficient, disorganized kitchen can effectively take all the joy out of cooking! 
We get it. Nobody wants to work in a kitchen like that. You want a nicely organized, peaceful kitchen where you can easily find and access all your cooking ingredients and implements. 
Luckily, we are here to help! 
At All Organized, we build pull-out shelves and other storage solutions that will make organizing your kitchen a breeze! No more killing your back trying to get to hard to reach corners, or clattering through all your pots and pans trying to find just the right one. 
Are you ready to reclaim the kitchen in your El Dorado Hills home? 
Call us today at 916-331-4991 or click here for your free design session!
Spanish for "The Golden" Hills, El Dorado Hills is an unincorporated census designated place. There is plenty to do around "The Golden Hills," as you probably know if you live in the area: 
Promontory Park

Dry Diggings Distillery 

EDH Brewing 

California Welcome Visitors Center

Folsom Lake

Peter Bertelson Memorial Park 

Bass Lake Park 

And all the attractions of nearby Sacramento 
El Dorado Hills is associated with the Sacramento metropolitan area, and is nationally recognized as one of the best places to live in terms of safety, good schools, and median household income.
Sounds like a wonderful place to live! 
El Dorado Hills is less than 20 miles away from Coloma, CA, the site where gold was first discovered during the California Gold Rush. However, El Dorado Hills soon became a farming and ranching town. 
Today, the town covers 48 square miles of land and water and is home to about 42,000 people. 
The El Dorado Hills Chamber of Commerce says this about the area: 
"Local families enjoy the highly ranked schools, fabulous sports programs, close proximity to Folsom Lake, and numerous community activities, ranging from the art and wine fairs to free, evening outdoor music performances."
There is so much more to experience in beautiful El Dorado Hills!
We hope this lovely area will continue to thrive! 
Are you ready to organize your El Dorado home? 
Here is what some of our customers have to say.
Roxanne Summers:
"All Organized – as far as I am concerned – is a dream company to work with. They offer genuine personalized service – calls are returned promptly (they even remember your name), estimates are scheduled promptly (Paul even waited for me when I was a few minutes late to the appointment), and costs are completely affordable (I was actually told how I could save money). After my initial experience with All Organized, and now living with the convenience of roll out shelves, my only regret is not contacting All Organized and having them installed sooner. I would highly recommend that if you have thought about installing roll out shelves, do not hesitate a moment longer. Call All Organized and make that happen!"
Carol Poole:
"Our purchase of the Roll Out Shelves has been a very good investment. We have been wanting to get the Roll Out Shelves after seeing a display at one of the Home and Garden Shows. So glad that we finally made the appointment to have them installed. It has made it so much easier to organize things. We were so pleased with the consultation to prepare us for the installment of the shelves as well as the instructions on how to prepare for the day that they would be installed."
John Conetta:
"All Organized really did a great job installing our roll out shelves. Great pricing, great service and a really great product. Definitely recommend them if you are considering installing roll out shelves."
Give us a call here at All Organized! We build kitchen storage solutions for all homes in El Dorado Hills: zip code 95762
We look forward to hearing from you!
Not sure which roll out shelf is right for your home?
Download and read our FREE guide on our top 5 shelving options!