Your cabinets weren't built
with you in mind.
Cabinets are designed with hard-to-reach spaces.
How often do you dread cooking because you know you will need to dig through your cabinets to find what you need?
What if you could get exactly what you need when you need it easily—everything in its place?
Upgrade every inch of your cabinets into functional space with our custom pull out shelf solutions.
Create convenience and order with
every cabinet in your Rancho Cordova home.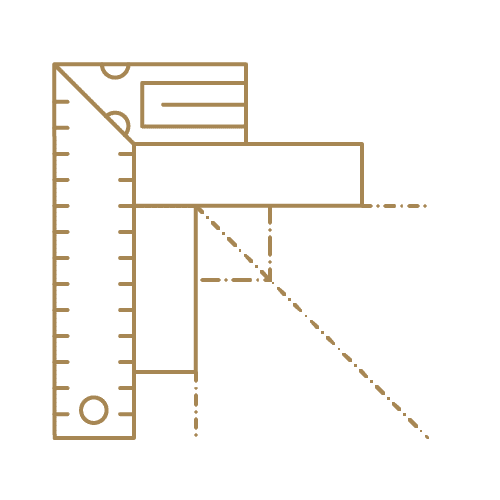 Schedule a
Design Session
We'll measure your cabinets
and provide a custom bid.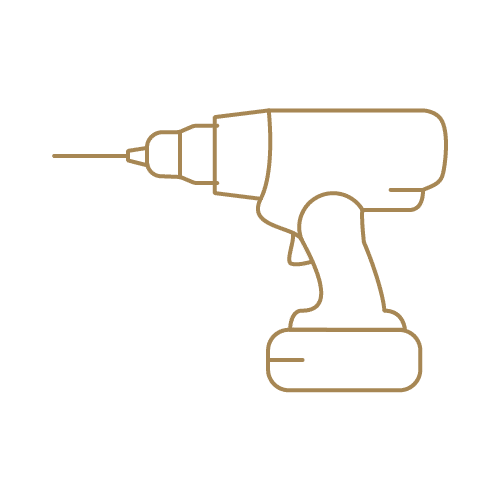 We'll Install Your
Roll Out Shelves.
Proudly show off the inside of your cabinets. It's all organized!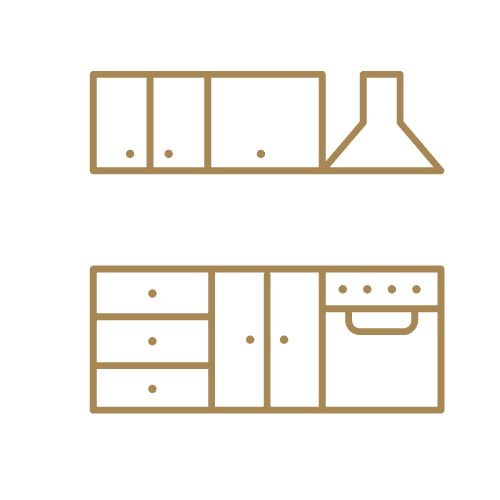 Enjoy convenience
in every cabinet.
No more bending, digging, snooping to find what you need!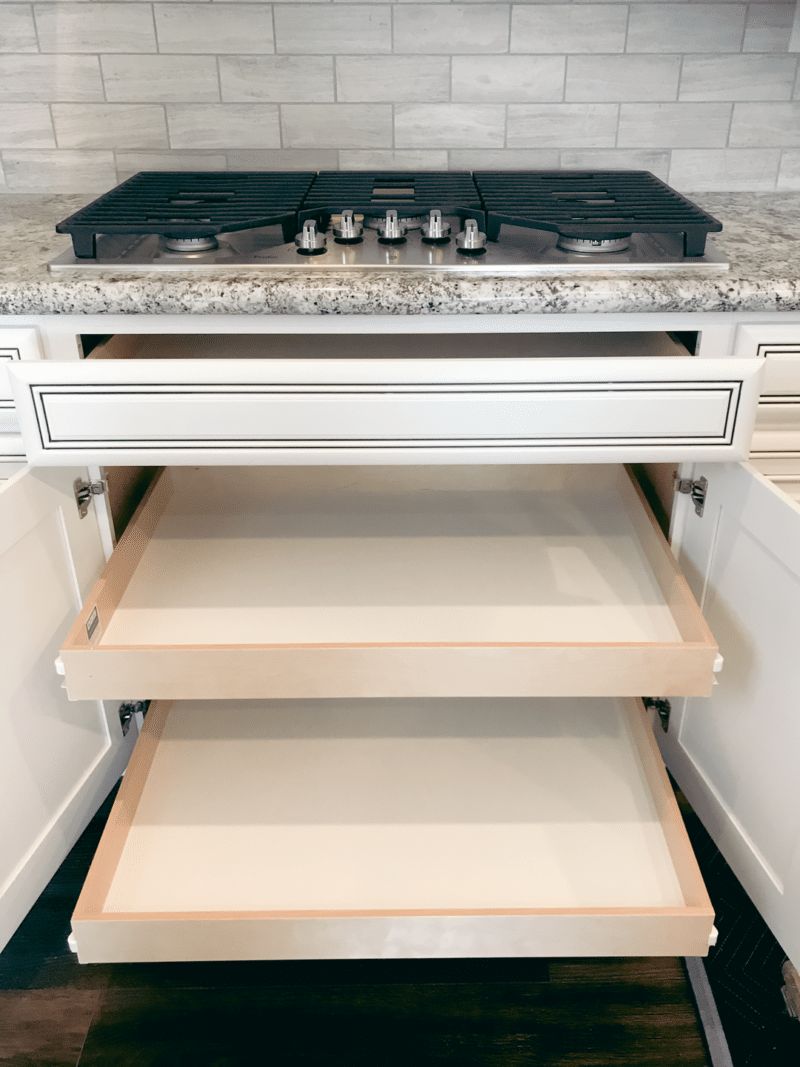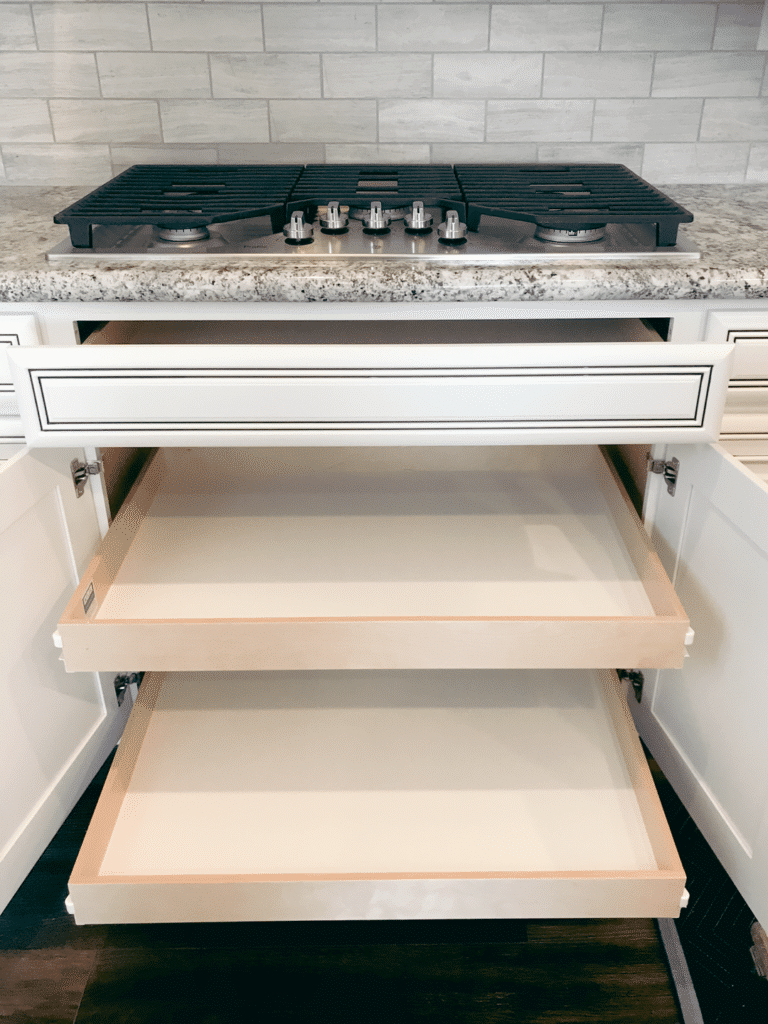 "I had roll out kitchen drawers installed 18 months ago and decided I needed one more deep custom drawer for my wire racks, cutting "boards" and muffin tins. They fit perfectly!! My kitchen is totally organized. The service and quality of their product is outstanding. Hugo was our installer both times and he is efficient, professional, courteous and very personable.
"
Functionality gives you more time to do what you love.
When everything you need is at arm's reach, you'll never be far from what matters most. For over 25 years, we've helped homeowners in the Rancho Cordova area upgrade their cabinets with various slide out and pull out shelves.
We love adding functionality to homes because it means: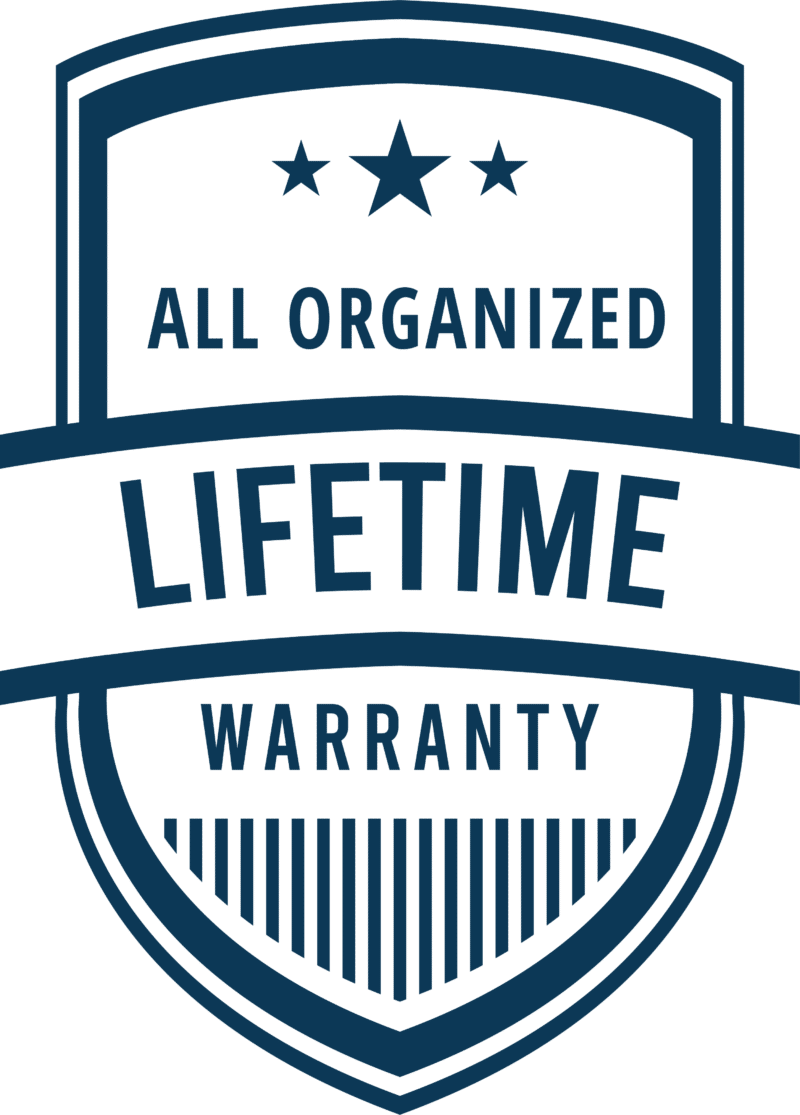 Custom Crafted Pull Out Shelves in Rancho Cordova
100% Satisfaction Guaranty and Lifetime Warranty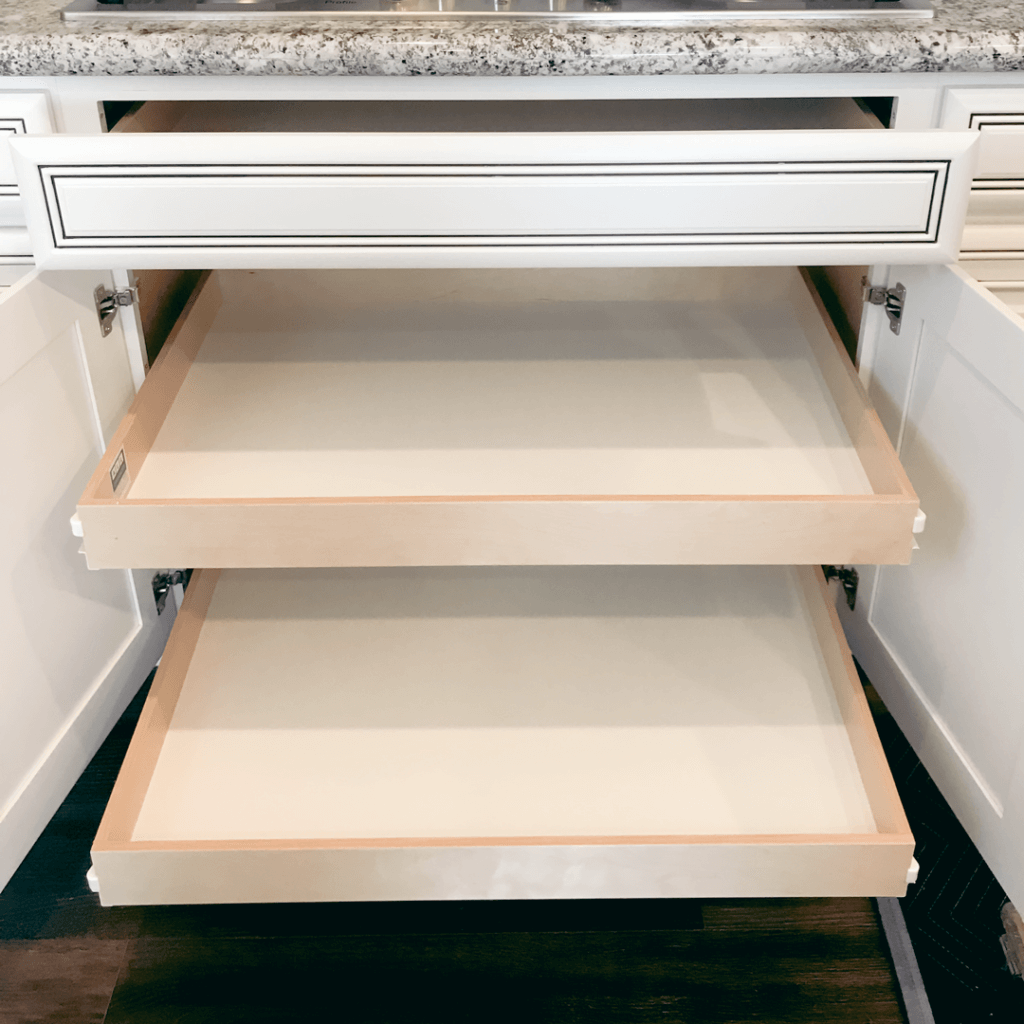 High Quality Materials
We choose the highest quality to design your custom Roll Out Shelves.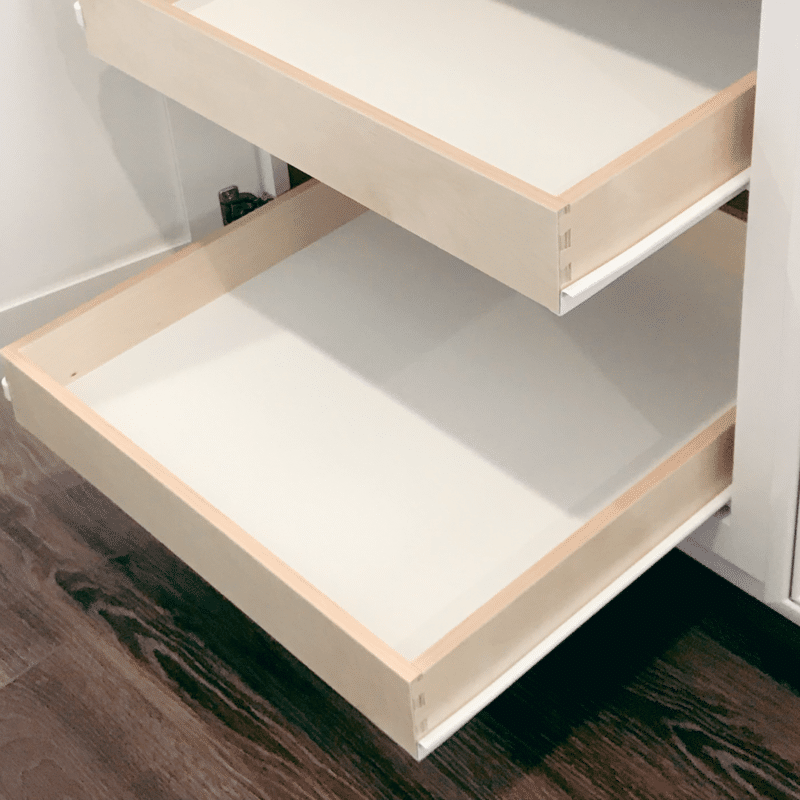 Dovetailed Joints
For the strongest joint, our craftsman dovetails every connection point.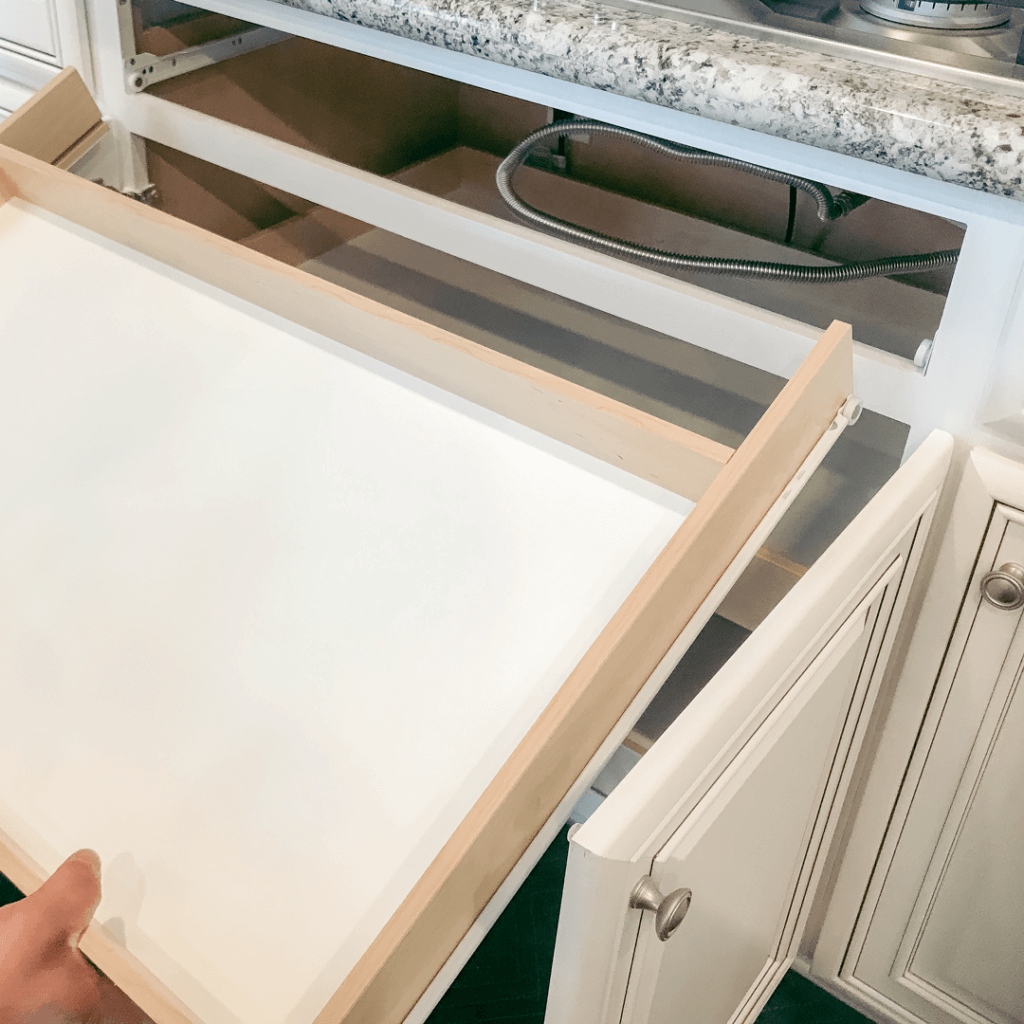 Durable Drawer Guides
Easily slide your Roll Out Shelves in and out with our durable hardware.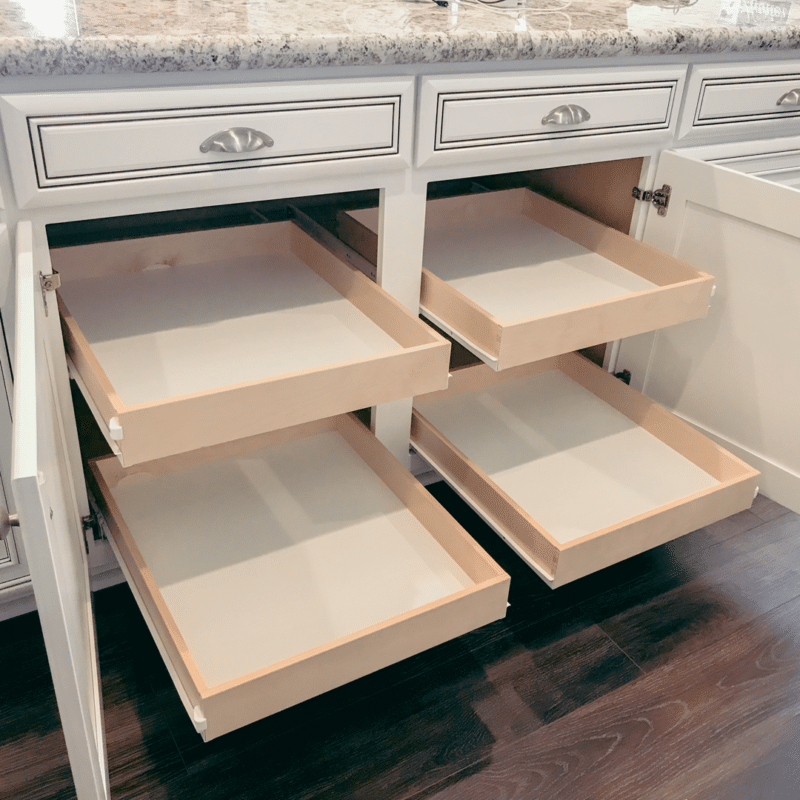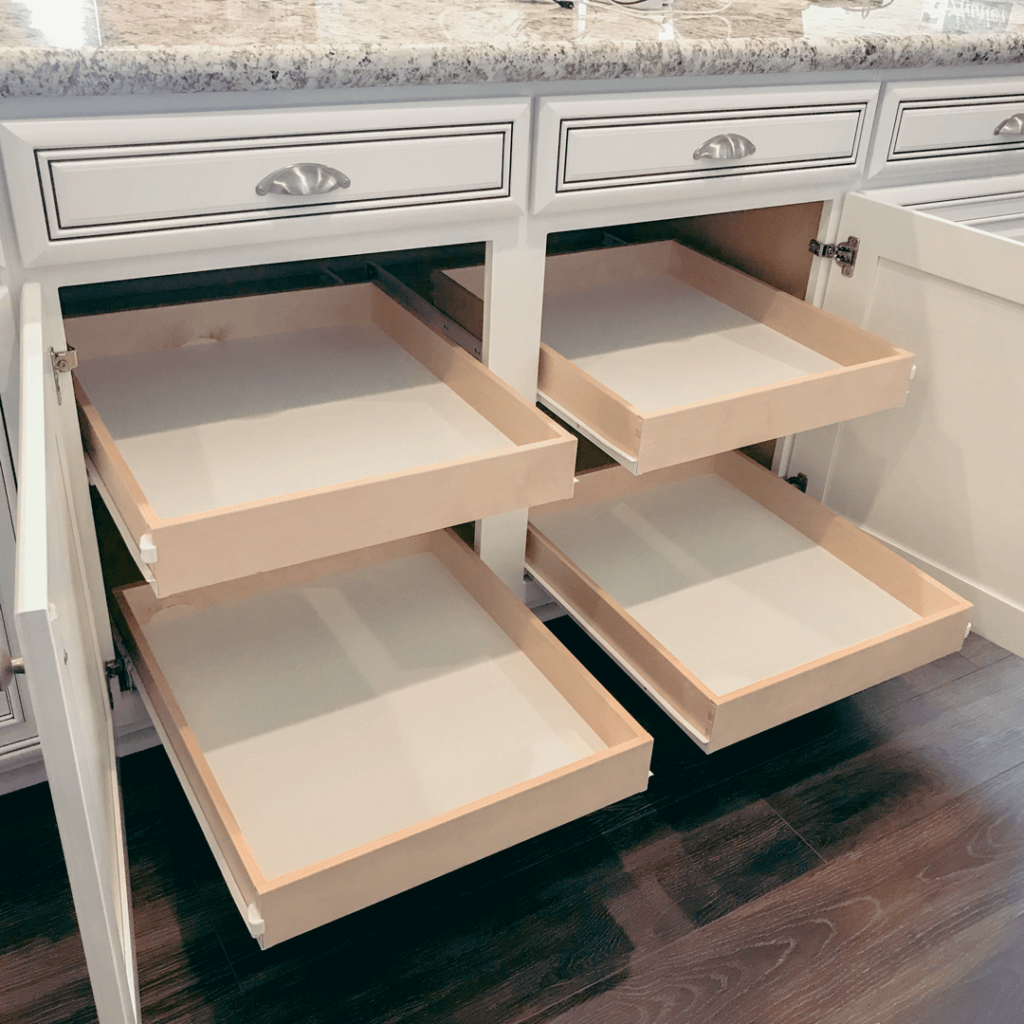 Subscribe to receive a bundle and save discount code to your inbox! You'll get:
• 6 Roll Out Shelves for $935 $795!
• 8 Roll Out Shelves for $1165 $995!
• 10 Roll Out Shelves for $1391 $1195!
• 12 Roll Out Shelves for $1619 $1395!
Questions About Our Cabinet Shelving Systems in Rancho Cordova?
We're always happy to answer questions for you!
Are you tired of working in a poorly organized, inefficient kitchen? 
Are you sick of struggles like stooping over to reach the back corners of base cabinets, digging around futilely trying to find spices in your spice cupboard, and clattering through all your pots and pans trying to free the one on the bottom? 
If this describes your experience in your kitchen, it may be time for an upgrade. 
Thankfully, All Organized is here to help! 
We build kitchen cabinet storage solutions like pull-out shelves and lazy susans to help you maximize the space in your Rancho Cordova kitchen.  
They are guaranteed to make your cooking experience 100% better! 
If you want to reclaim the space in your disorganized kitchen, call us today at 916-331-4991 or click here for your free design session!!! 
If your home is in or around Rancho Cordova, CA, you are already familiar with the attractions in the area:
Sacramento Children's Museum

Granite Arch Climbing Center 

Sky High Sports 

Burning Barrel Brewing 

Red Door Escape Room 

River Rafting rentals 

White Rock and Stone Creek Community Parks 

And the attractions of the surrounding areas, such as Sacramento
And that is only the beginning! There is lots to discover in beautiful Rancho Cordova and the surrounding areas – you'll have to go see for yourself.  
Hugging the Eastern border of Sacramento, Rancho Cordova covers about almost 35 square miles of land, and includes about 0.31 square miles of water. It's population is almost 65,000 people. 
Rancho Cordova has an active artistic side, a unique barrel district (made up of six breweries, two distilleries, and one meadery,) miles upon miles of biking and hiking trails, and lots of free live events! It's a great destination for art lovers or adventurers. 
Rancho Cordova was the recipient of the All American City award twice: once in 2010 and again in 2019. 
The Rancho Cordova homepage describes the city like this: 
"Today, the city is an emerging urban center with a small-town feel. Our workforce of 65,000+ makes us one of the largest employment centers in the region, and our over 79,000 residents enjoy both new and existing homes for every budget and lifestyle. Whether you call us, All-America City, Playful City USA, or Tree City USA, our friendly and safe neighborhoods reflect diversity, opportunity, partnerships, and fun, making Rancho Cordova a community where anyone can live, work, learn and play."
We hope that charming Rancho Cordova continues to grow and thrive for many years! 
Here is what our customers had to say about their experience with us.
Pam Huseman:
"Our new home's kitchen, while beautiful and loaded with cabinets, was not very user friendly. In other words, too much bending or getting down to reach items in the back. I missed my pull out drawers in my old house so I decided to call All Organized and get an estimate. Paul was great, not making too much fuss about the fact that I was late for our appt.! He talked about the options available and made quick work of the measuring process. You could tell this wasn't his first rodeo! Installation was scheduled and right on time the drawer pull-outs were delivered and installed.
I could not be happier with the result. They are a game-changer in my kitchen, making it more useful and organized. As a Professional Organizer, I truly appreciate the ability to have my kitchen organized and functional, knowing where everything is, and being able to access my things without a lot of wasted space.
I highly recommend All Organized to solve your organizing problems."
Debbie Pangilinan:
"Paul and Chris are great!  No hustle installation. Installer came on time and was done within the time frame given. Great quality roll out shelves . Will recommend to anyone Sorry my review was 2 months late Thank you!"
Beverly Curtis:
"I am so glad that I finally had these shelves installed.  I have wanted to ever since I saw this company at a home show.  The installer was in and out in less than an hour, putting 7 shelves into my small kitchen.  This is a local family own business and they are awesome from the first contact to the measurements taken to the installation.  I am so glad I saw them on Facebook – the best thing I could have done with part of my stimulus check.  Thank you, All Organized!"
If you are ready to get your Rancho Cordova home organized, give us a call! We provide pull out shelves and other storage solutions for homes in all zip codes in Rancho Cordova: 
95655, 95670, 95741, 95742
We look forward to hearing from you!
Not sure which roll out shelf is right for your home?
Download and read our FREE guide on our top 5 shelving options!