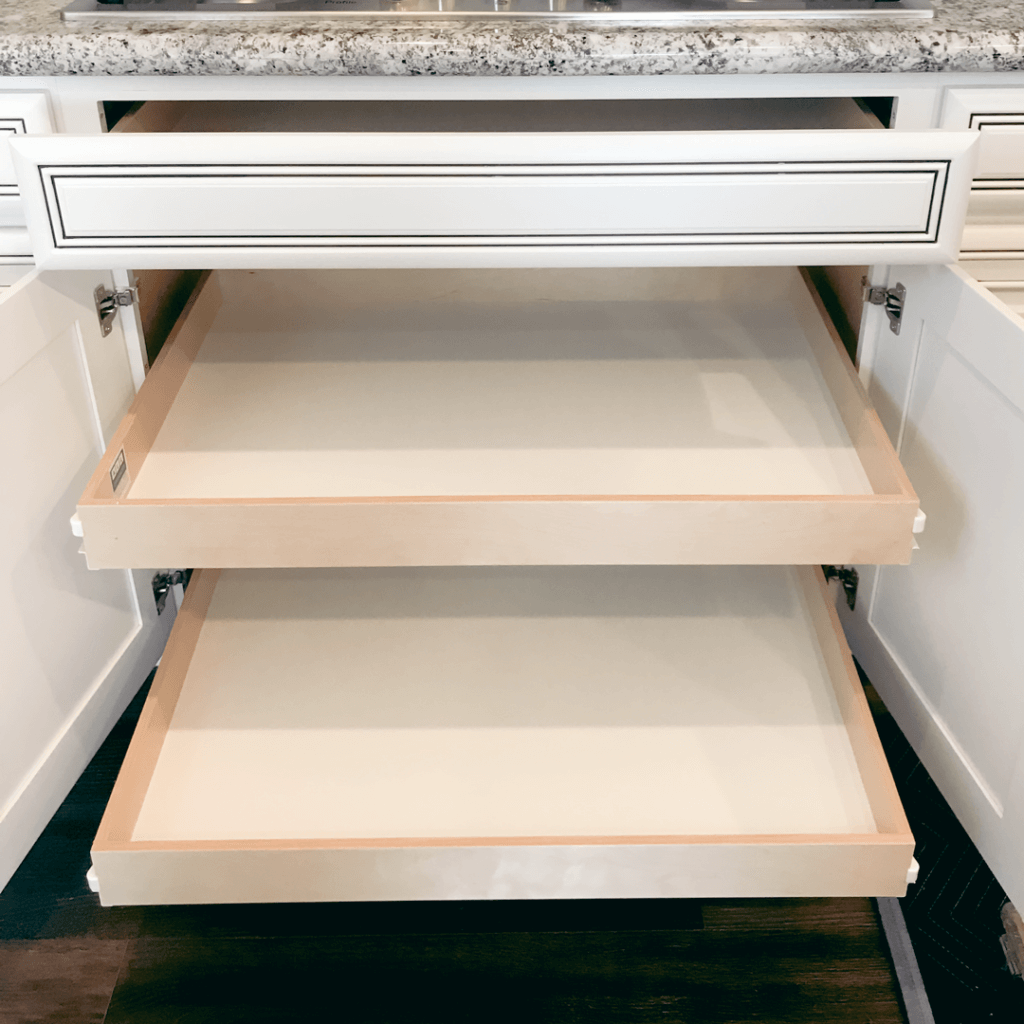 Standard Roll Out Shelf
The spaces in your home should function well with everything at arm's reach. All our sliding and pullout shelves are manufactured at half-inch increments width up to 36″ wide and one-inch up to 24″ length.
• Standard 3″ High on All Sides
• Custom Crafted to Fit your Openings
• 9-ply Baltic Birch with a UV finish
• Dovetail Corners Joints
• Melamine Bottom
• Standard Drawer Guides Holds up to 100 lbs.

Great for kitchens, bathrooms, under sinks, linen closets, and pantries!
As Low as $105.95 per Shelf
Standard Roll Out Shelves Upgrade Options
High Back
6″ high tapered to 3″ in the front. If you worry items may fall off the back, this is the perfect solution!
Double Deep
Double the drawer height with 6″ on all sides. Keep lightweight items in place like plastic bowls or towels.
Swoop Side Double Deep
Double deep, 6″ high sides with a cut out on one side. Great to see what's stored on tall cabinets.
Divided Double Deep
6″ high on all sides with 2 dividers in the back, front, left, or right. Finally, a solution for plastic bowls with lids!
Extra Wide or Long*
Instead of our standard 36″ max shelf, the extra wide option gives you up to 44″.
*We are unable to guarantee
shelves wider than 36″.
Two Tier
A double deep roll out with additional storage for spices or dishes!
Under Cooktop
Convert your false front under your cooktop into functional space for utensils or spices!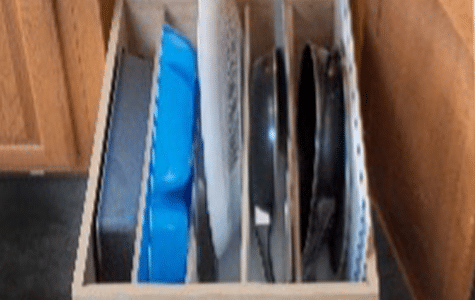 Tray Divider
Roll out large platters,
trays, and cookies sheets to find what you need!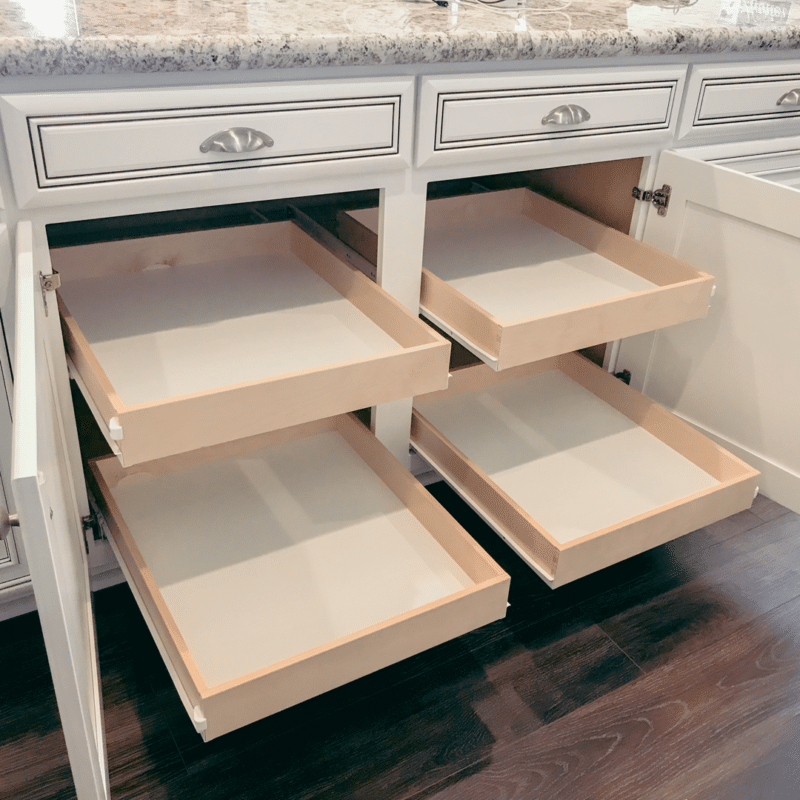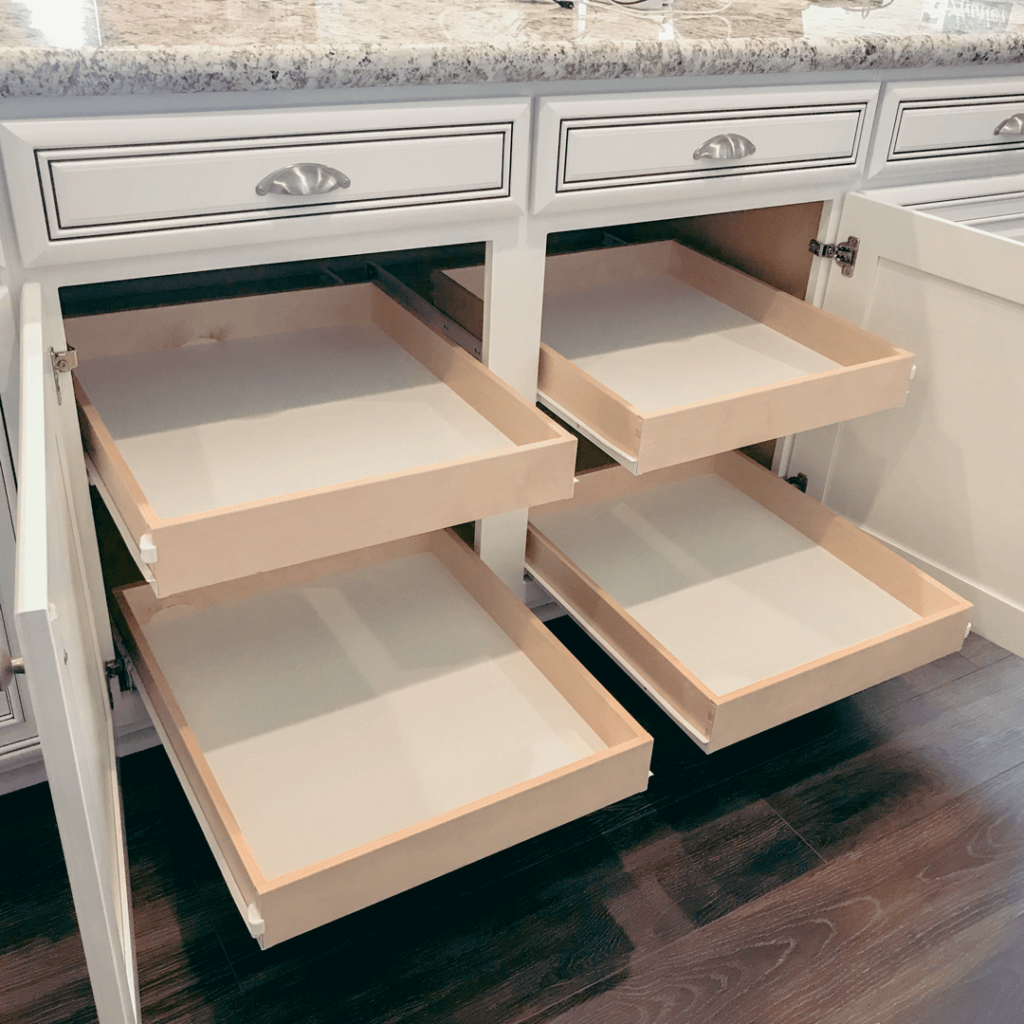 Subscribe to receive a bundle and save discount code to your inbox! You'll get:
• 6 Roll Out Shelves for $935 $795!
• 8 Roll Out Shelves for $1165 $995!
• 10 Roll Out Shelves for $1391 $1195!
• 12 Roll Out Shelves for $1619 $1395!