Your cabinets weren't built
with you in mind.
Cabinets are designed with hard-to-reach spaces.
How often do you dread cooking because you know you will need to dig through your cabinets to find what you need?
What if you could get exactly what you need when you need it easily—everything in its place?
Upgrade every inch of your cabinets into functional space with our custom pull out shelf solutions.
Create convenience and order with
every cabinet in your Carmichael home.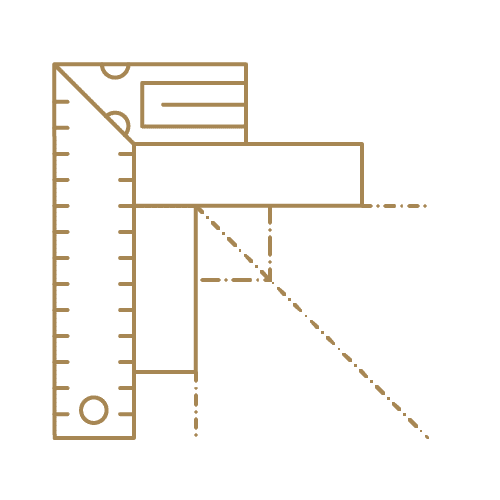 Schedule a
Design Session
We'll measure your cabinets
and provide a custom bid.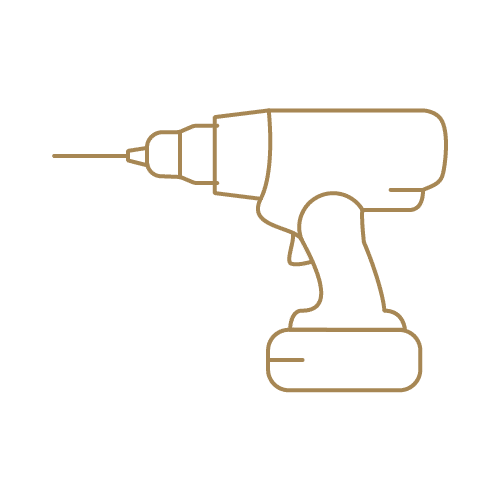 We'll Install Your
Roll Out Shelves.
Proudly show off the inside of your cabinets. It's all organized!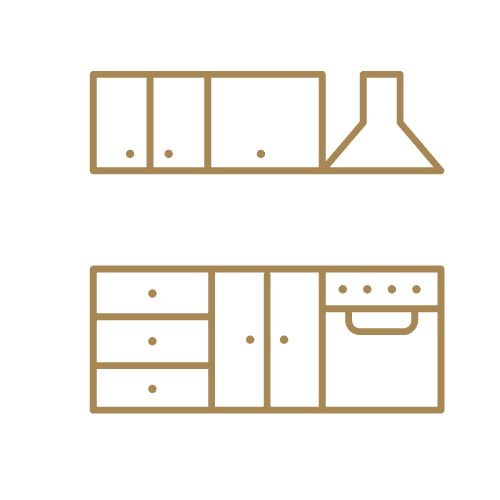 Enjoy convenience
in every cabinet.
No more bending, digging, snooping to find what you need!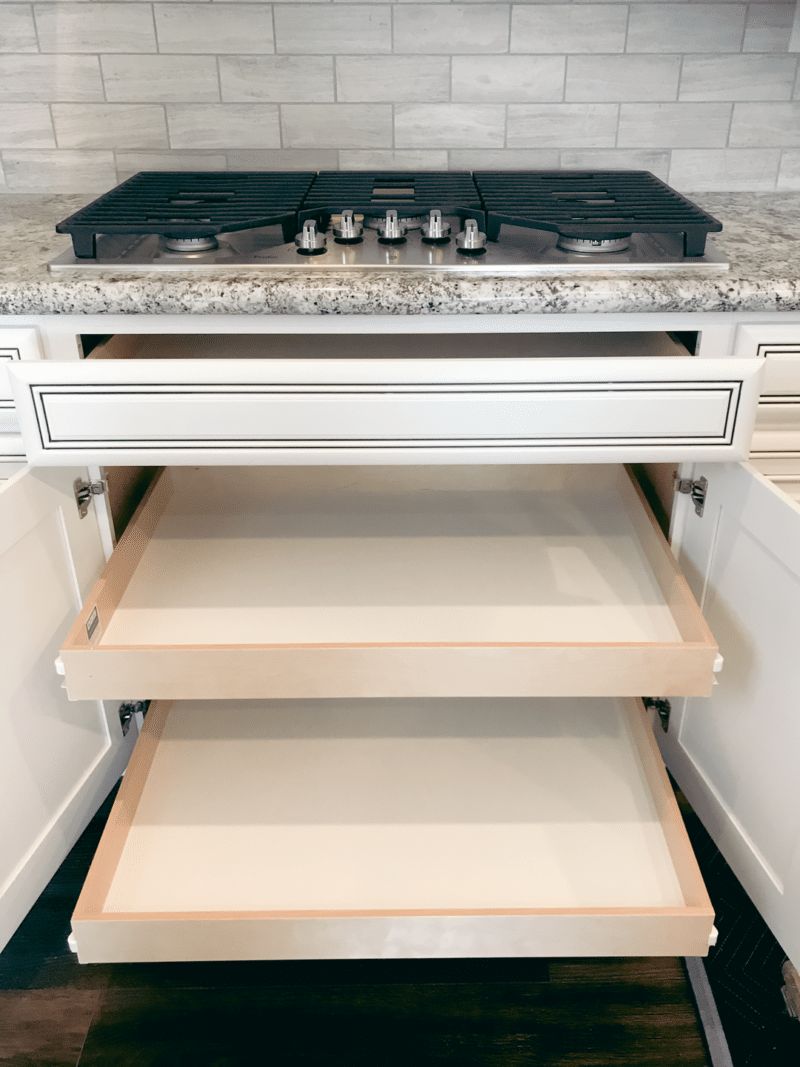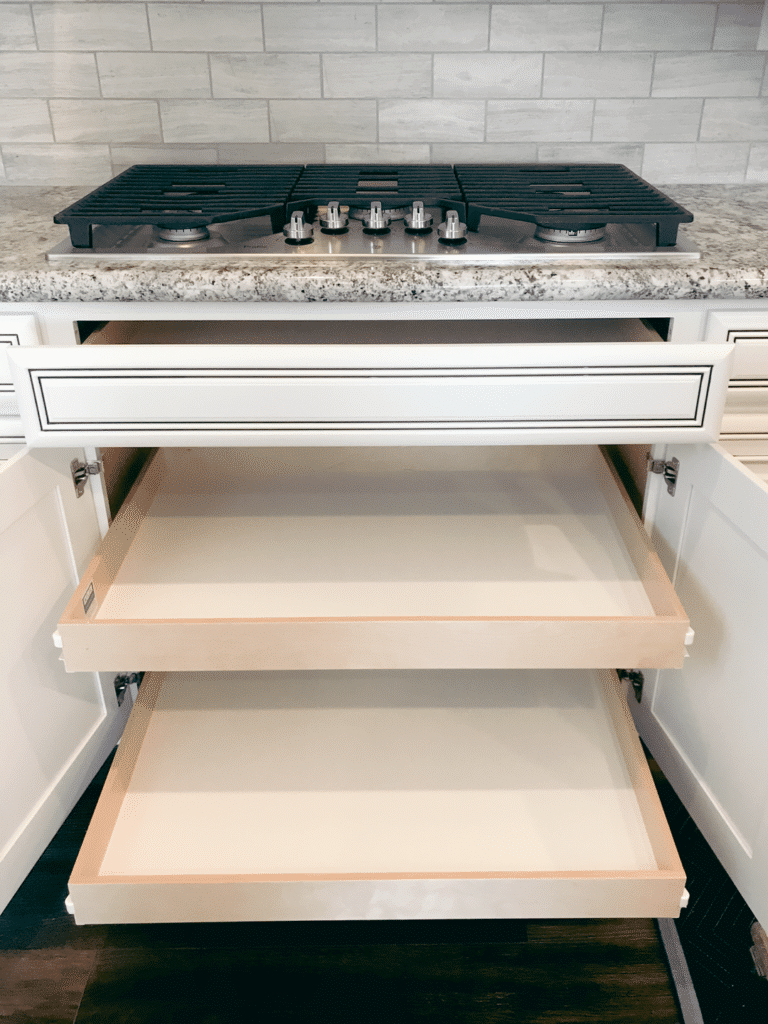 "I'm really glad I had my kitchen shelves built out with rolls out shelves from All Organized. Now my husband can reach and access all the things we own. I can too without doing crazy yoga to reach things in the back. This has been a wonderful upgrade. Chris, Hugo and the team are just wonderful people."
Functionality gives you more time to do what you love.
When everything you need is at arm's reach, you'll never be far from what matters most. For over 25 years, we've helped homeowners in the Carmichael area upgrade their cabinets with various slide out and pull out shelves.
We love adding functionality to homes because it means: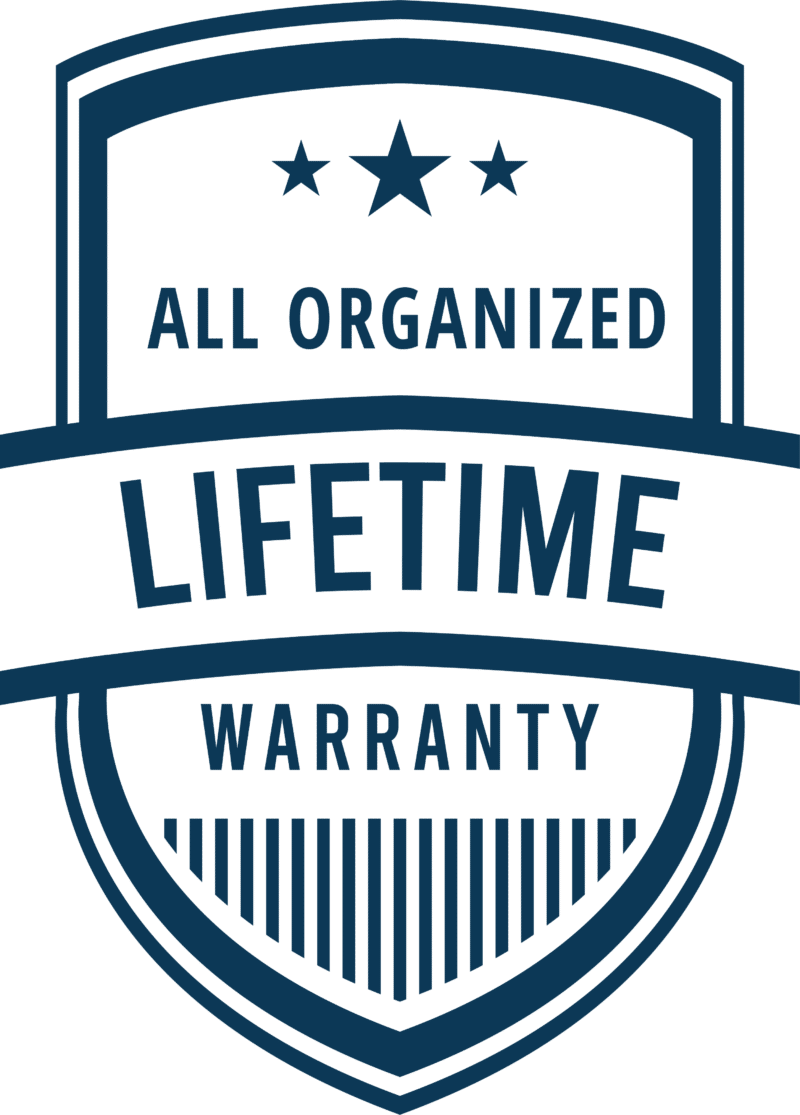 Custom Crafted Pull Out Shelves in Carmichael
100% Satisfaction Guaranty and Lifetime Warranty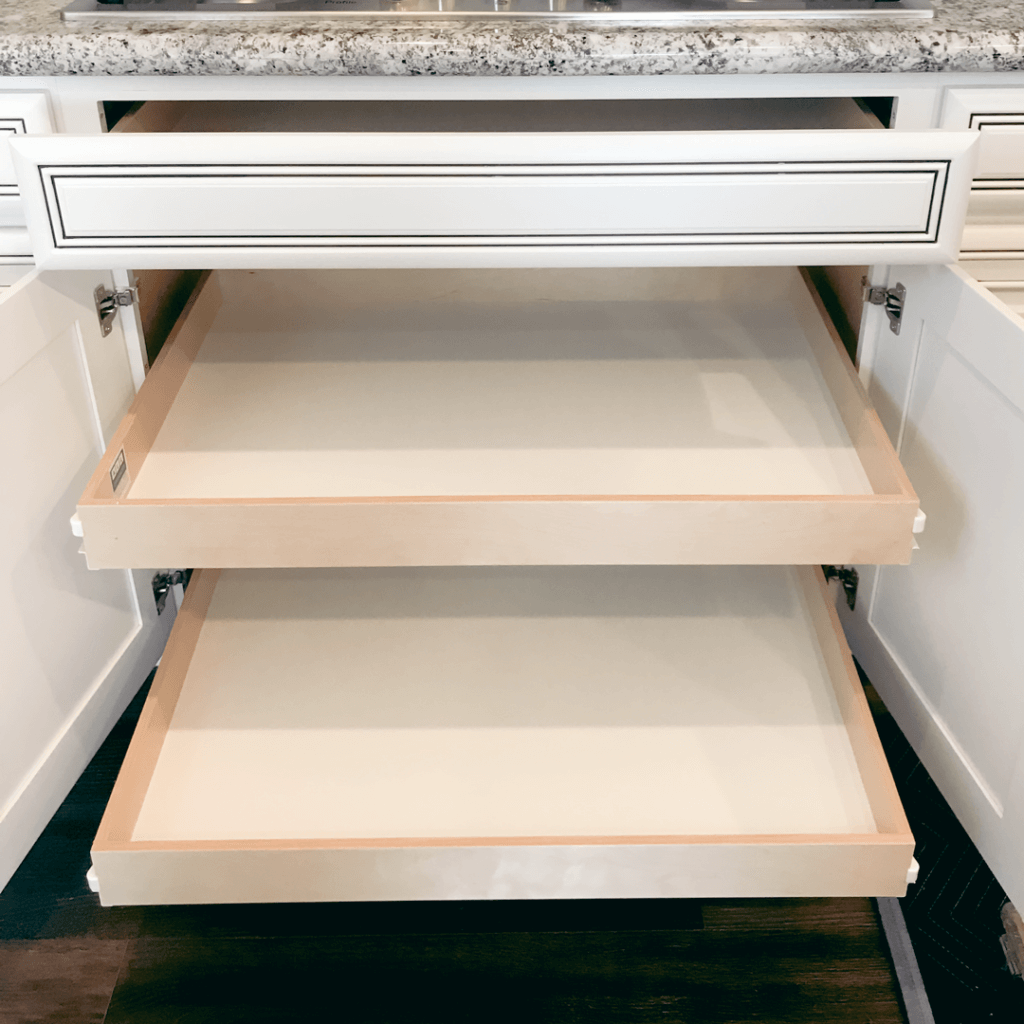 High Quality Materials
We choose the highest quality to design your custom Roll Out Shelves.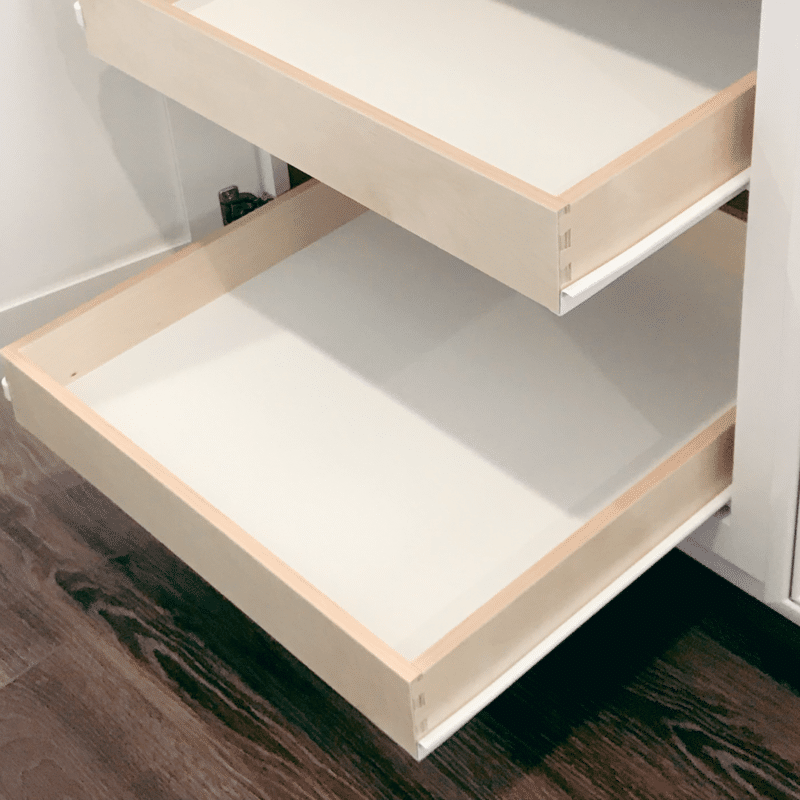 Dovetailed Joints
For the strongest joint, our craftsman dovetails every connection point.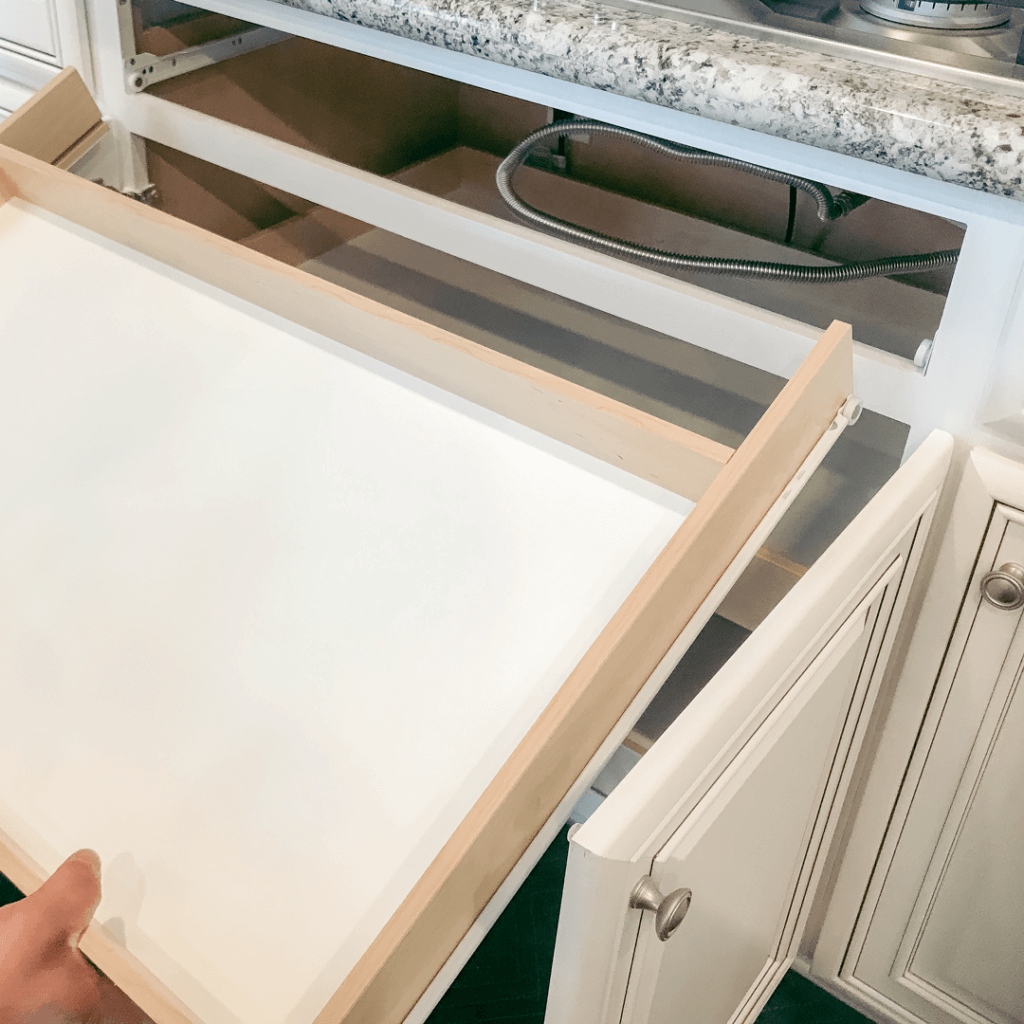 Durable Drawer Guides
Easily slide your Roll Out Shelves in and out with our durable hardware.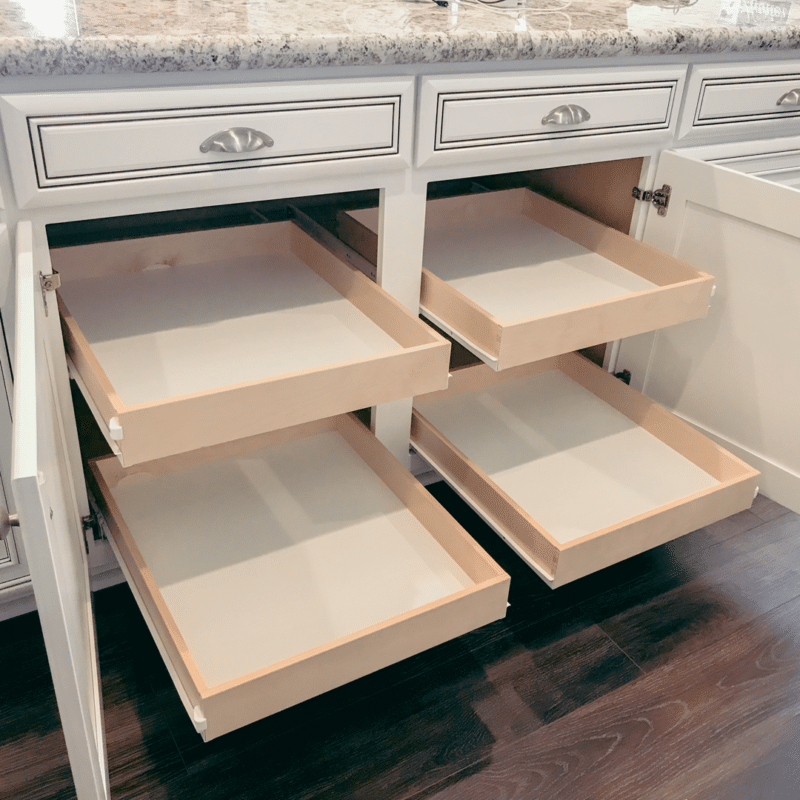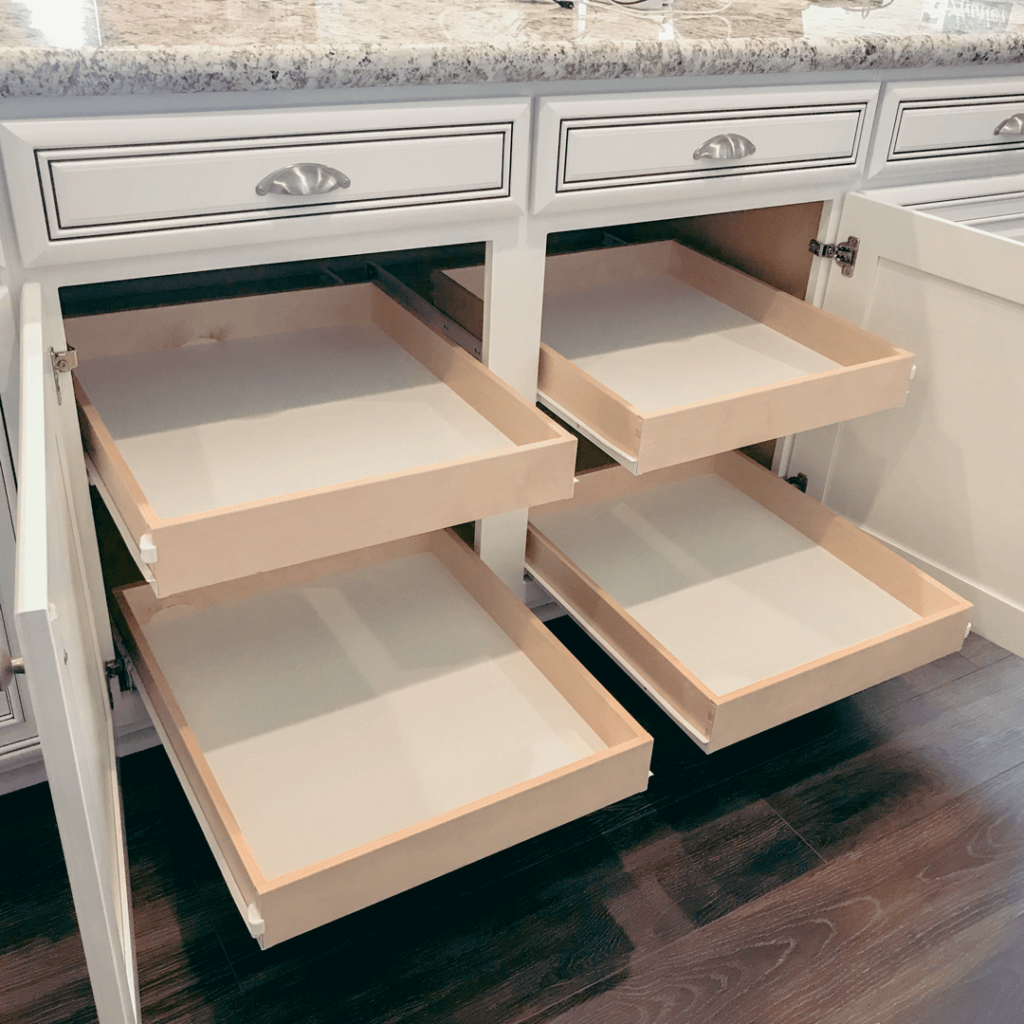 Subscribe to receive a bundle and save discount code to your inbox! You'll get:
• 6 Roll Out Shelves for $935 $795!
• 8 Roll Out Shelves for $1165 $995!
• 10 Roll Out Shelves for $1391 $1195!
• 12 Roll Out Shelves for $1619 $1395!
Questions About Our Cabinet Shelving Systems in Carmichael?
We're always happy to answer questions for you!
Are you sick of cooking and hosting in a cluttered, disorganized kitchen? 
I mean, just finding a saucepan in the far corner of a cabinet can feel like an adventure in the jungle sometimes! It can be a literal pain in the neck to dig through all the layers to find what you need. 
Thankfully, All Organized can help. We make roll-out shelves that can help you organize your kitchen and take control again. 
Then you can finally enjoy cooking and hosting in your beautiful, organized kitchen! 
Give us a call today at (916-331-4991) or schedule a free design session! 
Carmichael is surrounded by beauty, history, and interest. Here are a few of the points of interest you may have heard of: 
Effie Yeaw Nature Center 

Ancil Hoffman Park 

Carmichael Park 

Jenson Botanical Garden 

Ancil Hoffman Golf Course 

Gibbons Community park 

Magnolia Antiques 

Palm Street Bar and Grill 

Chautauqua Playhouse 

American River Parkway and Bike Trail 

And all the nearby attractions of Sacramento!
Carmichael is a suburb of Sacramento with a population of roughly 80,000 people. It covers about 16 square miles of land.   
The community was founded by Daniel W. Carmichael. He came to California in 1885 and developed the Carmichael community in 1909 on 2,000 acres of what was once part of the Rancho San Juan Mexican land grant. He later bought another 1,000 acres on the eastern side of this community and started a second one. 
Today, Carmichael boasts numerous quality schools and community parks, as well as other landmarks. Some of these include the American River Bike Trail, which passes through Carmichael, and Carmichael Park, a major 38-acre park in the town. 
The Carmichael Chamber of Commerce summarizes the community like this: 
Carmichael has an elevation of 125 ft., is 17 square miles, has a zip code population of 72,000, has one of only two regional libraries in Sacramento County, a trauma center, Mercy San Juan Medical Center, is home to one of the top school districts in the state, San Juan Unified School District, has a 320-acre public golf course, the Effie Yeaw Nature Center, two excellent park districts, and a small business community consisting of retail, professional and service businesses.
If you are looking to improve the kitchen in your Carmichael home, give us a call today! 
Here's what others are saying about All Organized:
"Love these shelves! But my favorite is over the oven storage rack. I love having a place for all the pans/trays and serving platters. The customer service from consultation to install was five stars. Best Christmas gift ever. 🙂 Thank you!" -Sarah Dietrich
"All Organized – as far as I am concerned – is a dream company to work with. They offer genuine personalized service – calls are returned promptly (they even remember your name), estimates are scheduled promptly (Paul even waited for me when I was a few minutes late to the appointment), and costs are completely affordable (I was actually told how I could save money). After my initial experience with All Organized, and now living with the convenience of roll out shelves, my only regret is not contacting All Organized and having them installed sooner. I would highly recommend that if you have thought about installing roll out shelves, do not hesitate a moment longer. Call All Organized and make that happen!" -Roxanna Summers
"I had roll out kitchen drawers installed 18 months ago and decided I needed one more deep custom drawer for my wire racks, cutting "boards" and muffin tins. They fit perfectly!! My kitchen is totally organized. The service and quality of their product is outstanding. Hugo was our installer both times and he is efficient, professional, courteous and very personable." -Colleen Reed
We serve all zip codes and neighborhoods in Carmichael, CA: 
95608, 95609, 95841 
Orange Estates, San Juan Estates, La Casa De Los Gobernadores, Carmichael Cove, Casitas El Camino Townhomes, Sheffield Estates, Audrey Meadows, Mission View, Oakview Heights, Tapestry Greens, Taylor, Sherwood Forest, Goddard Heights, La Jolla Heights, Fallen Oaks Estates, Glademont, Silver Lark Ranch, Loch Lomond, Eileen's, Lamada Acres, Canterbury Village, Marywood Estates, Fair Oaks Lotus, Mccoy Acres, Glen Olive Oaks, Fair Oaks Manor, Oak Knoll Terrace, Louise Glen, Walnut Village, St John Estates, Quail Creek Estates, Walnut Creek Estates, Hall Perigue, Wildflower East, Springfield Park, Fairwind Meadows, Joshua's Place, Palisade, Salishan Estates, Allante Estates, Engle Gardens, River Glen, River Bluff Vista, Carmichael Meadows, Brentwood Estates, Glen Estates, Wildflower, Root Avenue Estates, The Palms, Parkwood Place 
We look forward to hearing from you! 
Not sure which roll out shelf is right for your home?
Download and read our FREE guide on our top 5 shelving options!