Your cabinets weren't built
with you in mind.
Cabinets are designed with hard-to-reach spaces.
How often do you dread cooking because you know you will need to dig through your cabinets to find what you need?
What if you could get exactly what you need when you need it easily—everything in its place?
Upgrade every inch of your cabinets into functional space with our custom pull out shelf solutions.
Create convenience and order with
every cabinet in your Elk Grove home.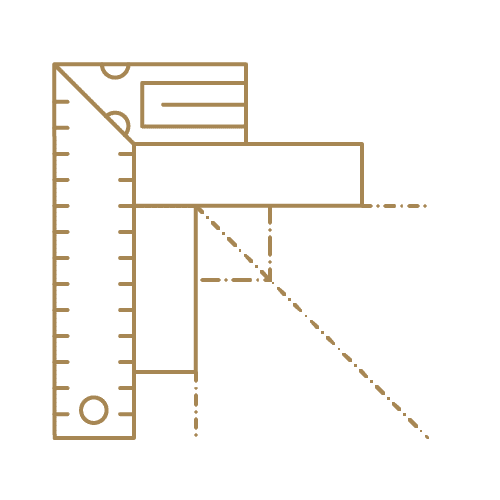 Schedule a
Design Session
We'll measure your cabinets
and provide a custom bid.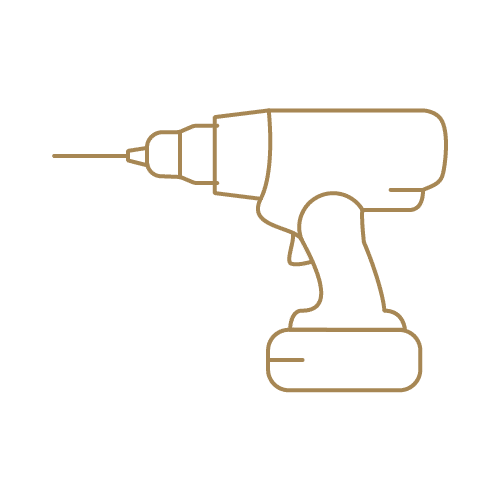 We'll Install Your
Roll Out Shelves.
Proudly show off the inside of your cabinets. It's all organized!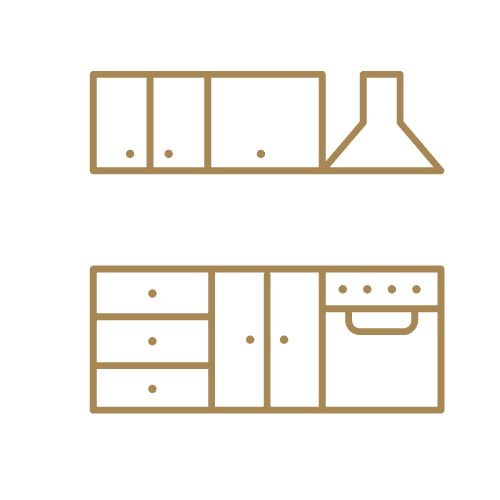 Enjoy convenience
in every cabinet.
No more bending, digging, snooping to find what you need!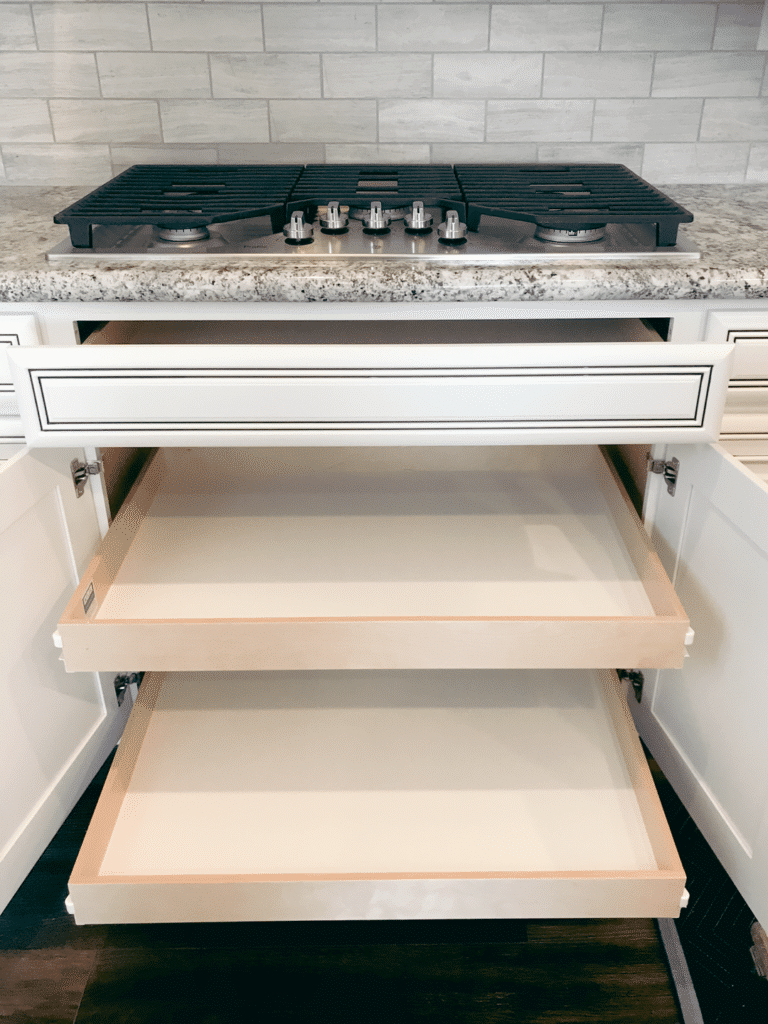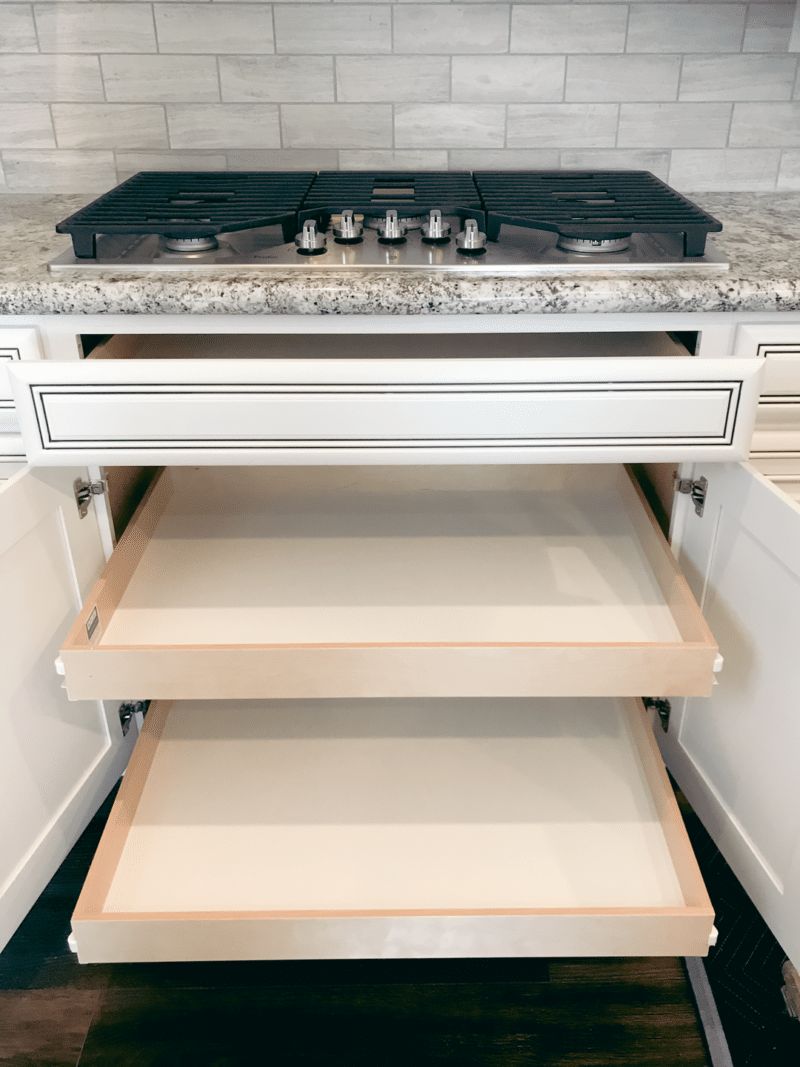 "
Great experience with All Organized! This was our second experience working with Mr. Upton. We greatly appreciated his thoughts about getting maximum utilization of the drawer space we were changing.
Installer arrived early and had suggestions on what we should consider when adding handles.Was a great experience from start to finish!"
Functionality gives you more time to do what you love.
When everything you need is at arm's reach, you'll never be far from what matters most. For over 25 years, we've helped homeowners in the Elk Grove area upgrade their cabinets with various slide out and pull out shelves.
We love adding functionality to homes because it means: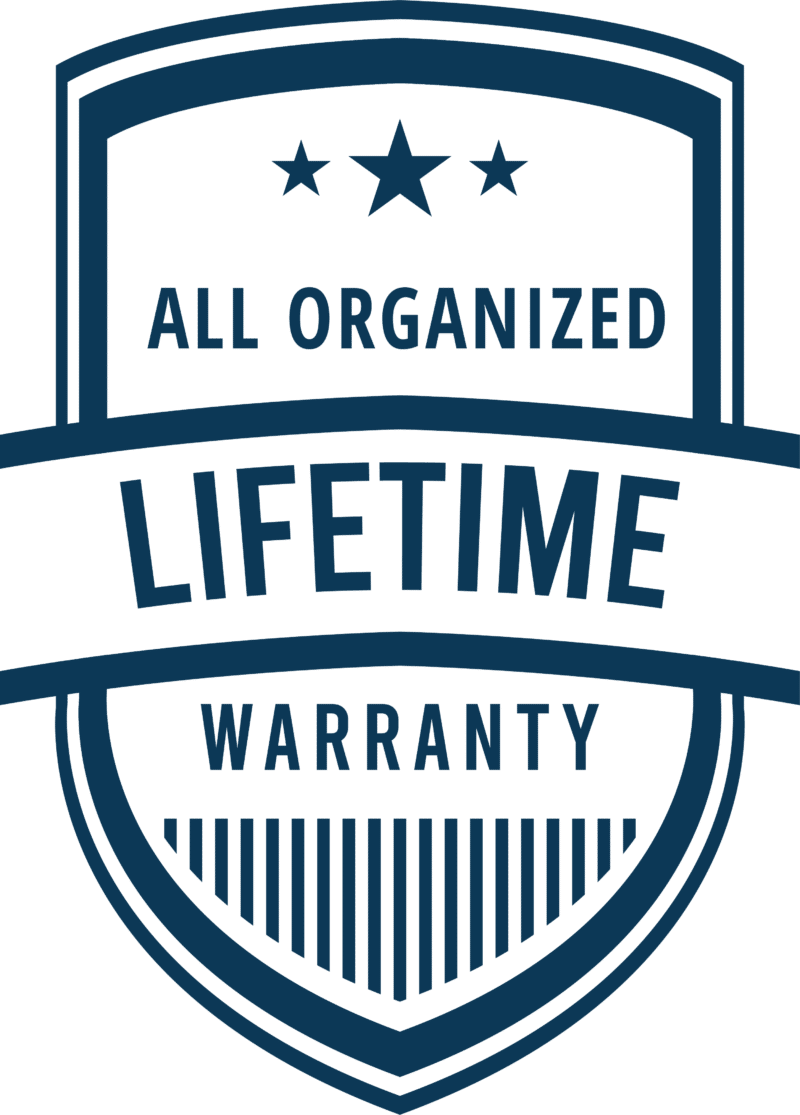 Custom Crafted Pull Out Shelves in Elk Grove
100% Satisfaction Guaranty and Lifetime Warranty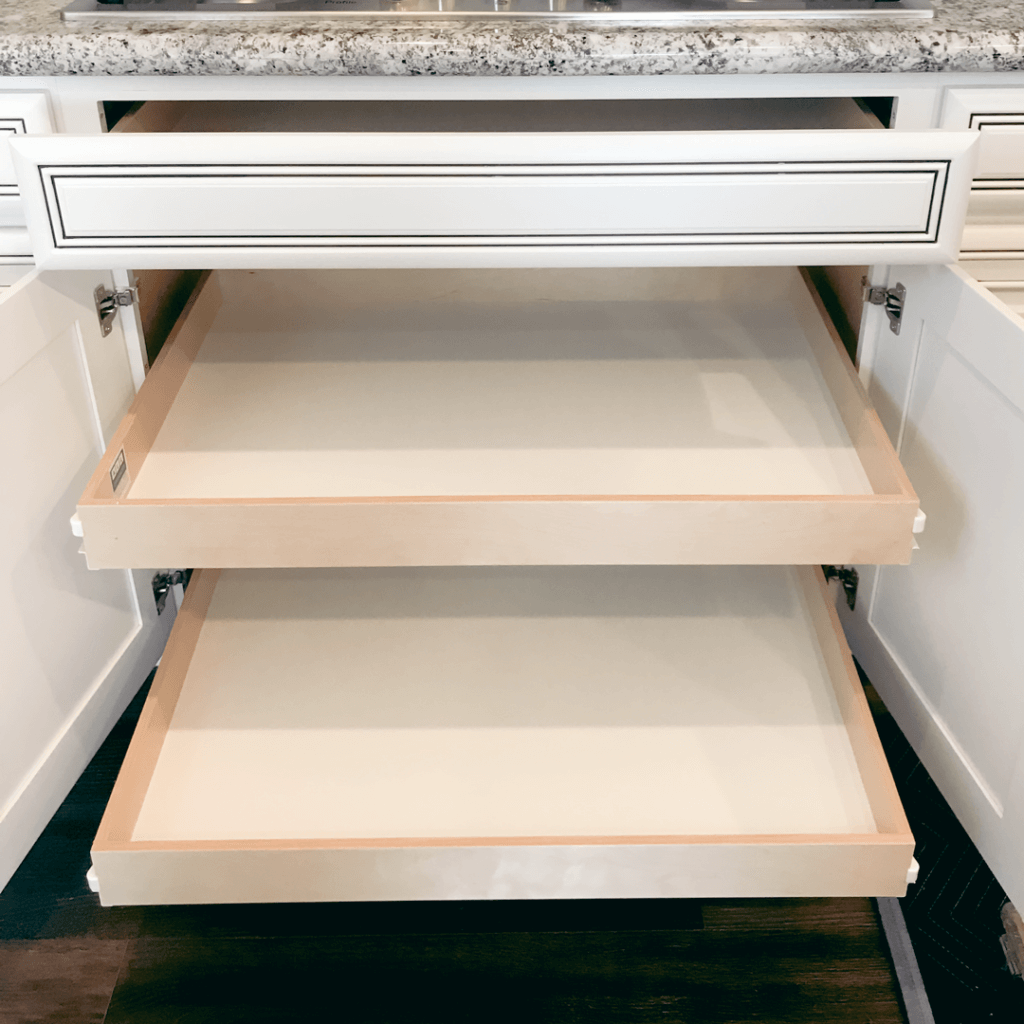 High Quality Materials
We choose the highest quality to design your custom Roll Out Shelves.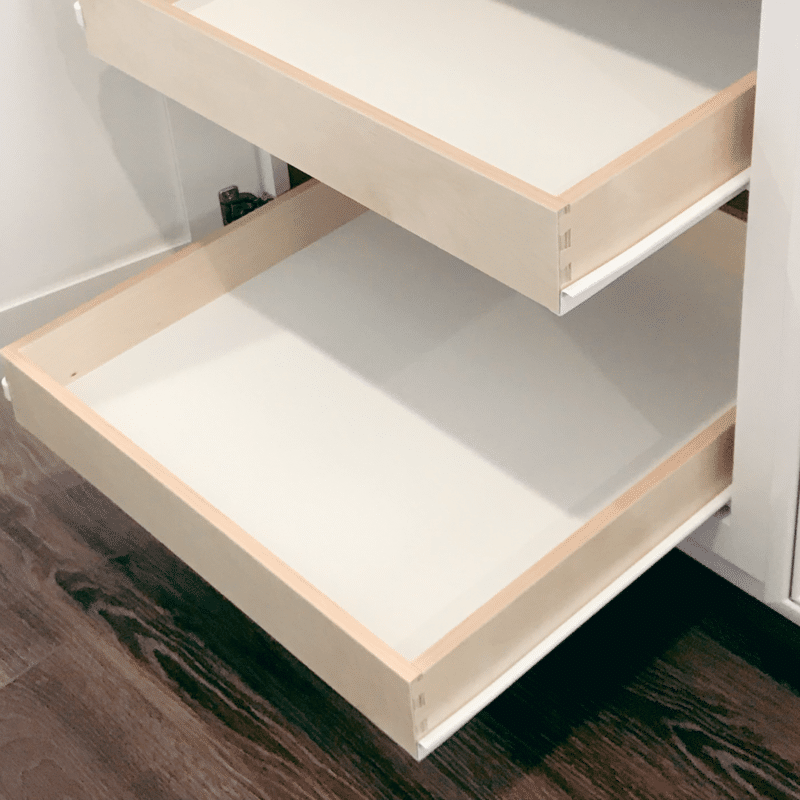 Dovetailed Joints
For the strongest joint, our craftsman dovetails every connection point.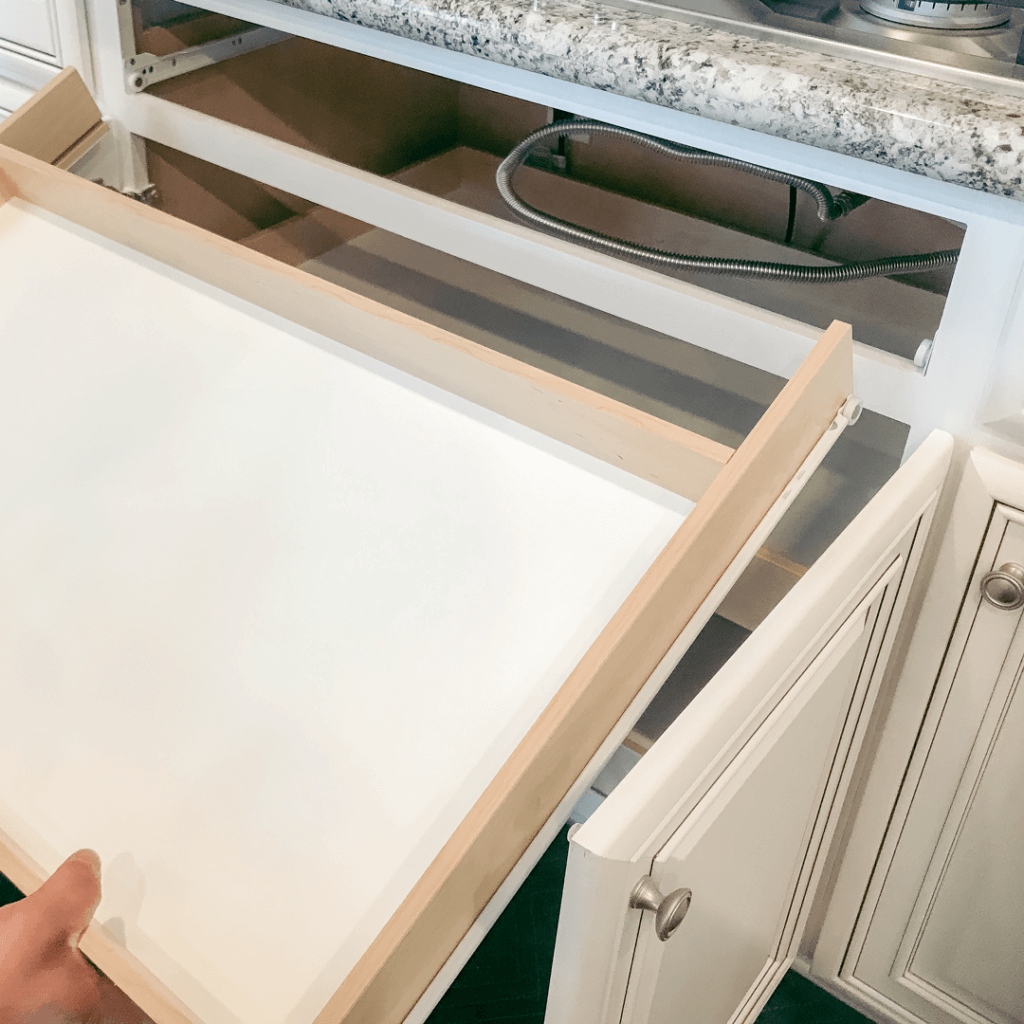 Durable Drawer Guides
Easily slide your Roll Out Shelves in and out with our durable hardware.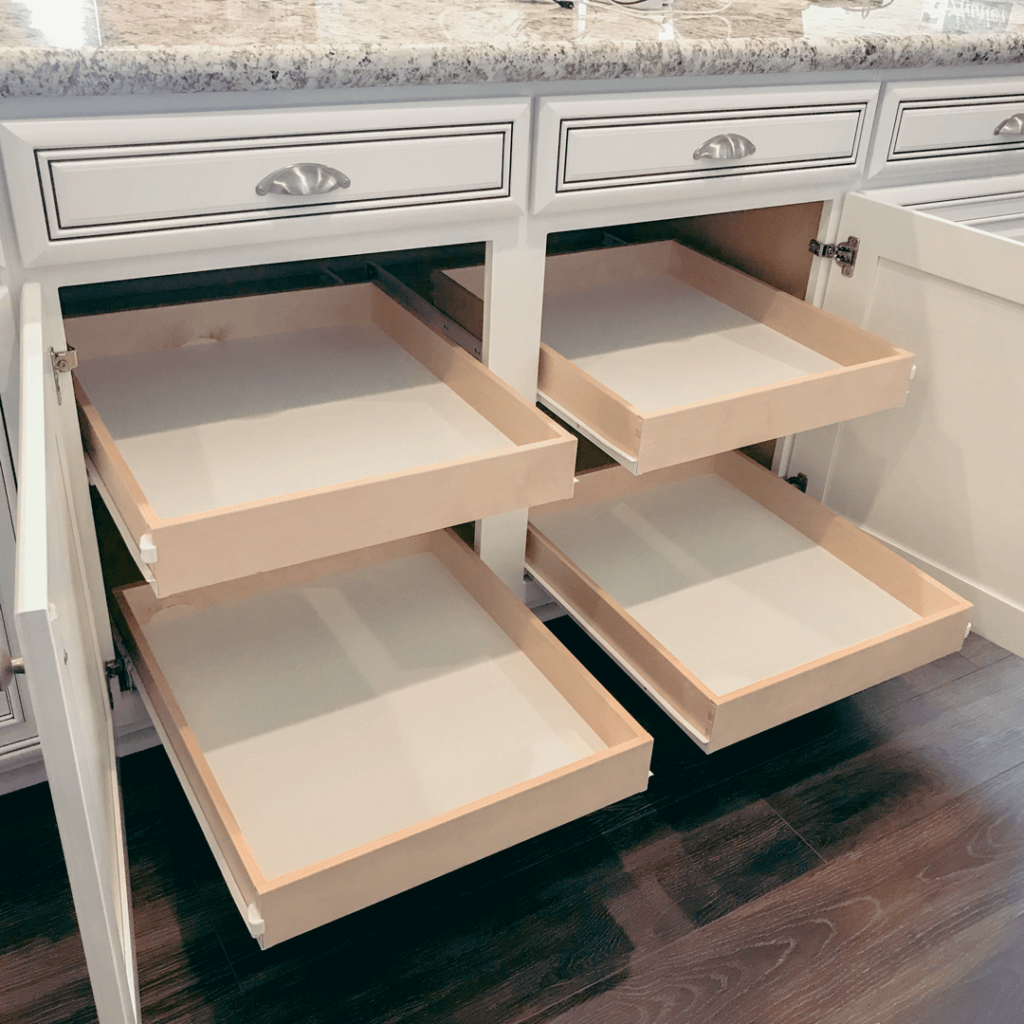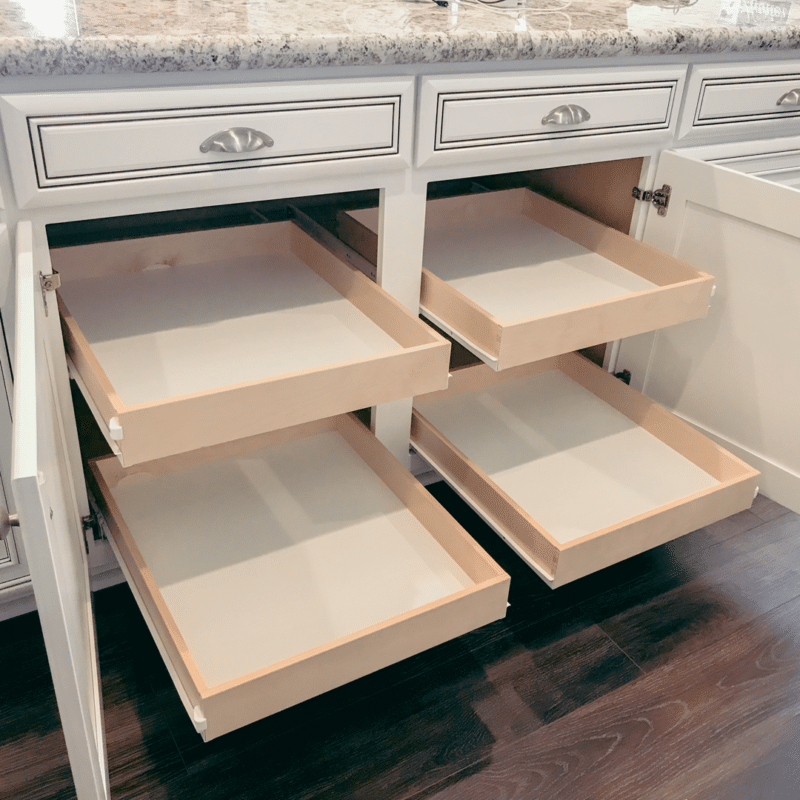 Subscribe to receive a bundle and save discount code to your inbox! You'll get:
• 6 Roll Out Shelves for $935 $795!
• 8 Roll Out Shelves for $1165 $995!
• 10 Roll Out Shelves for $1391 $1195!
• 12 Roll Out Shelves for $1619 $1395!
"*" indicates required fields
Questions About Our Cabinet Shelving Systems in Elk Grove?
We're always happy to answer questions for you!
Like many other homeowners in Elk Grove and the surrounding area, we know that you want your  cabinets to work for you and that you want to be proud of them.
Too often however, cabinets were designed to only look good. What about  all of the difficult to access corners that force you to spend time on your knees trying to access the back of a cabinet and drastically reduce your overall efficiency. This is not just true for your kitchen cabinets but also for your bathroom and laundry cabinets as well.
For over 30 years, All Organized has been building quality roll-out shelves so you spend less time on your knees in pain and more time doing what you love.
We believe that everyone deserves to love all of the cabinets in their home. We exist to make that happen.
Elk Grove has pleasant hot-summer Mediterranean climate and cool winters. The city is a general law city with a council/manager form of government.
Elk Grove is located just south of the state capital Sacramento. The city of Elk Grove incorporated on July 1, 2000 and in 2019 was estimated to have a population of 174,775. Elk Grove was founded in 1850 as a stage stop for travelers en route from Sacramento.
Call us today at 916-331-4991 or click here for your free design session!
You don't have to take our word for it – read what Pam H. had to say:
"Our new home's kitchen, while beautiful and loaded with cabinets, was not very user friendly. In other words, too much bending or getting down to reach items in the back. I missed my pull out drawers in my old house so I decided to call All Organized and get an estimate. Paul was great, not making too much fuss about the fact that I was late for our appt.! He talked about the options available and made quick work of the measuring process. You could tell this wasn't his first rodeo! Installation was scheduled and right on time the drawer pull-outs we're delivered and installed.
I could not be happier with the result. They are a game-changer in my kitchen, making it more useful and organized. As a Professional Organizer, I truly appreciate the ability to have my kitchen organized and functional, knowing where everything is and being able to access my things without a lot of wasted space. I highly recommend All Organized to solve your organizing problems."
Elana M:
"From start to finish our experience with All Organized was fantastic.  Great communication, friendly and professional from initial call with Chris to set an estimated appointment, to Paul coming to measure, to Hugo's installation, we could not be happier!  Top notch company!  Thank you Chris, Paul, and Hugo, for making my kitchen cabinets more user friendly…and "all organized."
Hal S:
"I saw these pull out shelves years ago at a home show and really wanted them.  I just never seemed to be able to get the stars to align to get my wish.  My wife recently asked me if I'd like to look at some pull out shelves for the kitchen.  You can only imagine my reaction…  YES!  
We called All Organized and they were very accommodating with regard to scheduling the appointment for a quote.  We loved what we saw and made a deposit to get the job started right then and there.  When we got the calendar out, that's when the only disappointment associated with this whole transaction happened.  They were a month out!  Yikes!  I wanted my shelves yesterday!  
We waited the 26 days to get them, and am I ever glad we did.  The installer was fantastic!  He arrived right on time; at the very beginning of the arrival window, double checked wherever there were questions, and worked very quickly and efficiently!"
We provide our pull out and slide out cabinet shelving systems to the following zip codes in Elk Grove:
95624, 95757, 95758, 95759, 95828, 95830.
Not sure which roll out shelf is right for your home?
Download and read our FREE guide on our top 5 shelving options!