Do you remember the show Mythbusters? We always watched that show and loved how they would take common beliefs and bust them wide open, exposing which ones were true and which weren't. That's kind of what I want to do, but instead of figuring out if banana peels can actually cause a person to slip and fall – we want to help you figure out how to create the kitchen of your dreams. 
Why are we taking a "Mythbusters" approach to remodeling kitchens? After spending decades in the cabinet business, we've seen it all. We started over 30 years ago, helping people design dream kitchens with custom cabinets. As a result, we've refaced, rebuilt, and redesigned kitchens in old homes, new homes, custom-built homes, and tiny log cabins. 
Over twenty years ago, we shifted our focus from making custom cabinets to making existing cabinets more functional. 
In our decades of experience, we've learned many myths, misconceptions, and mistakes people make when tackling their kitchen renovations. That's why we want to expose them, so you don't have to find yourself trapped in one and paying the price to get yourself out. 
As we see it, people have about six remodeling directions they take when redoing their kitchen. Each has its pros and cons but also pitfalls and traps. If you make these mistakes in your project, it can cost you tens of thousands of dollars to get out and even more in time and headaches. What's worse is you wind up having a form of kitchen remodel PTSD every time you walk into your kitchen, and trust us – that's the last thing you want. There are enough things in the world to be triggered by. Don't let your kitchen remodel be one of them. 
After hearing countless horror stories of kitchen remodels gone wrong, we're finally sharing our decades of experience with you so that you don't have to fall into the same traps as others.
1 - Replacing Your Cabinets
Replacing your entire kitchen kicks off this list because it's probably what we most frequently hear people say they "need to do" when we meet them at home and garden shows. Replacing your kitchen means one of two things. You either hire someone or become the crazy-ambitious person to do it yourself. 
We recommend not trying to do it yourself unless you're a big fan of :
Being without a kitchen for months and months

Struggling to navigate supply chain issues

Dealing with vendors who often hate supplying 1-off projects

And creating a whole new subject matter to fight with your spouse about
But hey, if those things sound fun – we wish you well. 
Replacing your kitchen is a very exciting but large-scale project. Having the right designer, builder, and plan is critical. When done well, it leaves you with your dream kitchen. Everything has a space and is in its place. You feel like you're Martha Stewart and Julia Childs all wrapped together. You have everything you want, from how your kitchen looks to how it functions. 
And, for those who do remodel using this method, once they get past the long timeline, headaches, and costs, they're left with something they genuinely love from top to bottom.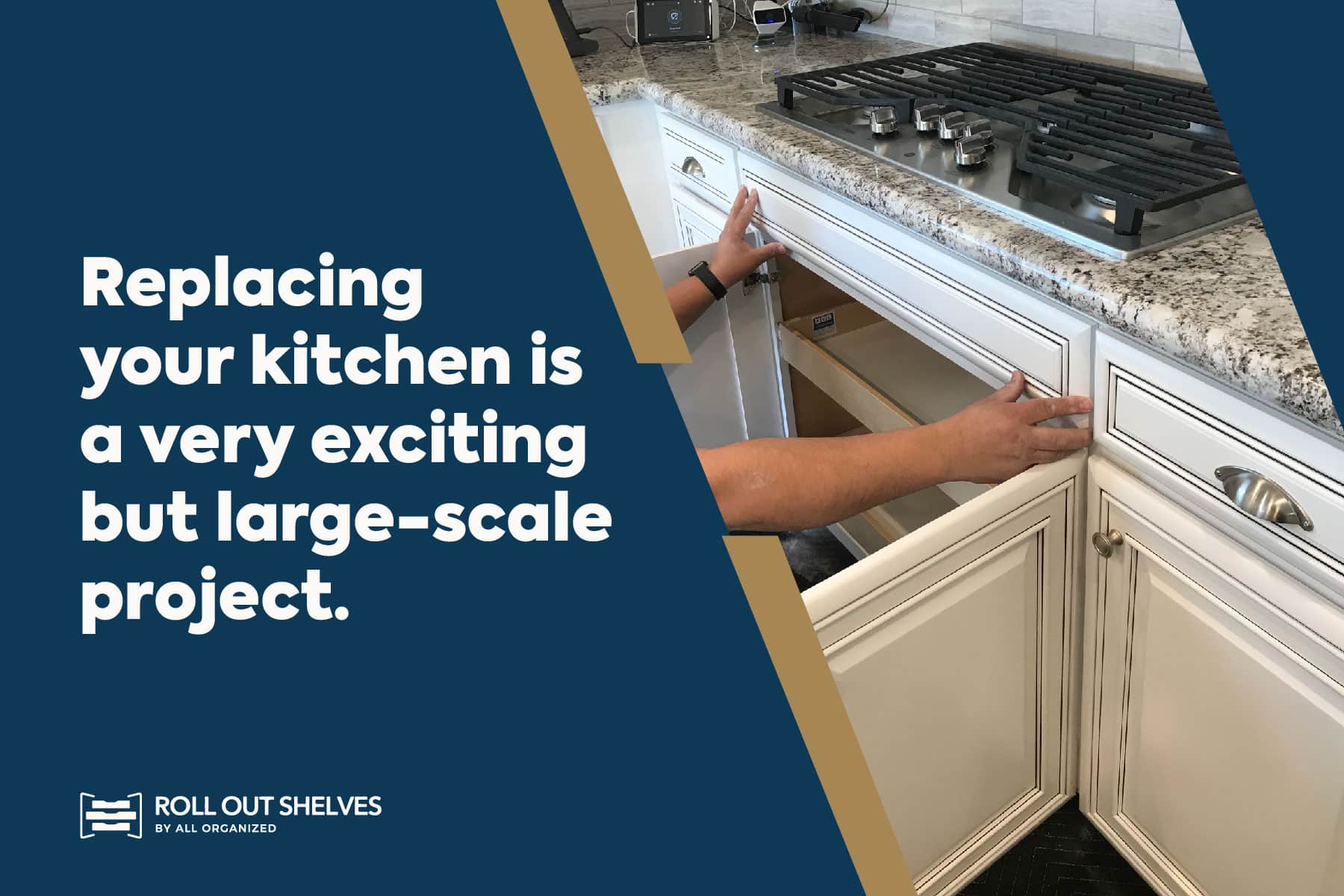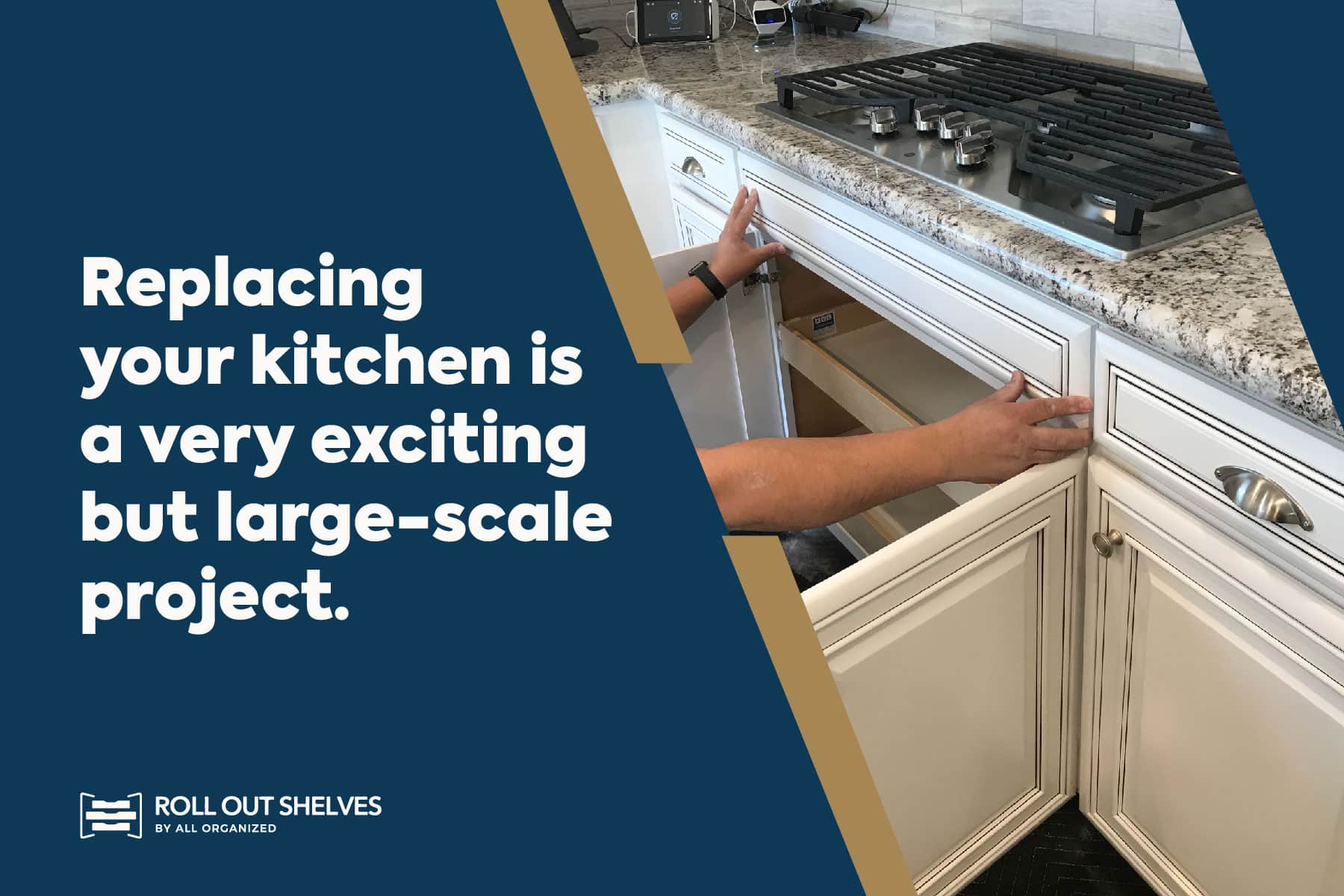 2 - Refacing Your Cabinets
Refacing cabinets is a step below the full replacement option. The refacing process typically includes replacing the doors, hinges, hardware, and color of your cabinets. Refacing gives your cabinets a fresh look without having to re-do everything. 
Refacing has its challenges, but if you're willing, you can still use your kitchen during the project. Unlike replacing where you just don't have a kitchen while the project is underway, refacing keeps the kitchen mostly intact and focuses the work on just the parts you see. 
Refacing is excellent for people who like the layout of their kitchen but would love it even more if it wasn't trapped in the 1980s. However, while refacing can often seem like a favorite option for many people, it also has its challenges. 
Most refacing projects can take 2-6 months to complete and often range from $5,000 at the starting line to more than $15,000 in the median range. It all depends on how large the kitchen is and what materials are needed. 
Refacing allows homeowners to update the look and feel of their kitchen on a slightly shorter timeline and create a space they love. It has some challenges we'll uncover in a future blog, but for many, it's a great way to go.
3 - Upgrading With Modular Cabinets
Many people need to update their cabinets, but spending $20-$40k or more on redoing their kitchen with custom cabinets is out of the question. So, they begin looking at modular cabinets they can put in themselves. 
Stores like Ikea are often the go-to destination for people wanting to replace what they have with newer cabinets, but not custom-built ones. While this can save people thousands of dollars, it also requires them to properly demo their existing space and learn how to install them on their own. Plus, if you've ever built something modular from a place like IKEA, durability is often left to be desired. 
The best part of this option is mixing and matching all the right pieces to create a kitchen and space you love. Plus, with various options, you can pretty much re-design a kitchen as if you were a custom cabinet builder without having to measure, cut wood, and fully build cabinets yourself. 
The pieces are relatively easy to assemble, go together quickly, and installation can be done with a level and a few other tools. This is a beautiful way to spruce up the kitchen if budget is really important and you're not too worried about whether they will boost the resale value of your home or hold up for 5-10 years of constant use.
4 - Using A Friend's or Family's Cabinet-maker
We all know that friend who has that guy who works out of their garage as a part-time carpenter. They build tables, dining sets, rocking chairs, and more. Their Instagram feed is filled with amazing-looking creations they've built in their spare time. So, when they overhear you talking about your desire for new cabinets, they jump at the chance to tackle a big new project. 
Excitedly, you say yes, and the project begins. Then six months later, your kitchen is in shambles, you're over budget, and that friend is ducking your calls. That's the worst-case scenario – and we've seen it happen more frequently than you'd believe. Best case scenario, your friend nails it, builds you amazing cabinets, and even though it took a little longer than expected, you're happy with the results. 
But, even in the best-case scenario, it usually requires you to compromise in several areas because your friend's expertise, access to supplies, and abilities are limited. While you don't mind because you're helping a friend who is helping you, you'll always look at your kitchen and think, "I like it, but I wish we could have done x, y, or z differently". 
Can it work out well? Yes, but this is the exception to the rule.
5 - Painting Your Cabinets
Probably one of the most popular go-to's for weekend warrior types, cabinet paint is readily available in kits at home improvement stores and just takes some elbow grease and time to get it done.
Painting is a relatively quick, simple, and easy-to-do project that can be finished in a few days. We've seen some of our friends absolutely knock it out of the park. But, we've also seen some of our friends whiff on it. 
The key to doing this well is all in the prep work. Most people don't sand as well as they should. They also skimp on the little details like proper taping, masking, and creating a dust-free work environment for when the painting begins. 
If you can do the little things well and are willing to take your time, this is a fun project that can produce some pretty incredible results.
6 - Making Your Cabinets More Functional
I know you want a new look, but maybe you'll feel differently about them when they function better than before. Most people imagine a new kitchen giving them a feeling of order, peace, and tranquility every time they cook or gather in it. The problem is that most people only change the look of their kitchen, not its functionality. 
The truth is, your kitchen cabinets weren't built with you in mind. Instead, they were built with blind corners, deep spaces, and hard-to-reach places, making them tough to work in. Sure, you can change the look of your cabinets and even their design, but if they don't function well – you'll never experience the peace and ease of use you've wanted. 
When you start with upgrading the function of your cabinets and then shift into their look, it creates a kitchen you love to cook and gather in. 
These are six of the most common ways to upgrade your kitchen. Each has pros and cons. We'll uncover each one in detail so you can make the best decision possible for your kitchen. We'll also point out the major pitfalls and traps people fall into. 
At All Organized, we make every cabinet more convenient by installing custom-built Roll Out Shelves in your existing cabinets. But, here's the best part. You don't have to spend thousands just to get the functionality you want inside your existing cabinets. 
Most kitchens reclaim space and function at a fraction of the cost of refacing or remodeling. If you'd like to talk to us about how you can restore your cabinets' functionality, call us at 916-331-4771. 
Want to see our bundle deals on Roll Out Shelves so you can save even more money? Click here 
Curious to learn more about Roll Out Shelves? Click here.