We know how hard it is to keep a kitchen organized.
You can religiously organize your spice rack, but it inevitably disintegrates the minute you turn your back.
And besides that, your pots and pans are one big, tangled mess, your pantry looks like a jungle, and we won't even mention the space beneath your sink.
Are you tired of all that mess?
We get it. You want an organized kitchen, but it's so hard to keep it neat!
At All Organized, we don't think it has to be that way. We believe everybody should be able to cook in a neat, peaceful kitchen – including you!
That's why we put together this collection of tips for keeping your kitchen organized. These tips and ideas will help you take your kitchen from feeling like a wild jungle to a calm place where you can actually get things done.
Ready to find out how you can make your kitchen more organized?
Let's get started!
Why Keep Your Kitchen Organized?
First off, why does keeping your kitchen organized matter?
What good things are going to happen if your kitchen is a neat, organized space?
An Organized Kitchen Makes Cooking More Fun
First of all, an organized kitchen is going to make cooking a lot more fun. Cooking in a messy, cluttered kitchen is miserable! You have to clatter through all your pots and pans to find the right one, sort through all your spices (while they all fall out of the cabinet,) and kill your back trying to dig things out of the far corners of low cabinets. Not fun at all!
An Organized Kitchen Saves Time
You are wasting a lot of precious minutes digging through those messy cabinets! That's valuable time you could be spending on more important things, like bonding with your family.
An Organized Kitchen Makes You A Better Cook
If you are calm, collected, and know where your things are, your food is going to turn out better. Imagine yourself frantically looking through your cupboards for your spatula while the sauce on the oven is burning. Your disorganized kitchen is not helping your food turn out!
An Organized Kitchen Is Better For Hosting.
When was the last time you decided not to host people in your home because you were ashamed of your space? You don't need to be ashamed anymore! Use these tips to organize your kitchen into a place you are proud of.
Then you can confidently invite guests into a pleasant space you know they will love being in!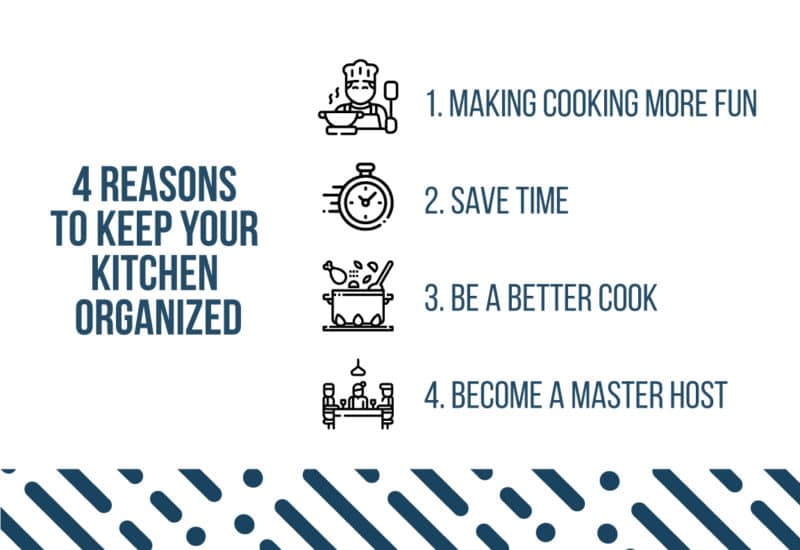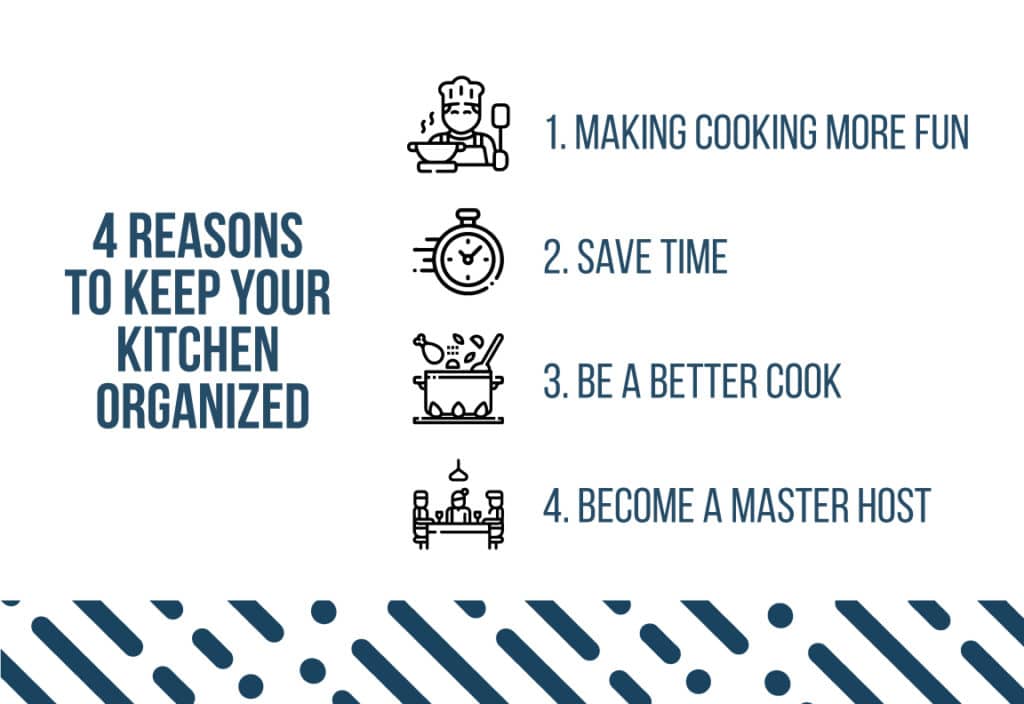 And what if your kitchen is a wreck?
A messy, disorganized kitchen can make cooking a chore and can make you afraid to host people. At the very least, it wastes a lot of your valuable time and energy – two things that are always in high demand!
But it doesn't have to be that way. Are you ready to learn how you can make your kitchen into a space that both you and your guests will love to spend time in?
Let's look at some tips for organizing your kitchen!
20 Ways To Keep Your Kitchen Organized
Ready to make your kitchen a space you are proud of?
Here's tip #1.
Keep containers under control
We all hate that moment – you open your container cabinet and out pours a rain of containers and lids.
That is so frustrating! After that, you still have to spend five minutes trying to track down a container and lid combo that actually goes together.
Is there anything more annoying?
We suggest you find a solution such as these 10 clever ways to organize containers to keep all the wayward containers and lids corralled.
You may also want to regularly go through your containers and keep your selection to just a few containers and lids that actually match. There is no need to keep lids or containers without mates.
Find corner cabinet solutions
The second tip of the day is similar to the first. But this one involves those unused spaces in the corners of your kitchen cabinets.
If you install a solution like a lazy susan or twisty susan, you can turn those unused blind corners into the most valuable storage space in your kitchen! Plus, everything will be within easy reach, and you won't have to grope blindly in the corners looking for things.
Utilize your under-sink space
The space underneath your sink is one of the areas in your kitchen that can get messy fast. Lots of people keep their cleaning supplies in this space, and it can get very cluttered.
But you can make it better!
Installing a roll-out storage solution helps you use your under-sink space well and keep it neat. You will be able to access all your cleaning supplies easily and store more under your sink without stacking things on top of each other.
Hang magnetic racks
Keep essentials within easy reach with neat magnetic hooks and racks!
You can buy magnetic organizers like these to hold paper towels, spices, cooking utensils, and more! Hang them on your fridge, stove, or wall to keep your most used items easily accessible and utilize the vertical space in your kitchen.
Install roll-out pantry shelves
Want to go a step further with the rollout shelf idea?
Roll-out pantry shelves are the perfect way to add usable space to your kitchen while keeping everything accessible and organized!
A set of roll-out pantry shelves are basically a huge set of roll-out shelves the size of a small pantry. It would be the perfect place to keep food, dishes, miscellaneous supplies, or even appliances.
(More on why you should keep your appliances in cabinets later in this article.)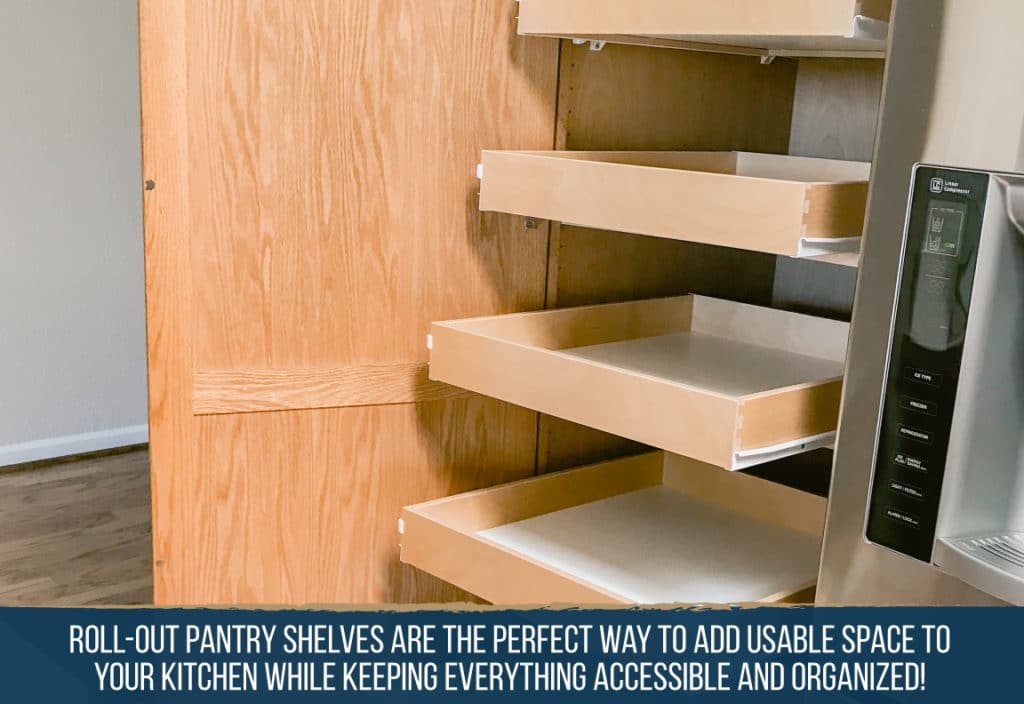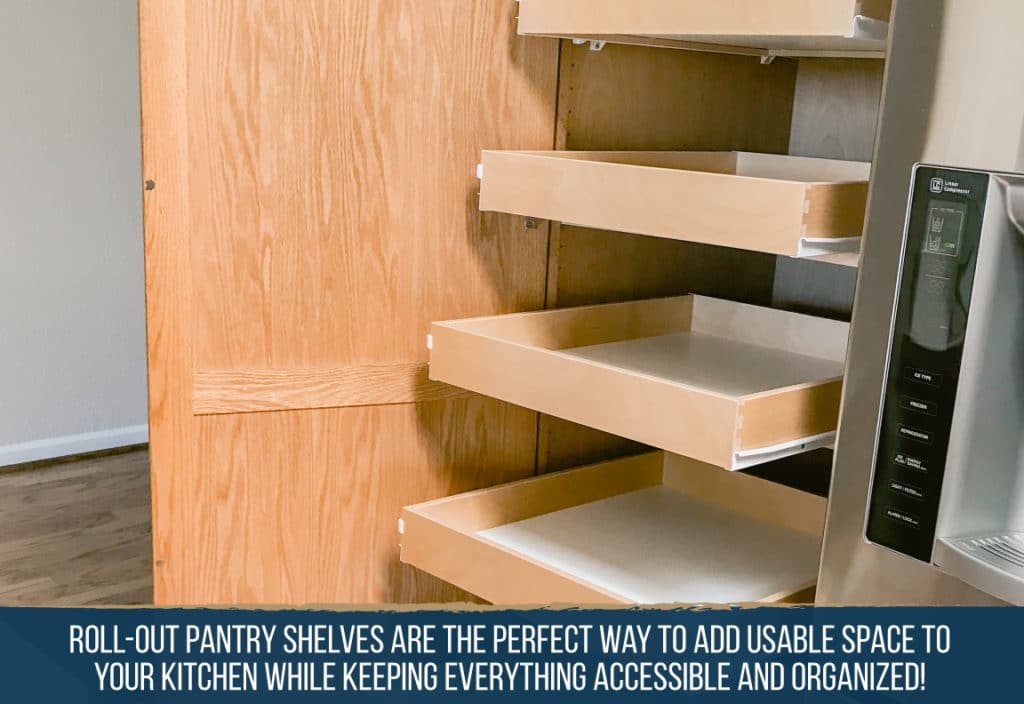 Reorganize your top shelves
Think about where you choose to store your most used items.
Are they on the very top shelves of your kitchen? Or in the far back of your cabinets where they are hard to reach?
We suggest you rethink your storage layout. Store your most used items on the easily reachable bottom shelves of your upper cabinets. Put little-used items on the hard-to-reach top shelves or in the back.
Use trash/recycling caddies
A visible trash can may make a kitchen look cluttered and unattractive and get in the way when you are trying to navigate your kitchen.
The solution?
Install a roll-out trash caddy! This way, you can pull out your trash can when you need it and then neatly tuck it away out of sight.
You could even add a recycling bin on the side while you are at it.
Install roll-out shelves
If your cabinets are cluttered and overstocked, this is one of our BEST tips for you.
Installing roll-out shelves like these creates more usable space in your cabinets and makes so you don't have to kill yourself trying to reach things in the far back corners of cabinets. Roll-out shelves will keep everything within easy reach all the time.
If you want to stop stooping over and digging through cluttered base cabinets, consider revamping your kitchen with roll-out shelves!
Use cabinet racks
Do you need more storage space in your cabinets but aren't ready to dish out money for an actual renovation?
Buy some cabinet racks instead. Cabinet racks will help you get a little more out of your cabinets without breaking the bank.
Purge the pantry
We get it. Pantries get overfull fast!
The truth is, you probably don't need everything in your pantry. There are probably things in there that just take up space and make it cluttered.
Purge your pantry regularly and get rid of anything you don't use. Don't overthink and hang on to things you don't need! You will feel better with a cleaned-out pantry, and you probably won't even miss the things you decide to get rid of.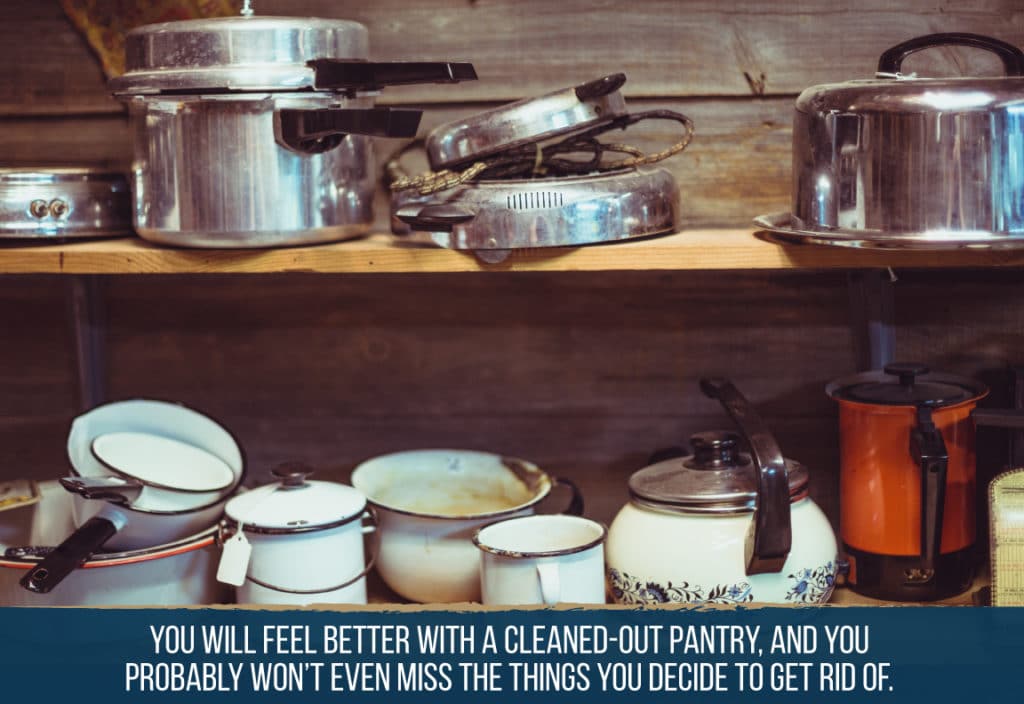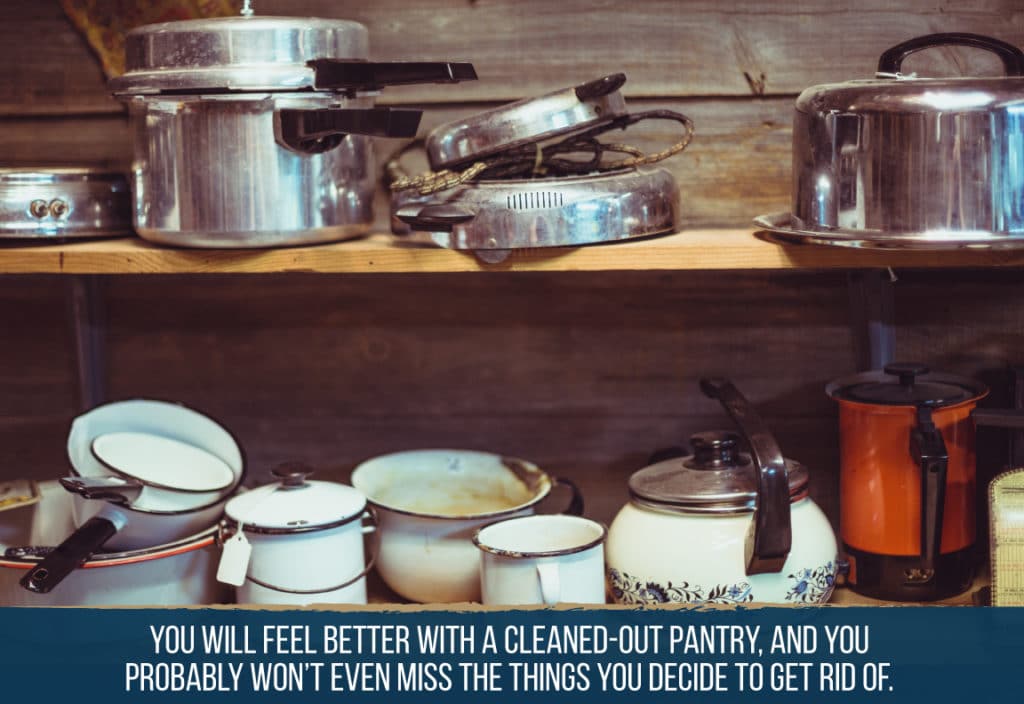 Use clear storage containers or wire baskets
It looks nice to put all your cooking ingredients in matching containers. It creates a unified, neat look.
Clear containers make it easy to see what you have in stock at a glance. Wire baskets work great for organizing and grouping things like cans, bottles, and small packages or bags of food. Plus, wire baskets often have handles, which makes for easy transportation.
Add hooks
Short on cabinet space?
Use some wall space instead!
Hang a set of hooks on your wall or underneath your shelves. Then you can hang up towels, cooking utensils, cups, or other things. This is also a great way to display your favorite kitchen gadgets!
Store large appliances in your cabinets
Large appliances like blenders, coffee makers, and food processors can really clutter up a counter. If there are too many, you don't have much space to work, and it stops looking neat.
Store appliances away in large drawers or cabinets to free up space. Now your counter will have room to breathe!
Organize your recipes
It's another trouble spot: the recipe bin.
If your recipes are all disorganized, it means you will have to spend a lot of time looking through them to find the one you want. That is time you could be spending on more important things than finding a recipe!
Here are some ideas for easy ways to organize your recipes:
Put them in a binder with different tabs

Alphabetize them in an accordion file

Get a file box, drawer, or crate with different folders
By keeping your recipes organized, you save yourself a lot of time (and headache) that you can then use on more important things.
Add a pegboard backsplash
This idea is an inexpensive way to both store and display cooking utensils.
Buy some pegboard and fasten it to your backsplash. Then buy some hooks to hang up whisks, spatulas, measuring cups, or other kitchen gadgets.
Hang racks on the inside of your doors
You can utilize the space behind your doors by hanging organizer racks behind them. This would be the perfect place to store spices, bottles of olive oil, canned goods, or miscellaneous snacks.
If you want more behind-the-door storage ideas, check out this article for some great inspiration!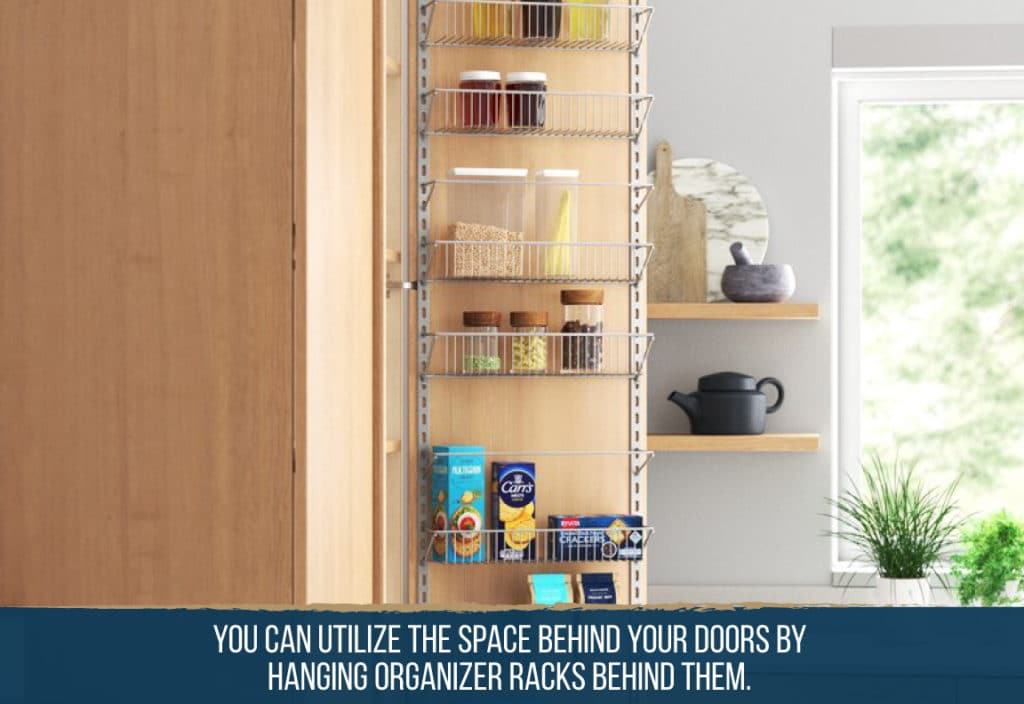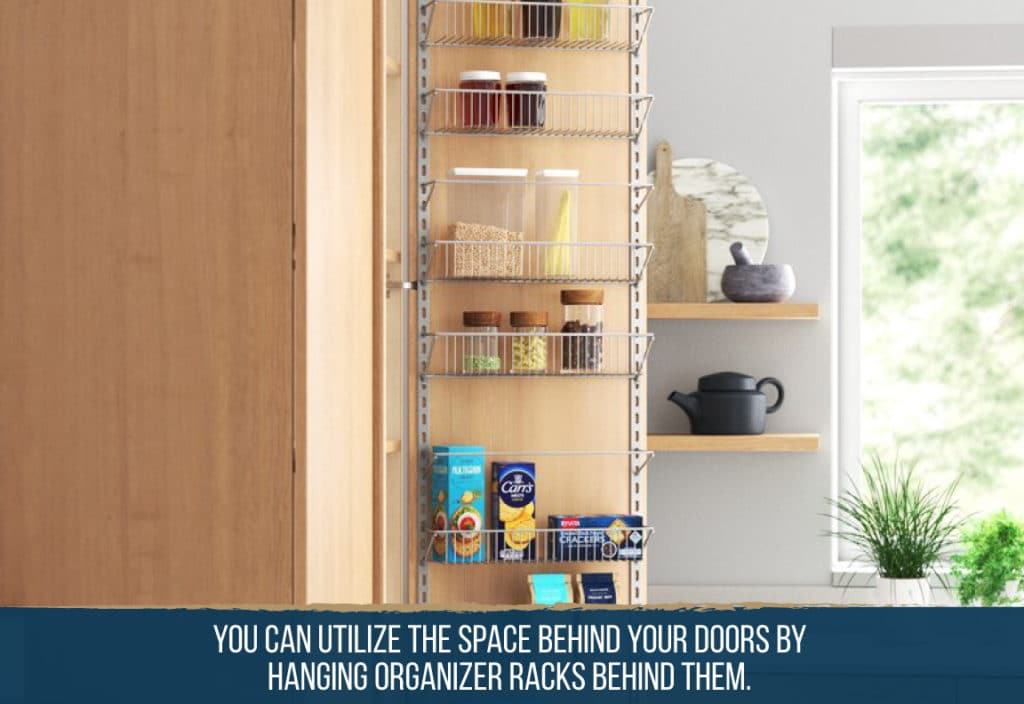 Take control of that spice cabinet!
It's one of the worst organizing problem spots in the kitchen – the spice cabinet.
There are so many spices just waiting to fall all over the place. And it's so hard to track down the one you need!
But you can take control of your spice cabinet. Here are some ideas:
Have a charging drawer
This one isn't so much a kitchen organization tip, but we think it's a pretty cool idea!
Buy a drawer with charging capabilities, so you have a place to keep all your devices and cords. Now you can always know where your devices are, and you can say goodbye to all those annoying cords all over the place!
Install cork drawer liners
Have you noticed how annoying it is when you neatly organize a drawer, and then everything slides around when you shut it? All your work is undone after opening and closing the drawer several times!
Thankfully there is a solution.
Put cork or another grippy material on the bottom of your drawers. Now things won't slide around on the slippery drawer bottom. They will stay in place, and you won't have to organize things as often.
Another option is to get drawer organizers to keep everything in separate compartments.
Keep your kitchen pared down
One of the very best ways to keep your kitchen neat is simple: Don't have too much stuff.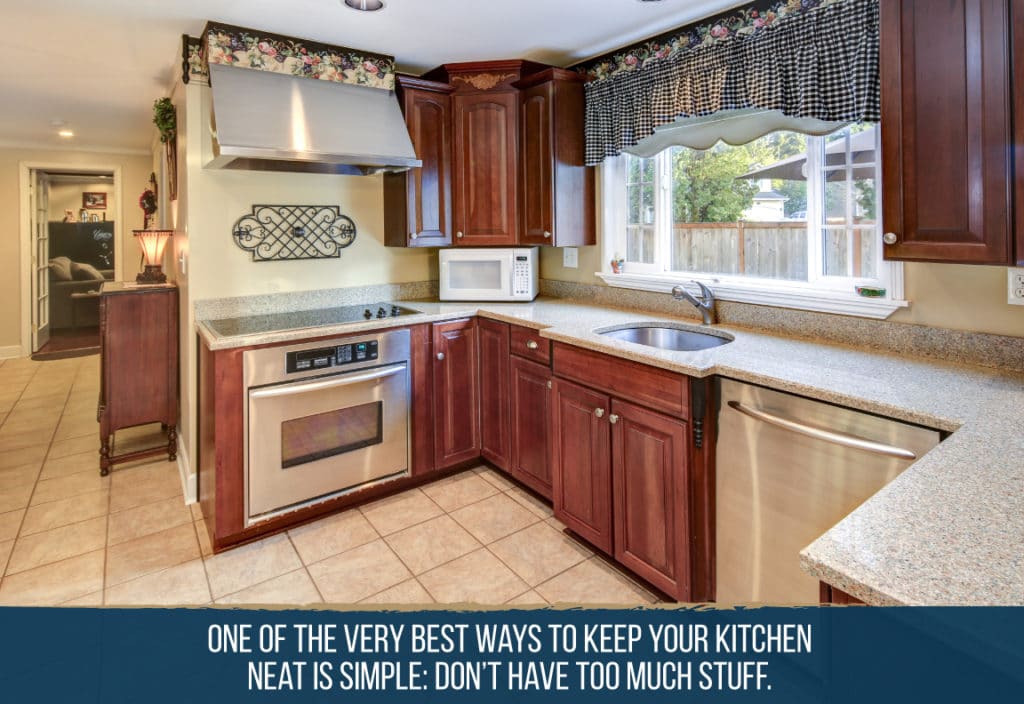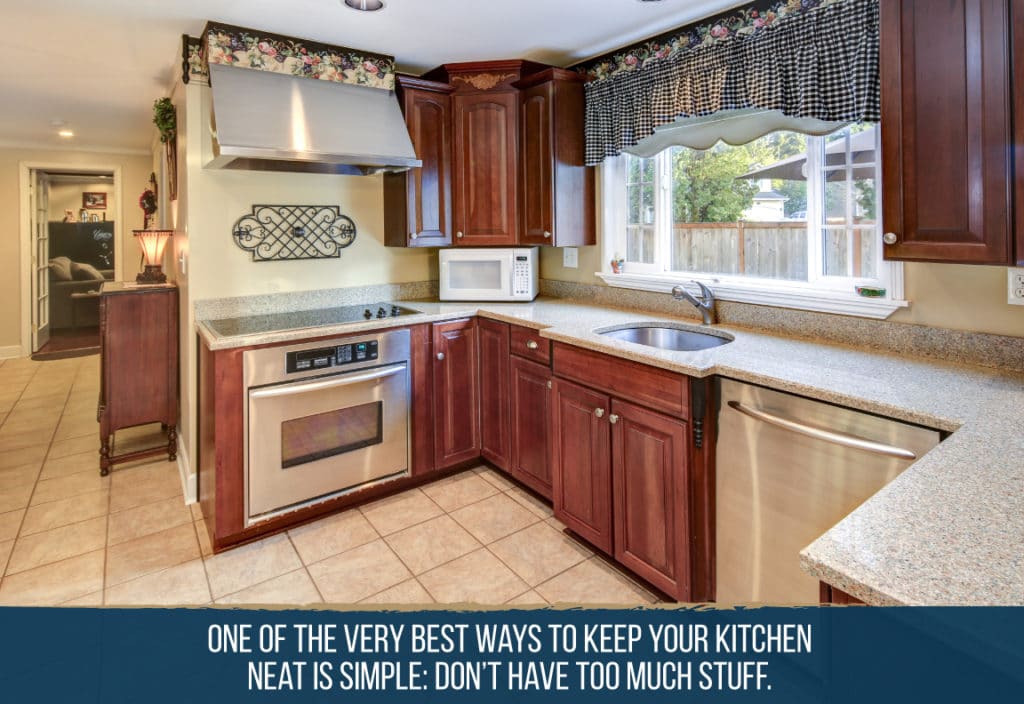 The reality is you don't need a lot of the things in your kitchen. There are probably things in your kitchen that you don't use and just take up space. These things should go.
Regularly purge your kitchen and get rid of outdated food and items you don't use. Most times, you don't even miss the things you eliminate, and you feel better without them. So don't keep things you don't need!
Here's a list of 7 things you can start with eliminating right now.
Everybody's kitchen gets messy.
We get it! It's hard to keep everything organized.
We hope this list of tips and tricks helps you make your kitchen into a space that you are proud of – and that others will love too!
Are you ready to get started today?
Contact us here at All Organized! We are ready to help you transform your kitchen with easy storage solutions like:
Plus, it's easy to work with us:
Schedule a design session

Sit back while we install your shelves

Enjoy convenience in every cabinet!
If you are ready to transform your kitchen, schedule your design session today!
We look forward to hearing from you.