This blog is for you if you're thinking about refacing your cabinets but are unsure if you should reface or just replace them.
After spending a lot of time in our homes, especially our kitchens, it's no wonder many want to upgrade or uplevel their space. Unfortunately, while there's no shortage of DIY blogs, Pinterest boards, and YouTube videos on how to reface, there's not a lot of help deciding if it's the right thing for your space. 
If you're like most people I talk to, the last thing you want to do is waste time and money on refacing your cabinets only to realize you should have gone a different direction six months to a year down the road. 
So, how do you know if refacing is a good idea?
What are the right and wrong things to do when you are refacing? 
And, what should you expect to spend?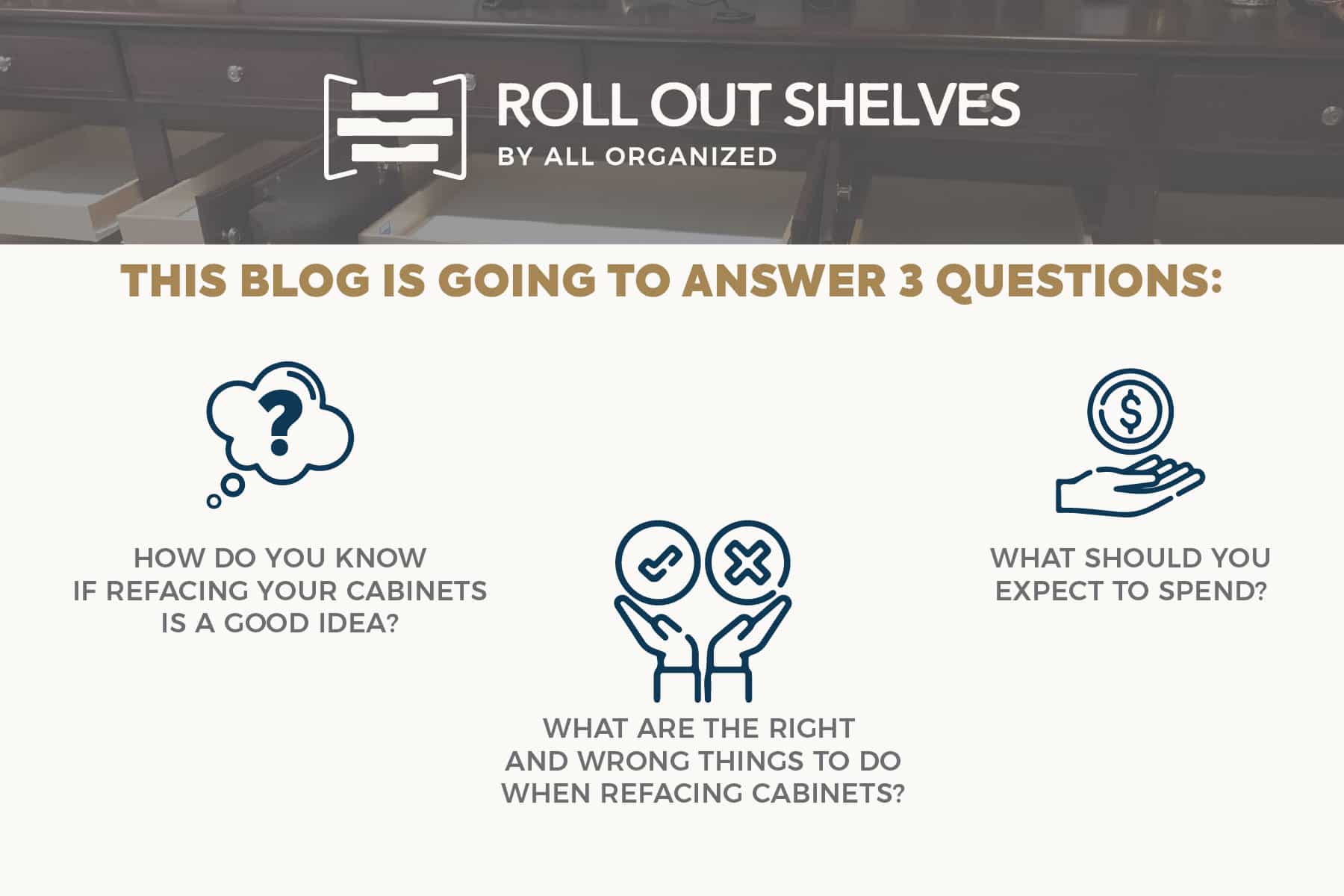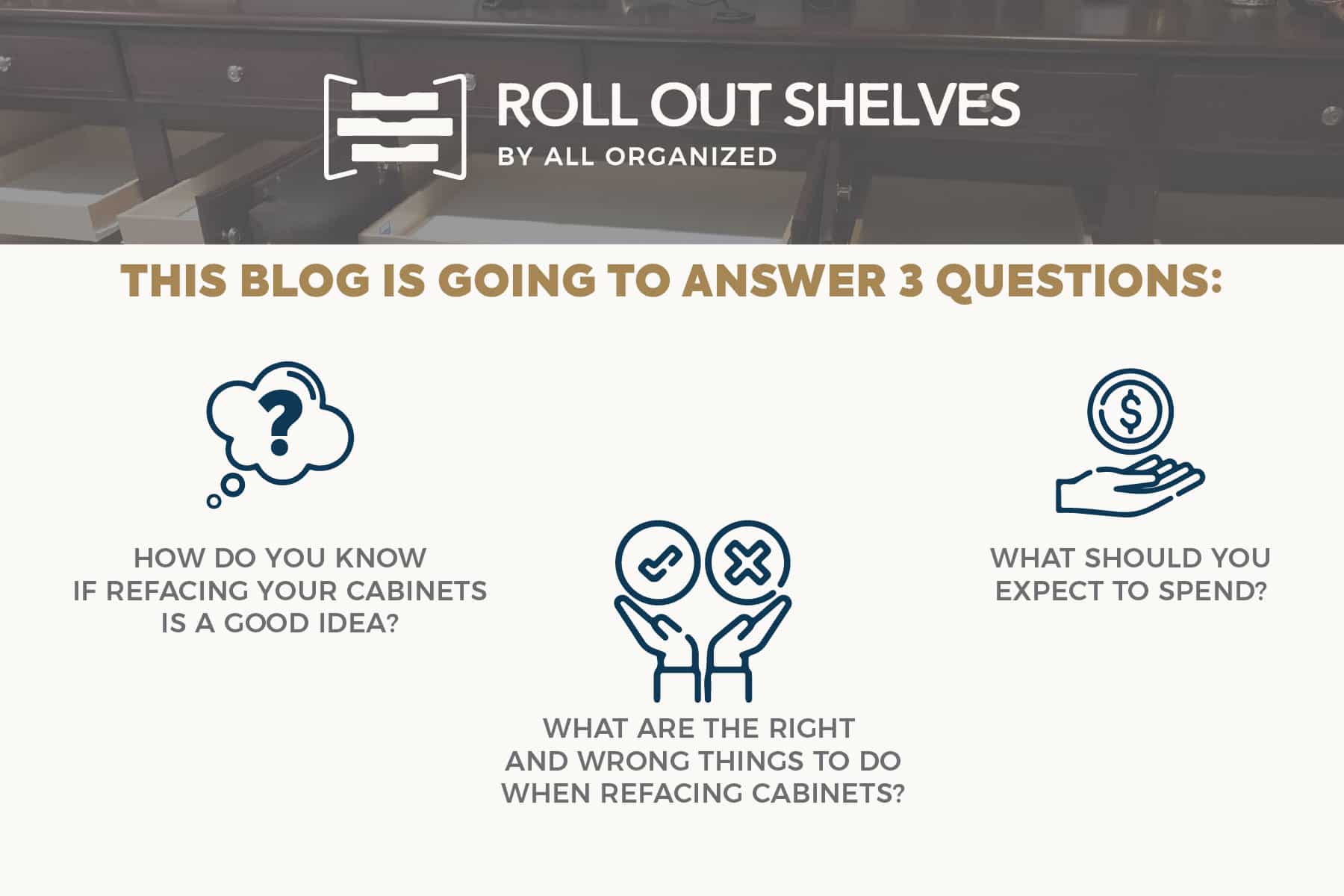 First, let's talk about what refacing your cabinets means.
If you're new to "cabinet speak," refacing is a fancy way of changing the look of your cabinets by upgrading the cabinet front or "face." Typically, when refacing, a contractor (or a confident DIY'er) will remove the doors and drawer fronts and change their look with new stain, paint, hinges, guides, and completely new 'faces' altogether. 
Refacing cabinets is popular because it allows a homeowner to change the look of their kitchen cabinets without overhauling the whole kitchen. The process tends to be quicker and faster too. Instead of taking out every cabinet in its entirety, a homeowner can simply remove the "face" of the cabinet, upgrade its look, and then reattach them.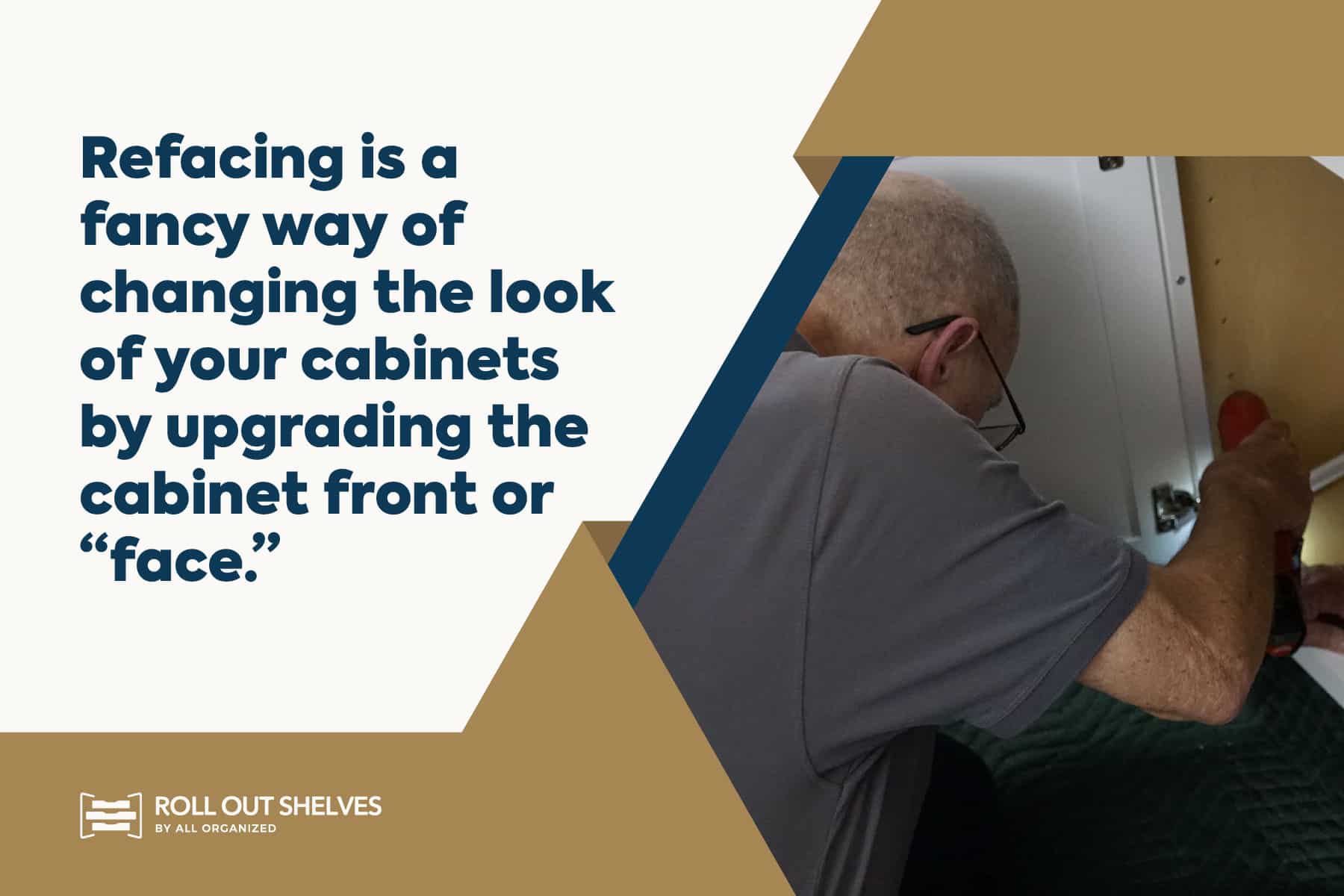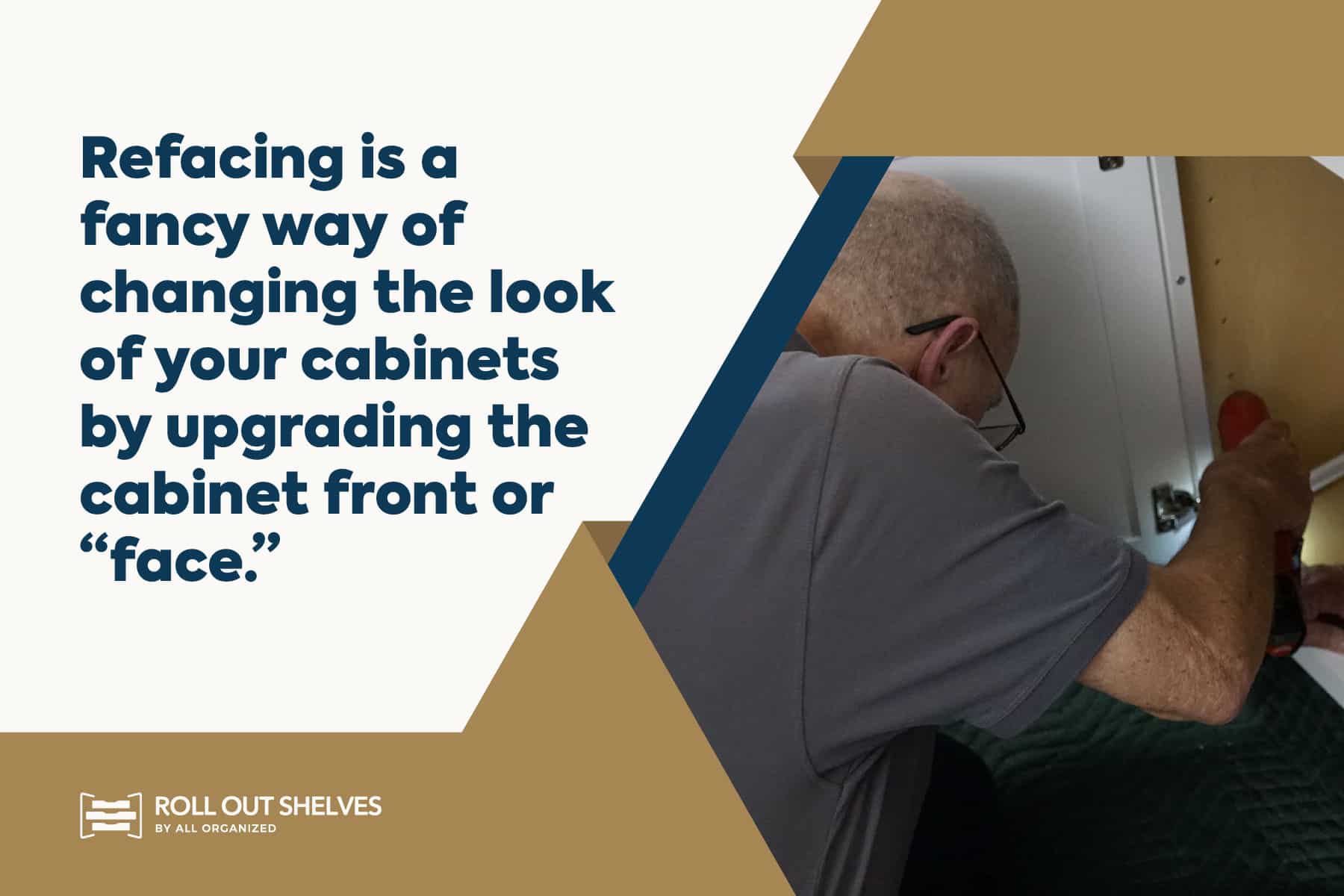 Refacing is a great way to change the look and feel of your kitchen without the headaches, time, and cost of replacing or remodeling your entire kitchen. 
Plus, it allows you to continue using much of your kitchen throughout the process instead of being stuck ordering Door Dash or Uber eats for the next 3-6 months.
Should You Reface or Just Replace?
I like to use a simple rule of thumb when helping people decide if refacing is right for them. Or if they should just start from scratch and totally rebuild their kitchen. 
If you frequently say things like, "I wish my oven were over here instead of where it is," or if you regularly say something like, "If I were here when the house was built, I would have…" then replacing is probably your best bet. When you want to move the sink, rearrange the oven, or have your dishwasher in a new location, redoing your cabinets is the only way to do that. 
If you're wondering what the best way to go about a complete kitchen remodel is, we're sharing our thoughts on that in an upcoming blog. So, stay tuned for that. 
Now, if you like your cabinet layout but just hate how your cabinets look – refacing may be for you. Refacing is one of the best ways to bring your cabinets up to date, restore their classic look, or even design the ideal feel for your kitchen without gutting it and starting over. 
You will know you're an ideal candidate for refacing if you see a picture on Pinterest of a cabinet style and want to keep your layout the same but refresh your look with something new.
What mistakes do people make when refacing cabinets, and how can you avoid them?
The average cost to reface your cabinets ranges from $5,000 to $15,000. The price is always related to the size of your kitchen, materials used, and the number of cabinets. However, there are DIY routes you can take that can cost hundreds instead of thousands if all you want to do is slap some chalk paint and elbow grease into the project. 
But, if you're looking to give your cabinets a facelift, they need to bring them up to date; going with a professional is a much better plan. To reface cabinet doors, switch out hinges, transform cabinet doors into drawers, and more, having a professional cabinet maker help is the only way to go.

For this blog, we'll assume you're not the over-zealous DIY'er looking to stretch their creative wings on their kitchen cabinets. Instead, we're talking to the homeowner who wants the best advice for refacing their cabinets using a professional cabinet maker, refacing expert, or experienced contractor. 
Here are five common mistakes people make when refacing their cabinets.
MISTAKE #1 - Hiring the 'friend' instead of the professional.
We've all heard the horror stories of the person who hired a friend to work on some part of their house only to go months past the original time-line, blow past the budget like they worked for congress, and leave the project half-finished before a pro had to come in and salvage it. 
The truth is, we love all of our friends. And we have a lot of talented friends in the industry. When it comes to our home, we invite friends for dinner and hire experts for work. 
If you insist on hiring a friend or family member to reface your cabinets, we recommend being clear about the expectations, desires, budget, and timeline upfront. Set up regular meetings with them to review progress, discuss hiccups, and plan for any unforeseen changes. 
This will be the best way to keep the friendship and support the friend or family member working on your home.
MISTAKE #2 - Failing to plan ahead of time.
I get it; you're reading this blog because you are a planner. It would be easy to think you know what I mean when I say failing to plan is mistake #2. As a planner, you probably have a clear picture of how you want your cabinets to look. That's why I want to point out another area most people do not plan for when refacing. 
The timeline. 
Right now, cabinet projects are taking 2-3x as long as they used to. For example, our next-door neighbors recently remodeled their entire kitchen. However, after three months of waiting, they were still missing a corner cabinet that had not arrived from the manufacturer. 
Even the largest re-facing companies have supply chain issues like hinges, stains, wood products, drawer guides, etc. Starting refacing projects is easy, but finishing them can get complicated and drawn out. 
When planning your re-facing project, ensure you have a clear picture of how long the project will take. This will help you prepare for living in a kitchen space without drawer or door faces without growing overly frustrated.
MISTAKE #3 - Going with the first contractor you speak to.
We've all been there. We get so excited to begin a project and get to that big "Chip and Joanna Gaines reveal" moment that we skip the whole multiple bids thing. 
When it comes to refacing your cabinets, speaking to multiple companies, contractors, and refacing experts is critical. Not just because you should compare prices, but for reasons you may not realize. 
When interviewing your contractor, you need to find out how they work, communicate, and interact with you and your family. 
The last thing you want is to hire someone with the best price but the worst demeanor. After all, you could be stuck with them for weeks or months while the project is finished. Plus, if you find something that needs fixing after the fact, you're more likely not to call the person you hated working with. 
Here are some great questions to ask your contractors that you may not think to ask:
Can you tell me about a time when a project was held up because of circumstances outside your control and how you handled it with your client?

What's your communication process when a project goes over time, budget, or you hit a snag? 

How often will we talk about where the project is and what will happen next? 

After the project is finished, what should we do if we find something that's off, needs fixing or is missed on the initial walk-through? 

Can you tell me about the most challenging project you ever worked on and what made it so challenging?
MISTAKE #4 - Changing your mind midway through your project.
One of the reasons people hate the refacing process is because they change their minds so many times during the project. When your project shifts in scope or execution, it can change the cost and timeline. 
Many people think they know exactly what they want, only to find out they aren't as sure once the project begins taking shape. 
So, how do you avoid delaying your project and increasing the cost? It all comes down to the planning stage of your project. Once you decide on your contractor, the next thing you should do is spend a lot of time with them, choosing the elements that will go into creating your dream kitchen. 
Your contractor should be able to show you real-life samples of woods, stains, paints, hinges, guides, and more. They should also be able to give you their recommendations based on the experience of what items look good together and which ones do not. 
If you go with a larger company, many of them can work up a digital model of your kitchen to help you visualize your new space. The key in this project stage is always to take as much time as you need to plan, so you don't waste valuable time during the building stage.
MISTAKE #5 - Thinking a new look means a new kitchen.
For many people, what they wanted wasn't just a better-looking kitchen but a better functioning one. While refacing is a great way to update the aesthetics of your kitchen, it often does very little for how it functions. 
After all, mom always said it's what's on the inside that counts. After refacing, you're going to love the way your kitchen looks. But, once you open the doors and have to reach or crawl inside to get what you need, it can often remind you that looks are only half the story. 
At All Organized, we help you easily access your space using Roll Out Shelves. Roll Out Shelves are the perfect way to add functionality to the kitchen stuck in the 1980s or the one fresh off the showroom floor. 
The truth is, your kitchen wasn't built with you in mind. Between hard-to-reach spaces, blind corners, and cabinets with missing or half shelves, it can feel like they create more problems than they solve.
At All Organized, we make every cabinet more convenient by installing custom-built Roll Out Shelves in your existing cabinets. But, here's the best part. You don't have to spend thousands just to get the functionality you want inside your existing cabinets. 
Most kitchens reclaim space and function at a fraction of the cost of refacing or remodeling. If you'd like to talk to us about how you can restore your cabinets' functionality, call us at 916-331-4771. 
Want to see our bundle deals on Roll Out Shelves so you can save even more money? Click here 
Curious to learn more about Roll Out Shelves? Click here.